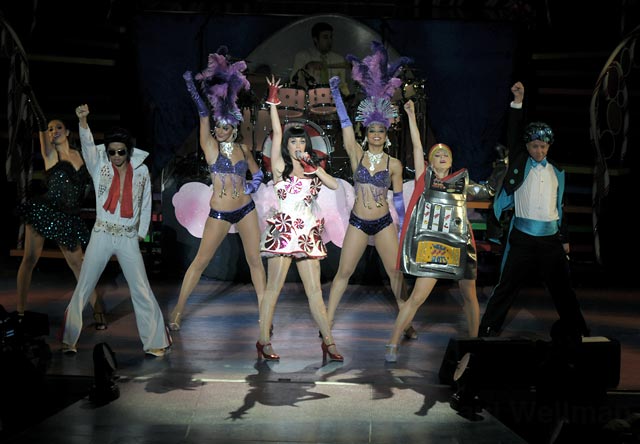 SERENDIPITY ON THE TOWN: The goddess of cultural/cosmic coincidence blew a kiss at Santa Barbara last Saturday night. Katy Perry, the globe-owning pop superstarlet with Goletan roots, was deep into her amazing concert at the Bowl, the first of a two-night stand there, and one of her multiple references to the old (and future) hometown came when she thanked her parents for "spending a lot of money on lessons at the Music Academy of the West. I didn't practice much, obviously." Perry was a self-admitted slacker in her operatic studies in the off-season Music Academy in her teenage dreaming days, and she rewrote her own lesson plan, which seems to have worked out quite beautifully for her in the commercial long run.
Perry may not have realized it, but at that very same moment, the so-cited Music Academy was bringing another grand summer season to a grand, thinking person's close several blocks up Anapamu Street at the Granada, to the tune of Stravinsky's masterpiece Le Sacre du Printemps (Rite of Spring). No less a major conductor than Leonard Slatkin was leading the Festival Orchestra charges in Stravinsky's challenging, game-changing modernist masterpiece, which this longtime local music-addict doesn't remember being performed in Santa Barbara in recent memory (the Santa Barbara Symphony planned to do it, back in Gisele Ben-Dor's '90s era, but it was switched out for one of the easier and more populist Stravinsky ballets).
Unfortunately, I was busy covering Perry's Saturday night feverish show and had to miss the Rite, but it's hard to complain, considering the mighty impression delivered at the Bowl. Haiku review of Perry's high-style, high-production concert: big, unerring voice, semi-ironic and nostalgic attitude in the hit-studded mix (five #1 hits from her current album alone), a winsome and winning approach to her work, the Pop Event of the Year hereabouts, without a doubt.
With the Music Academy finale, this season's classical "rites of summer" festival comes to a close, and we can look back in admiration for another wonderful bounty of great classical music in town. Among the highlights of this season was a wowing fully-produced Barber of Seville, possibly the finest all-round opera production in the MAW history (that I've witnessed, at least). Nicholas McGegan conducted a wondrous "early music-ish" chamber music concert at the First Presbyterian Church, where Bach met Beethoven's Fourth, and early in the season, Larry Rachleff led the Academy Chamber Players in a stunning 20th century-centric program, with Varese's Ionisation, Webern's Five Pieces, Opus 10, and Stravinsky's impressive work deserving wider recognition, Concertino for Twelve Instruments. Mahler's Fifth got its grand due, via the Peter Oundjian-conducted orchestra concert, and pianists Ursula Oppens and Jerome Lowenthal did wonders with Messiaen's two-piano Visions de l'Amen. And, once again, the Takacs showed us the power of string quartet at the top of the game, in an evening of Schubert, Bartok, and Beethoven to remember.
These are a few of the lingering pleasures in the dense thicket of cultural goodness that is the MAW, circa 2011.
"WHAT, HIM WORRYING?" KIND: Back in January, a packed house at the Lobero got a sturdy dose of a much-anticipated work-in-progress, when the crazy-hearted dude Jeff Bridges, beloved member of the global acting community and Santa Barbara community, appeared as the special mystery guest in the milestone, 200th "Sings Like Hell" soiree. Bridges was then in the process of creating his debut major label album, finally busting out the long-honed musical persona within, with T-Bone Burnett as his producer, muse, and morale-booster. In the band at the Lobero were Burnett, guitarist-singer Buddy Miller (soon seen again with Robert Plant at the Bowl), pedal steel ace Greg Liesz, rhythm guitarist and Bridges' ally Chris Polonis, bassist David Piltch, and coloristic drummer Jay Belarose.
That show was a tasty teaser, not quite ready for prime time. As of this week, Bridges' fine, alt country-ish, moody and cool Blue Note Records debut is out and about, and Bridges is making the rounds of TV shows, smallish venues, and other locales on the landscape of "fledgling" singer-songwriter world, with a band including locals Tom Lackner on drums, Randy Tico on bass.
All due respects to Bridges earlier self-released album from 2000, Be Here Now, featuring his pal Michael McDonald, but the '70s-era Los Angeles-esque air doesn't do near the justice of the new one from this fabulous Bridges boy. On Jeff Bridges (Blue Note), he sounds like an honorary (and not ornery) Texan, issuing his loamy low voice, alternately reminiscent of Kris Kristofferson, a twangier Leonard Cohen, Guy Clark, and everybody's favorite underrated great musical American, Townes van Zandt, on a batch of well-chosen songs, with a warming Burnett-icized sonic blanket wrapped around it. On the album, guests include genre border-crossing guitar wizard Marc Ribot and some honeyed background vox by Rosanne Cash, and Bridges' determinedly understated, in-no-hurry grace and grit as a vocalist in the center of it all.
There are rocking moments along the way, starting with the swaggering opener "What a Little Bit of Love Can Do," by the late Stephen Bruton (centrally involved in Crazy Heart, shortly before he died), and later, some retro-rocking energy comes through on Greg Brown's "Blue Car." Mostly, though, Jeff Bridges is a late-night, introspective mull at the honky tonk/front porch of his (and Burnett's) own devising. Call it laconic Americana, with splashes of whiskey, emotional warmth and melancholy.
Some of the strongest tunes on the album are penned by singer's childhood friend John Goodwin (whose "She Laid her Whip Down" was the jewel on Be Here Now), who juggles melodic naturalness with unforced philosophical themes on "Everything But Love," "Maybe I Missed the Point," and the album's closing waltz number, "The Quest." On that track, Bridges sings the final line, "Now my posse is waiting out to the west/Yes, it's time to get back to the quest/Time to get back to the quest." We hope that's not code for getting back to the movie biz. He has let his impressive voice as a musician into the universe, and one trusts this ain't the last we've heard of him.
Bridges, the songwriter, steps up to the plate nicely with his three contributions to the album. "Falling Short" purrs with an understated, life-affirmative and life-questioning luster, while "Tumbling Vine" is a quirky, lanky romp in a vein ala Tom Waits (replete with Waits ally Ribot riffing with a cartoony sinister air). Best of all is the hypnotic epic "Slow Boat," a tune co-written by Bridges and Burnett and the longest tune on the record, at 6:01. Bridges coaxes his deepest, lowest register, channeling Leonard Cohen, in sound and lyrical vision. In an alternate universe, this would be the hit single. Moreover, "slow boat" could be another nickname in Bridges' cap, to go with "The Dude."
It's conceivable that this album, strong and distinctive as it is, won't get as much traction or credit as it deserves. Show biz folks and casual listeners, fixated on and suspicious of Bridges high profile "day job," may not be predisposed to appreciate the quiet majesty and New Twang poetics of the project. But listen up and be rewarded by the sound of a multi-faceted artist who, Hollywood high jinx aside, has managed the trick of becoming a late-blooming musical force to reckon with, "on the side."
Fringe Beat has gone cyber, facebooked and twittered (@FringeBeat), and myspaced and ?. Please join, if inclined.