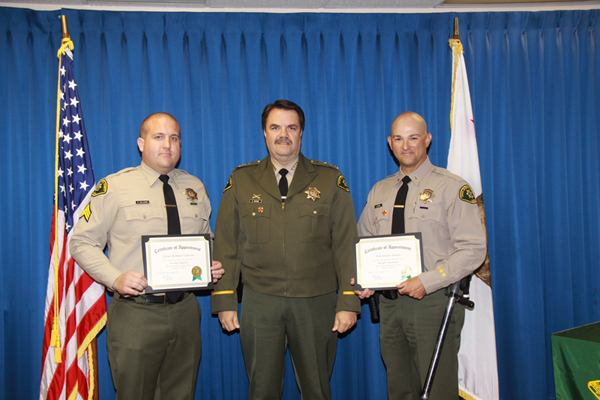 Promotions
On Monday, August 22, 2011, a promotional ceremony was held at SBSO Headquarters where Sheriff Bill Brown promoted Sheriff's Lieutenant Erik Raney from the rank of Sergeant. Lt. Raney is now assigned to the North County Operations Division where he will oversee patrol operations at the Santa Maria substation and the Lompoc Valley substation. Lieutenant Raney first joined the SBSO in 1995 and since that time he has worked in the Coroner's Bureau, Goleta Patrol, Isla Vista Foot Patrol, and as the Sheriff's Public Information Officer. Lt. Raney was most recently assigned to the Santa Ynez Valley where he and his squad earned a prestigious H. Thomas Guerry Award for Superior Performance.
Sheriff Brown also promoted Custody Sergeant Ryan Sullivan who has been with the Sheriff's Office since 2006. Custody Sergeant Sullivan has worked in the jail's Classification, Investigations and Intelligence Unit since 2007. He is also a Custody Training Officer, Terrorism Liaison Officer, collateral gang deputy and a state certified instructor in CPR and first aid.
Transfers
Effective Monday, August 22, 2011, Sheriff's Commander Samuel Gross began overseeing the Criminal Investigations Division which includes the Coroner's Bureau, narcotics, high tech crimes, and the Air Support Unit. Commander Gross joined the Sheriff's Office in 1971 as a Sheriff's deputy. Over the last forty years, Commander Gross has worked in the Isla Vista Foot Patrol, Main Jail Operations, Special Operations Division, Administrative Services, Information Services and Human Resources.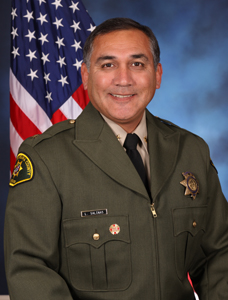 Commander Lazaro Salinas is now in charge of the South County Operations Division which includes patrol functions south of the Gaviota mountain range and the contract cities of Goleta and Carpinteria. Commander Salinas joined the SBSO in 1988. He has worked in criminal investigations, narcotics, Information Services, Communication Services, and most recently as head of the Criminal Investigations Division.
Commander Darin Fotheringham now oversees Support Services, Operations Support Division. Commander Fotheringham's responsibilities now include the Emergency Dispatch Center, radio communications, civil, records, property, and warrants. Commander Fotheringham joined the SBSO in 1989 and has worked in patrol, criminal investigations, the Coroner's Bureau, and Financial Services.