Living
To Listen and Learn
Area Resident Rand Clark Shares Experiences in Israel and Palestine as Peace-Building Delegate
Despite several attempts to make peace between Israel and Palestine, it seems an end to one of the longest-standing conflicts in the world is nowhere in sight. For more than 50 years, the conflict has dominated the area and has caused thousands of casualties on both sides. On July 18, longtime Santa Barbara resident Rand Clark, 59, was one of 24 delegates who traveled to Israel and Palestine with Interfaith Peace-Builders. Since 2001, the organization has sent more than 38 delegations to the troubled region "to put a human face on the conflict by meeting with both ordinary citizens and extraordinary activists."
In March, Clark, former board president of the Fund for Santa Barbara, attended a national conference with Jewish Voice for Peace, an organization with chapters throughout the country that calls for a U.S. foreign policy that refrains from supporting repressive policies in Israel, among other changes. He realized that he wanted to do something serious about the issues in Israel and Palestine. He was made aware of Interfaith Peace-Builders, did a little research, and a month later he picked the delegation with which he wanted to travel.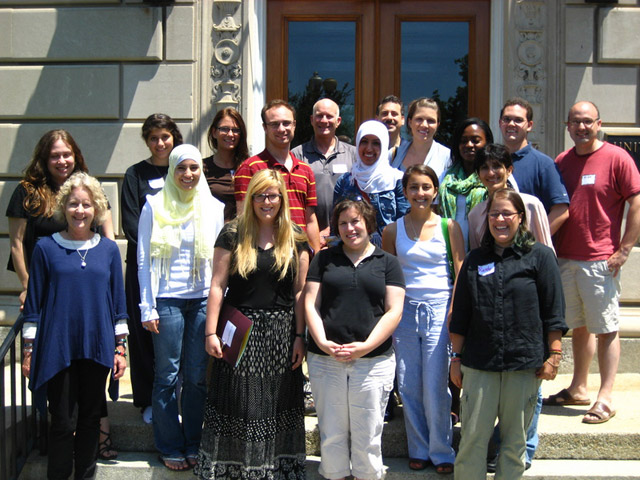 "I've been interested in the issue of Israel and Palestine for many, many years. However, most of my efforts were sort of confined to reading and talking and an occasional letter to the editor," said Clark, who ordinarily works as a software engineer.
After an orientation round in Washington, D.C., to "get us all on the same page and to give us a sense of what we were going to be going into, in terms of entering a completely different culture but also entering a conflict zone," the delegation was ready for their incredible journey. Landing in Tel Aviv, they traveled back and forth between Israel and Palestine over the two weeks they were there.
"We started in Jerusalem, where we toured both West Jerusalem and East Jerusalem. We stayed in East Jerusalem, which is the West Bank, the first five days. We then went up to the Israeli side of the separation wall that abuts Gaza, back to Jerusalem, and then to Ramallah. We crossed the Kalandia Checkpoint to go to Ramallah in the [Israeli-]occupied territories. After Ramallah, we again went to Jerusalem and from there to Nablus, also in the occupied territories. Then we went back to the north of Israel to Nazareth, Hebron, Tel Aviv, and Bethlehem in the Occupied Territories. [There was] lots of going back and forth; lots of going through checkpoints," recounted the Los Angeles native.
As a Jew, Clark sometimes felt like he was "in a bit of an awkward position." But, he said, "The way I like to put it is that I'm not pro-Israel, I'm not pro-Palestine, but I'm pro justice."
Jews, Christians, Muslims, Arabs, and Israelis alike have the foundation to feel a historical attachment to Palestine, though this attachment was heavily challenged when Jewish immigration to the region increased rapidly in the late 1800s. Around that time, the Jewish Zionist movement formed; followers wanted to establish a Jewish nation in Palestine, referring to the saying "a land without people for a people without a land" to explain their need to establish a Jewish homeland in Palestine. At the time, Palestine was not a nation without people.
After World War I, Arabs in the region also stated that they too wanted their own homeland. In 1947, following World War II and the Holocaust, the United Nations made a partition, which separated Palestine into a Jewish and an Arab part. The Jews accepted the separation while the Palestinians did not. Today, according to Clark, "Israel seems bound and determined to make life miserable for Palestinians, both within the state of Israel and in the Occupied Territories."
It was "the human cost of the continual dispossession of the Palestinians" that affected Clark most, he said. "The emotional and physical cost of living in the Occupation is staggering … We heard stories about kids that were woken up in the middle of the night by soldiers coming to take their parents away."
Housing demolitions also made a great impact on Clark. "Housing demolitions, especially in East Jerusalem; it's pretty outrageous. To me it's another example of Israel trying to maximize the Jewish presence and minimize the Palestinian presence. As a result, a lot of kids in East Jerusalem bring their favorite toy to school because they've seen that their friends have lost their toys when their houses are demolished. Typically, people are only given 15 to 20 minutes of notice that their house is going to be demolished." The houses are then replaced with Jewish settlements, explained Clark, as part of a larger strategy to alter the demographic mix within Israel and Palestine.
Interfaith Peace-Builders does not send delegations to Israel and Palestine with the purpose of teaching. According to the organization, "participants have the opportunity to learn directly from Israeli and Palestinian nonviolent peace/human-rights activists, to spend time in Palestinian and Israeli homes, and to experience the situation of Palestinians living under military occupation. The delegations focus on seeing, listening to, and recording the experiences and perspectives of a wide range of Palestinians and Israelis."
According to Clark, "Our goal is to go there — sort of get behind the headline, get close to the ground — come back and tell people and do whatever kind of work we feel like we want to do when we return."
The delegation spoke with activist groups from both Israel and Palestine. This particular delegation's focus was youth. "We met with young people that run youth groups in Nablus, among them the group called Human Supporters Association, that work with kids who have suffered as a result of the occupation, and another group in the Balata refugee camp," said Clark, who again emphasized that "we were not there to teach. We were there to listen and learn."
Although he hasn't been back for long, Clark said he plans on speaking in churches; maybe even synagogues. He said he'd like to educate Americans on the issues over there. After all, said Clark, "It's our tax money that keeps the occupation going."