News
Tennis Coach Sentenced for Witness Intimidation
Case Closed on Peter Jeschke; Off to Prison for Seven Years and Eight Months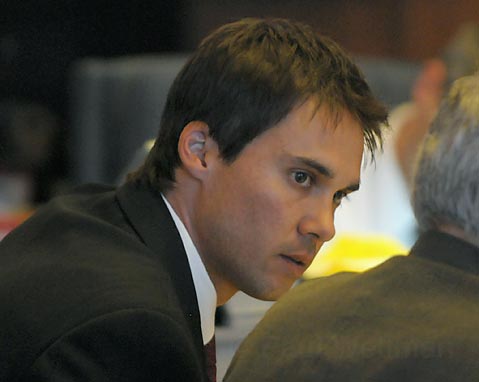 The case against former Santa Barbara High School tennis coach Peter Jeschke is officially closed, and he is headed to state prison.
Jeschke, 38, pleaded no contest to three felony counts Thursday morning in front of Judge Jean Dandona, and he was sentenced to four years in state prison, a sentence which will be carried out simultaneously to a seven-year, eight-month sentence stemming from a probation violation.
Previously, Jeschke had been found guilty by a jury of sexual penetration by a foreign object with a minor, three counts of oral copulation with a minor, two counts of sex with a minor more than three years younger than himself, one count of furnishing marijuana to a minor, and misdemeanor possession of marijuana. The charges were all related to relationships he had with members of S.B. High's girls tennis team. Despite facing up to 10 years in prison, Jeschke was ultimately sentenced to probation by Judge Frank Ochoa.
But earlier this year, Jeschke was found in violation of his probation when he accessed pornography on his computer, taught tennis lessons to a minor without getting her parents' consent, smoked marijuana and drank alcohol, and didn't report to authorities a second residence where he was living. Ochoa, who noted Jeschke had violated specific terms of the probation he had negotiated so the longtime coach could continue to make a living, wasn't so lenient the second time around, dropping the prison sentence upon Jeschke. He also ordered that Jeschke register as a sex offender for the remainder of his life.
Thursday, Jeschke pleaded to attempted dissuading of a witness, solicitation of perjury, and furnishing marijuana to a minor over the age of 14. The dissuading charge is a serious felony — a strike — which means if he is charged with another felony in the future, his potential prison exposure would be doubled and he would be ineligible for probation.
The charges were filed against Jeschke during his first trial in 2009. Authorities alleged he talked a former high school tennis player into creating a fake Facebook page and sending intimidating messages to witnesses during the trial, days before they were scheduled to take the witness stand.
Deputy District Attorney Anthony Davis said the prison time was a just result for the resolution of the two cases. "It is a substantial amount of time in prison, and the disposition means that the various victims and witnesses, most of whom were in high school when these events took place between 2-4 years ago, will not have to testify, officially allowing them to put that chapter of their lives behind them," he said, adding that the victims were pleased with the outcome.