Courts & Crime
Alleged Gangbangers to Stand Trial
Face Attempted Murder Charges for Eastside Stabbing
Five alleged Westside gang members, Judge Clifford Anderson decided Tuesday, will head toward trial for a vicious attack on a known Eastside gang member in March which left him alive, but with 21 or so stab wounds.
Details of the attack unfolded during a preliminary hearing in Santa Barbara Superior Court through the testimony of several Santa Barbara police officers, and Judge Anderson ultimately determined there was enough evidence for Richard Soto, 22, Ricardo Pineda, 18, Juan Carlos Villa, 19, Juan Maldonado, 18, and Robert Aldaz, 18, to proceed to trial. The five are charged with conspiracy to commit murder, and everyone but Soto is charged with attempted premeditated murder. The charges include gang enhancements, and Maldonado, Pineda, and Villa are charged with committing a crime in furtherance of a criminal street gang. They could face life in prison if convicted.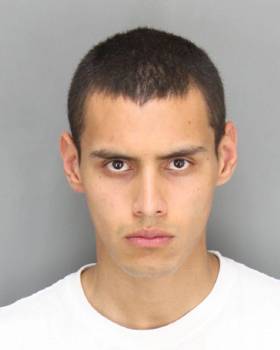 The officers testified that they responded to the 1200 block of Cacique Street just after 9:30 p.m on March 30 to find the 18-year-old victim lying near the entrance of a nearby trailer park. Medical reports would show he had nearly two dozen stab wounds, a punctured lung, and a severed artery. The officers stated that they had talked to two teenage females who had witnessed the attack. The two described how a dark vehicle drove to the dead end (where Cacique Street becomes a footbridge) and turned around. A group of Hispanic males then jumped out of the car and attacked the victim, who had been walking east away from the footbridge, which is a popular hangout for Eastside gang members. The victim was yelling, and one of the suspects shouted, "Shut the fuck up," a witness relayed to Officer Crystal Bedolla.
It wasn't until one of the witnesses approached the victim that they realized he had been stabbed and was covered in blood, Bedolla said. One of the witnesses said there were four males, while the other said there were five. Both said they'd be unable to positively identify any of the suspects.
A probation search the next day of Maldonado's apartment — who, along with Pineda, was a minor at the time but has been charged as an adult — turned up a shotgun, shotgun shell, as well as a T-shirt from the apartment rooftop and a pair of boxer shorts from the laundry that both looked to have blood stains on them. Police testimony, however, didn't mention whether testing was done to determine whose blood was on the clothing.
Over the next few days, four of the defendants were arrested, though Villa wasn't arrested until May 24, when detectives apprehended him in Chicago. Aldaz, alleged to have driven the group during the attack, was pulled over on a minor traffic violation the day after the incident, and a search of his vehicle, according to police testimony, turned up marijuana brownies, a marijuana pipe, plastic packaging for two knives, and a single knife, as well as black gloves and a knit cap. According to Detective Michael Claytor, there were large stains of what appeared to be blood on the seats.
The prosecution spent a good part of the hearing attempting to determine Soto's level of involvement. Detectives had been able to track down surveillance footage at Big 5 Sporting Goods that they testified showed Soto buying the knives allegedly used in the attack. However, interviews with the other defendants showed that Soto had been let off from the vehicle prior to the attack.
Prosecutor Kim Smith argued that Soto was connected to the conspiracy to commit murder — which requires an agreement among the perpetrators to kill and act in furtherance of the crime — because a coconspirator need not be present when the crime takes place and that his alleged gang membership was contributory. She claimed he had intent because he had told police he had been jumped a month earlier by Eastsiders; he was also close to Luis Linares, the teenager stabbed to death on State Street in 2007; and he was reportedly angry about those incidents.
Soto's attorney Doug Hayes, however, argued in court Monday that his client "abandoned the conspiracy when he was let off … Basically, my client was a dummy," said Hayes. "They didn't want him near this." Evidence that he provided the knives is "sort of a red herring," Hayes told the court.
If the case does go to trial, Smith will have her work cut out for her convincing a jury of the difficult legal theories involved, and the judge even noted she might have a harder time proving the group's mental state at trial — that they intended to kill someone that night.
Aside from Soto, according to officer testimony, others in the group allegedly admitted to being present at the attack: Pineda apparently first denied his involvement, but then admitted he had kicked the victim a couple of times. Maldonado, after giving several different stories, admitted to being there as well as kicking the victim. He also mentioned others who were there, specifically saying that Aldaz was interested in "putting in work" for the gang and that he saw him strike the victim with a baseball bat while he saw Villa stab the victim.
James Crowder, attorney for Pineda, tried to convince Anderson the prosecution didn't show elements of premeditation and deliberation, noting many of the stab wounds were below the waist and that there was never any intent to kill. "There's no indication … they were planning to kill anyone," Crowder said. "The intent of the stabber was that they not be fatal [wounds]." While the other defense attorneys echoed his sentiments, the argument didn't sit well with Anderson.
The five will be back in court on October 17.