Food & Drink
The SLO Tomato
Boutique Hotel Collection Dining Rooms Celebrate the Tomato
As unfortunate as it's been that summer seemed to slumber up until the past few weeks, that sudden burst of heat did wonders for tomatoes, concentrating them and their peak season. If you, like Pablo Neruda, care to celebrate that "the tomato offers / its gift / of fiery color / and cool completeness," you need to get to the four properties in the Boutique Hotel Collection in SLO County for "Ode to Tomatoes: A Culinary Happening." Running from September 22-October 6, the event celebrates the wondrous fruit/vegetable in almost 20 varieties, from green doctors to boxcar Willies, with four-course, totally tomato-centric prix-fixe menus. Sure there's a gazpacho (a fine one at that), but then there's something like a pineapple tomato Napoleon with seared Texas toast, an over-easy egg, white truffle vinaigrette, and a smattering of arugula (think of this as the best McMuffin you'll ever have). And there's tomato dessert, too — turns out the tomato's very much a fruit, scrumptiously subbing for apples in an upside-down green-tomato caramel pecan pie.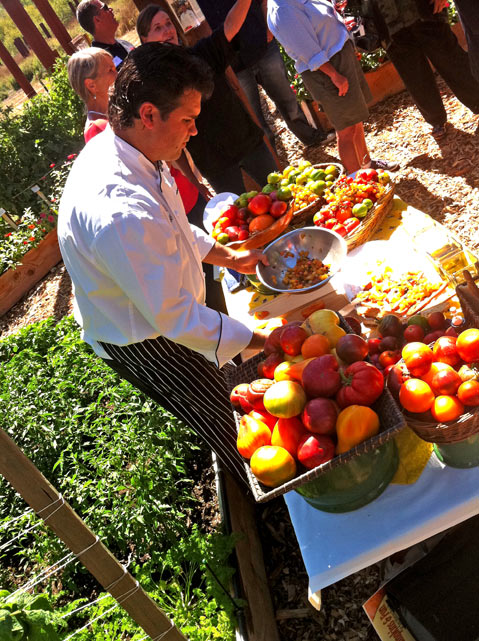 Standing amid the new (since May) garden planted at Sycamore Mineral Springs, Mike Casola, CEO of the Central Coast Boutique Hotel Collection, said, "The Neruda [poem] was our inspiration, that passionate use of food in our lives. This event is about the full bounty, and reminding us the tomato is actually a fall fruit." That verdant garden means the tomatoes aren't just grown nearby — the chefs have been part of the growing process all along. There's more than tomatoes, too — it's a garden rich with produce, from zukes to cukes to herbs, and a testament to the chefs' desires to cook local as much as possible.
Alongside the tomato dishes, the hotel dining rooms are pairing selections from the Sunset Western Wine Awards nominees list. The Sunset Western Wine Awards are recognized as the highest honor for Western winemakers and focus solely on wines produced in the West. While matching acid with acid isn't easy, the sommeliers know what they're doing. Think a crisp, just fruity enough Chateau Ste. Michelle 2009 "Eroica" Riesling with that eggy tomato Napoleon or a Porter Creek 2009 Old Vine Carignane with a roasted heirloom tomato and short rib ragout, the earthy richness of the wine seeming to call for sweetness, which the food then delivers (ah, caramelized, long-braised beef).
At a recent media lunch introducing some of the featured dishes, one attendee summed up the joys of the event by saying, "I was really cranky before, but I'm not anymore."
4•1•1
Hit the road north for Ode to Tomatoes: A Culinary Happening at the four properties of the Boutique Hotel Collection — Sycamore Mineral Springs, Sea Venture Resort & Restaurant, The Cliffs Resort, and Apple Farm Inn — from September 22-October 6 for special tomato-focused menus and even special in-the-garden dinners.