Sports
From the Mound
S.B. Pitcher Dylan Axelrod Makes the Majors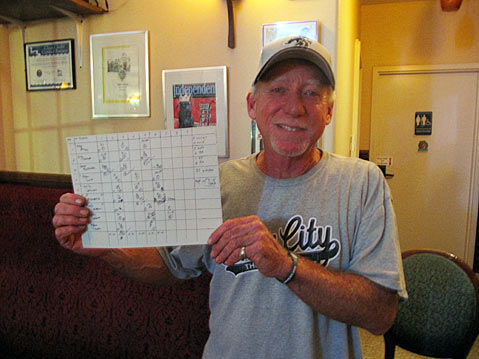 The tension was thicker than the pizza crust at Giovanni's on the Mesa, where a cluster of patrons agonized over a televised baseball game last Monday night. The Chicago White Sox clung to a 4-3 lead over the Toronto Blue Jays, and rookie pitcher Dylan Axelrod's last chance to snag a major-league victory this year hung in the balance.
Axelrod had already done his part. In his third start since the White Sox called him up from the minor leagues, the right-hander from Santa Barbara pitched a six-inning shutout. "He's gotten into a good rhythm," observed his dad, Dennis Axelrod, intently keeping score in the pizza parlor. The score sheet showed that Dylan allowed just three hits and struck out six batters, one in each inning. His first victim was Jose Bautista, the major-league home-run hitter. He ended his stint with a flourish, whiffing J.P. Arencibia on four pitches.
A loud "Yeah!" came from the delegation watching the game. They represented UCP (United Cerebral Palsy) WORK, Inc. Dylan, a volunteer with that organization, is their good friend. They followed every one of his games from the start of the season, when he pitched for the Double-A Birmingham Barons; through his sterling performances with the Triple-A Charlotte Knights; and now, they shared in his big-league experience.
"He reminds me of the classic, old-fashioned ballplayer like Sandy Koufax who doesn't show a trace of arrogance," said Marty Kinrose, a program director for UCP WORK, Inc., and lifelong friend of Dennis. "His quiet demeanor is what endears us to him," said Mark Janisch, who would have loved to play ball if his coordination were not impaired by cerebral palsy. "We're all having a fun ride with Dylan. Whether he goes 5-20 or 20-5, he has our love and support."
Dylan was bathed in love during his youth. His mother, Joni Axelrod, homeschooled him for four years so she could be close to him after she was diagnosed with cancer. She died in 1995 on his 10th birthday. His grandmother, Lula Axelrod, kept score at his games in the Pony League, at Santa Barbara High, SBCC, and UC Irvine. She died at 90 after he pitched in the 2007 College World Series.
"She loved baseball and was proud of her scorekeeping," Dennis said. "I'm wearing her wedding ring." He displayed the band on his left pinkie. He said that Dylan pays homage to Joni at the start of every inning, bowing and tracing a "J" into the dirt of the mound.
Now, it was the ninth inning in Chicago, and the outcome of the game was beyond Dylan's control. Sergio Santos was on the mound for the White Sox. He had loaded the bases with two out after giving up a two-run double. "Get him out of there," urged one of Dylan's friends, who had seen Santos blow the lead when Dylan was on the verge of a victory over the red-hot Detroit Tigers. But Santos stayed in, and the plea was, "Come on, Santos." It was answered when Adam Lind struck out swinging — but wait, the ball was loose. Catcher A.J. Pierzynski retrieved it and stepped on the plate just before pinch runner Chris Woodward could score the tying run from third. Game over.
"That was close," Dylan said by phone the next morning, when his name came after the "W" in the newspaper box score. His teammates were as relieved as he was. "I got a little beer shower in the tunnel," he said. "It was nice to see all the veterans and other players wishing me the best."
Dylan, 26, worked long and hard to get to the top. "I love facing those guys," he said. "If you make a mistake, it's going to cost you." One of "those guys" was Cleveland's slugger Jim Thome. "I was a fan of his in the '90s," Dylan said. "He grounded into a double play the first time I faced him. The next time, I fell behind in the count, and he singled through the right side." That hit ignited a four-run inning by the Indians, the only bad inning on Dylan's 18 2/3 innings of major-league work.
He will spend a lot of time in the weight room during off-season to keep himself strong for a serious shot at making the White Sox rotation in 2012. And he will spend time with his friends from UCP WORK, Inc. "I love hanging out with those guys," he said. "They're really happy people. They don't complain."
Dennis says he can't be prouder of his son, but he does wish for one more dream to come true. "My fantasy is to have Vin Scully tell Dylan's story," said Dennis, who grew up a Dodger fan in L.A. It could happen. The ChiSox will visit Dodger Stadium on June 15, 16, and 17, 2012, and Scully intends to be in the broadcast booth. If the Dodgers face Axelrod during that series, Dennis said, "They'd have the best attendance of the year because of all Dylan's fans."