Barber Shop
Montecito Barbers
1028-B Coast Village Rd., 969-1314
Three generations of barbers — grandpa Bob Sanchez, dad Matt, and son Timmy — work or have worked in this cozy little clip joint tucked away near Vons, Montecito. The things they have seen over the last 45 years with customers from all walks of life: working stiffs and studio chiefs, funny guys like Jonathan Winters and show biz kids like Rob Lowe's sons. Even an icon or two. "Marcus Allen used to just come and hang around in here when he lived here," said Matt. "No matter who it is, though, we just try to make people feel like, 'I've found my barbershop.' And it's the customer base that makes this shop what it is. We thank them so very much."
Finalist
Mesa Barbers
Hair Salon
Walter Claudio Salon Spa
11 W. Figueroa St., 963-7579
Walter Claudio has taken this honor so many years in a row now that it's difficult to remember a period of time bereft of his expert hair ministration. "The funny thing is that we've never done anything to stir up votes. The reaction seems to have grown organically. I guess we do talk about it after we win — maybe throw a party. Maybe that's why we win: it's the party," joked the Argentine-born owner of the three-decades-old establishment (seven years in their "new" shop.) "But we have a motto we drum into all our beauticians (there are 38 of them): We're only as good as our last service. Now is the only time that matters. And we try our best to make people feel taken care of," he said.
Finalist
Cheri Bibi Salon
Nail Salon
Aqua Nail Bar
3455 State St., 687-8483
"We have a lot of competition," mused Aqua owner Claudia Cordoba-Papa. "And considering that, we are very grateful our customers voted for us." It's mostly a loyal customer-base, too, said Cordoba-Papa, that keeps the approximately 25 aestheticians busy at Aqua, but she also thinks that the working conditions help, too. "It's consistency and a clean environment which makes a nice place both for our people and our customers. A place they want to visit."
Finalist
Tina's Nail Salon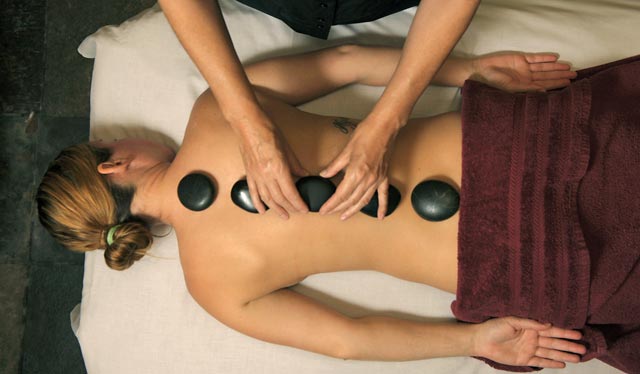 Day Spa
Avia
350 Chapala St., Stes. 101 and 102, 730-7303
"The whole setup is magical," said new owner Spencer Cooper, who with his partner Troy Medore just barely took over the spa when they got slapped with this Best Of honor. "We are so excited to win, and this place is fantastic." Cooper is also obviously proud of offerings at the day spa ranging from hair treatments and facials to full body massages with wraps. It may be a luxury, the kind that a rough economy might normally forbid, but Cooper said that the customer base includes about 30,000 names, proving that in times of stress, smart people seek therapy. "Nothing is recession proof, but we are very busy." And judging from the readers' confidence, very good, too.
Finalist
Float Luxury Spa
Medical Spa
Evolutions Medical Spa
1309 State St., 687-0212
"We are very grateful," said Carrie Vuich, the spa director. "And we don't take it for granted ever that our clients take the time to vote for us. We have the nicest, the most loyal clients." But Vuich takes great pride in her staff as well, nurses, technicians, and the staff physician. "Of course, we pride ourselves in having the most up-to-date technology, yet the staff is high-end as well — all of them are very qualified, but very down to earth, too. We are so thankful for the votes."
Finalist
The G Spa
Place to Get a Facial
Float Luxury Spa
18 E. Canon Perdido St., 845-7777
"We're glad that people like the name," said Stephanie Phelan, who co-owns this posh day spa with sister Natalie Rowe in the fun neighborhood that includes a movie theater, the Lobero, the new Marshall's, and a palm reader. The name connotes the owners' intentions: it's how they mean for you to feel when you are there. Float offers a variety of healthful luxuries from facials to Thai massage, including something new called accu-massage, which includes pinpoint treatment from a Chinese medicine practitioner. But it's the facials that readers have voted number one for two of the two-and-a-half years the sisters have been in business, and that alone is enough to make them feel light on their feet.
Finalist
Skin Deep Salon
Women's Clothing;
Men's Clothing;
Shoes
Nordstrom
17 W. Canon Perdido St., 564-8770
In big cities, a big department store is a mere convenience. It brings together designers, fashions, and all at the kind of prices that mass-buying allows. In Santa Barbara, due to its classically high overheads, Nordstrom's is almost a must. The mall it anchors can satisfy your need to roam around in hunter-gatherer mode of shopping pleasure. But when we get serious, many Santa Barbarians head to Nordy's. Here people can accumulate in minutes — well, maybe an hour and a half — what would otherwise take an entire afternoon just to drive to. Men's suits (where else?), designer shoes for both sexes, and a slew of women's fashion needs and accessories, all in one place. And then there's lunch or tea on the terrace. An annual big winner, it's not only a lot better than driving all the way down to Thousand Oaks, it's prettier, too.
Finalists
Women's Clothing; Men's Clothing; Shoes
Macy's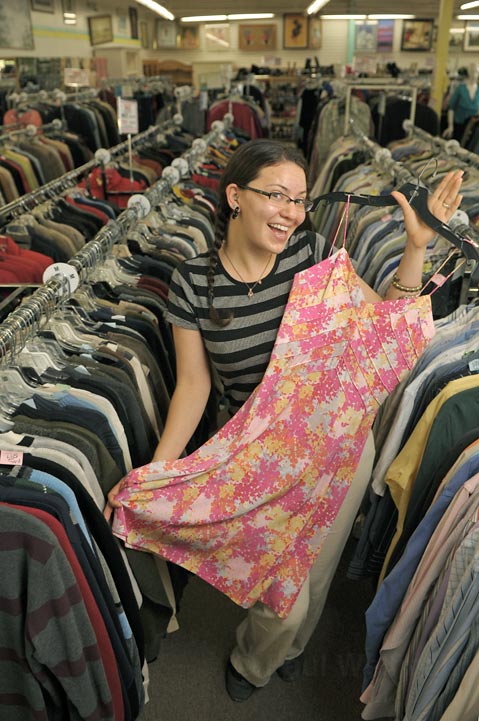 Thrift Store
Alpha Thrift Store
3 locations
Alpha has pulled off a trifecta this year with the opening up of its third store in Santa Barbara. They have taken over the Salvation Army building on Milpas Street; so they now have stores from one end of Santa Barbara to Goleta for your shopping pleasure. Clothing is arranged by color, rather than size, all stores have items in all categories, shoes, books, bric-a-brac, and specialty items — and weekly specials for those who like the thrill of the hunt. They store Halloween costumes and Fiesta items all year and bring them out during those seasons; shop early for best selection. If you are not familiar with the Alpha Resource Center, it provides day programs and family support for some of Santa Barbara's adult population with developmental challenges. They do good work and for this reason are worth donating your goods to, as well as patronizing their stores. Give them a call for pick up and come by (buy) any of the three store locations!
Finalist
Goodwill Industries
Vintage Clothing
Yellowstone Clothing Inc.
527 State St., 963-9609
If you have reached a certain age, you may be slightly dismayed to hear that Led Zeppelin and Van Halen concert tour T-shirts are considered "vintage." Rest assured, they are, according to Yellowstone manager Garnet Methmann, and, what's more, sought avidly by the people who spend money. Perhaps it makes a little more sense that people crave letterman jackets with leather sleeves, with or without the letter, and that cowboy shirts still fetch good money. Methmann, who is excited about the their new eBay store, Yellowstone Vintage Clothing, is happy that this perennially chosen store got picked yet again, but she does not rest on their laurels. "We work really hard for that vote, and we work really hard on the store, everyone does, so it's great that we won."
Finalist
Cominichi's
Consignment Store
The Closet
920 State St., 963-8083
Manager Taylor Lambert is very proud of The Closet's last six wins in this category, but maybe even prouder of this one because it comes at a time when The Closet has begun a ruthless expansion and attempt to conquer the consignment-clothes world with their Westlake satellite and a new store in Santa Monica. The Closet "specializes in high-end brands and on-trend labels" like Juicy Couture, which usually sell (or resell) in this store at about a third of their original cost. Lambert loves the store and loves the idea of it, too. "I really like offering customers authentic pieces at a reasonable price." With the idea spreading and the voters voting, it's likely the customers like it, too.
Finalist
Jessica
Dry Cleaner
Ablitt's Fine Cleaners & Launderers
17 W. Gutierrez St., 963-6677
Garry Kaufman was an Ablitt's driver for 16 years before he became plant manager, and believes he has some insight into why the downtown dry cleaner keeps topping the polls. "It's the quality of our customer service. I know we earned that reputation, because sometimes I go out in the front and I hear customers saying good things about us." That and the fact that they're the only cleaner with free pickup and delivery. "At least last time I checked," he added. Kaufman, then, is justly proud — and smart, too. "Hey, my boss is the best in town. See, I know which side my bread is buttered."
Finalist
Martinizing Dry Cleaning
Tailor
Lee's Tailoring
4141 State St., E4, 967-5728
For Lee Thompson, the right stuff is clearly important. As in, doing it right and getting it right. "And the best way is to get it right the first time," said the owner of Lee's Tailoring, who ought to know since he's right on and on the job for the last 47 years after moving from Texas to California in 1983 whereupon he first worked for Marshall Field, then Lauren and Company, before getting it all right on his own in his own store. "Having the right equipment counts, too," he added. And if you think that winning The Indy's Best Of readers' poll for the last three years in a row makes him happy, why, then, you would be right also.
Finalist
Tony the Tailor
Eyewear Selection;
Sunglass Selection
Occhiali Fine Eyewear
1046 Coast Village Rd., #H, 565-3415
7 W. Canon Perdido St., 963-5760
In the words of the inimitable Irwin Eve, Occhiali owner and index of optical hipness since the 1980s, whose taste and values have served many a nearsighted knave like me: "Occhiali offers a well-curated selection of the most fashionable frames from around the globe. This boutique experience offers the client a more tailored experience, where licensed opticians are extremely knowledgeable and help you find the perfect frame to express your own individual style. We wish to thank our wonderful customers for all their support over the last 24 years." We've seen the light!
Finalists
Eyewear Selection:
Santa Barbara Eyeglass Factory
Sunglass Selection:
Sunglass Hut
Shoe Repair
Jesse's Shoes & Repair
5915 Calle Real, Ste. D, Goleta, 964-3414
Like Lee of Lee's Tailoring, Jesse of Jesse's Shoe Repair has been working away in our town faithfully for over four decades. He can fix anything, and probably already has; and maintains that his quick, steady work is what his customers value most in him. Does he ever get tired of resoling the South Coast? "No, I don't," said Jesse. "I like what I do. If I ever got tired of it, I would quit."
Finalist
Step-N-Out Instant Shoe Repair