Living
My Self in a Box
Encountering Santa Barbara's First Life Vessel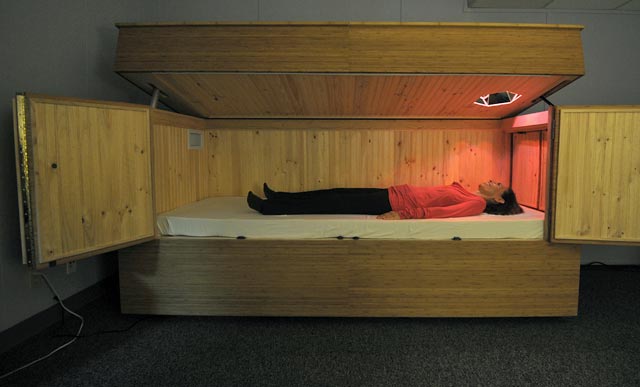 I'm lying on my back, atop a soft mattress, inside a bamboo-and-pine box that's considerably roomier and certainly warmer (I presume) than a coffin. In front of my eyes is a hexagonal panel of slowly dimming, colored lights, and I'm surrounded by ethereal music, the vibrations of which — especially on the particularly bassy tones — emanate from below and gently rumble my rump. Of all the interesting alternative-health experiences I've stumbled into, from vitamin injections to underwater yoga, the hour that I spent slipping in and out of consciousness in Santa Barbara's first and only "Life Vessel" might qualify as the kookiest. But it wasn't just a weird way to nap, for my perception of time evaporated, and when the session was over, my body felt a bit spent, like I'd just endured a deep massage. The sensation of sound, it seemed, had done something, although I'm still not sure what.
"We think that vibrational medicine is the wave of the future," explained Stephanie Badasci, who brought the Life Vessel to town with her business partner, Becky Witt, earlier this year. The pair were trained by mentors in Cottonwood, Arizona — where the federally registered device was invented in 1998 — and taught that the vessel's vibrations help balance the autonomic nervous system while de-stressing and detoxifying the body. But it is not a healing device, they stress; rather it presents a tool kit for self-healing. "It gives your body an entire range of vibrations and frequencies," explained Witt, "and your body picks the ones you need."
Today, Life Vessel Santa Barbara is one of the few places in the world where you can try out this vibrational therapy, as well as detoxifying foot treatments, voice-powered fear-conquering technology, personal collage classes, and consultations using the "brain gym." See lifevesselsantabarbara.com.