Living
Gardener Gifts
Boots, Gloves, and Other Gardening Garb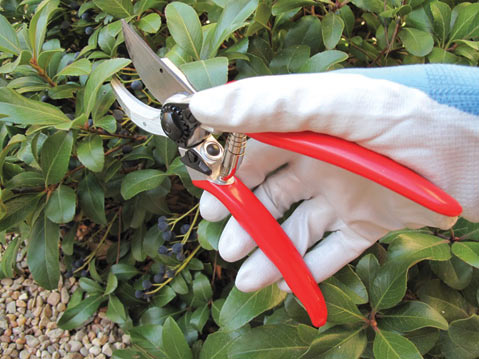 Yes, most gardeners covet the latest in groovy hand tools like bulb planters, ergonomic pruners, and trowels. Even an efficient worm compost bin or self-watering pot system will warm the cockles of the dedicated grower's heart. What might be overlooked in the quest for appropriate (and welcome!) gifts for the gardener might just be comfortable and functional clothing and accessories to make a happy gardening experience. And some are pretty stylish, as well.
For wet-weather gardening, there are rubber boots of varying heights. They no longer come in basic black or classic olive drab. Paisley, spots, plaid — all these are appearing on modern gear. There are all-plastic clogs in every bright color of the rainbow. The best have washable foam or cork insoles that keep feet dry and comfortable while in the garden and make cleanup a snap. Their slip-on style makes them easy to park by the back door so the mud and debris stays outside.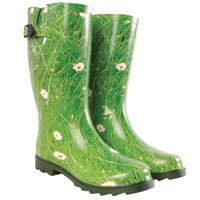 Gardening garb often turns out to be the old clothes that aren't fit to wear in public, like that T-shirt with the less-than-polite image or politically incorrect slogan and the totally frayed, but most comfortable, jeans. Comfort is the key, and that means warm when it is cold and cool when it isn't, as well as the ability to assume all those contorted poses necessary to dig holes, plant a row of seeds, or pull stubborn weeds. For consideration, there are also clothes made of modern fabrics designed to block out harmful UV rays from the sun and ones that repel dirt and water.
To protect the most dexterous appendages, the hands, there are some wonderful new gloves designed for comfort and more. Gloves can protect hands from the drying effects of dirt or the chafing of soft skin against hard tool handles and saw-toothed weeds, thorny roses, and much more. Leather has been the material of choice for decades, but there are always improvements to be made. Some of the best garden gloves are made from soft, supple goatskin, and new editions have reinforced palm areas (suede patches for extra padding and grip) and elastic backs to keep them snugly in place. There are also high-tech gloves that combine the durability of suede leather on the palm side and breathable, stretch Lycra fabric on the back. There are printed cotton duck fabric gloves for light duty, and even latex rubber surgical or kitchen-type gloves may have their place in your work wardrobe. Gardening jobs are varied, and different types of gloves can make many of them more comfy.
Cowhands of the old (and new) west discovered long ago that a bandana tied around the neck could protect from the burning rays of the sun (turned around and pulled up over the mouth and nose, it also served to filter out some of the ubiquitous dust of life on the cattle trail). There are now bandanas that not only block out sunlight but also provide long-lasting cool relief on even the hottest days. One is a cloth-covered tube containing compounds that hold water and release it slowly through time. It may be rehydrated repeatedly to provide cooling relief for years of service.
Hats are also essential gardening gear. Broad-brimmed hats of breathable woven palm or other fibers are readily available. Look for one with a fabric sweatband and a chinstrap to keep it in place on breezy days. Other choices are woven fabrics, either cotton or synthetic, with wide brims or duck bills to protect the scalp, as well as shade the face. If the brim of the hat doesn't extend all the way around to protect ears and neck, it is imperative to put sunscreen on those exposed surfaces. In fact, put it on all exposed surfaces anyway. If the pesky native fog obscures the sun and temperatures have taken a dive, a baseball cap or knit cap will insulate against the chill while doing the necessary garden chores.
Sunscreen and other skin products that have been specifically designed for gardeners also abound. In addition to gardening centers, outdoor sports emporiums will be a good place to shop for protective skin gear.
Practical gifts may not be romantic, so choose wisely if the gift recipient is your significant other; however, most dedicated gardeners will be very thankful.