Briefs
Alleged Gang Members Arrested for Armed Robbery
SWAT Team Helps Serve Search Warrant at 1819 De la Vina Street
Santa Barbara police yesterday arrested three suspected gang members accused of robbing a person at gunpoint and stealing jewelry from the victim that they later tried to sell in Ventura County.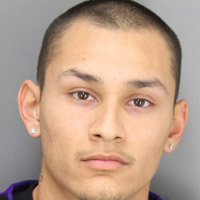 Felipe Flores, 18, Alejandro Peralta, 18, and Gabriel Carbajal, 19, were taken into custody at around 6 p.m. after detectives — with the help of the SWAT team — served a search warrant at 1819 De la Vina Street. "Due to the possible presence of a small child, the suspects were ordered from the residence by SWAT team members and negotiators," a police spokesperson said. "A 2-year-old child was carried from the residence by one of the suspects and was safely transported by officers to the home of his grandmother." A fourth suspect, Saul Cruz, 22, was arrested on unrelated probation charges. All are members of an area gang and were considered armed and dangerous.
The robbery, the spokesperson said, occurred on December 1. The victim reportedly had known the three suspects for some time and would occasionally lend Flores money. Flores had contacted the victim last week and arranged to meet so he could pay the loan back. He asked the victim to bring some jewelry that he wanted to buy.
When the victim arrived at the designated location, Flores was with Peralta and Carbajal. "After meeting for some time, Flores drew a handgun and told the victim he was being robbed," the spokesperson said. "A second suspect produced a stun gun and threatened the victim." He was forced to give up the jewelry and watch he was wearing. As the suspects left, they threatened to kill the victim if he called the police. The suspects were later captured on video surveillance trying to sell the stolen jewelry in Ventura.