Living
Handcrafted Holiday
Area Artists Offer Handmade Gifts
Yes Store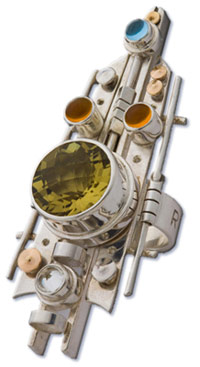 This marks the 43rd year since the seasonal cooperative Yes Store opened in 1968. As is tradition, the shop features wares made by Santa Barbara artisans, including jewelry, pottery, clothing, and textiles. There are creations by Deborah and Kevin Healy of Healy Designs, whose rings, necklaces, and kaleidoscope charms are often whimsical and definitely unique; handwoven clothes from the Woven Thread; aerie-themed nicho boxes by Jeanine Brinkman; and more. The Yes Store is located at 740 State Street and open through Saturday, December 24, seven day a week, 10 a.m.-7 p.m. For more information, call (805) 966-9777 or visit theyesstore.com.
A Crimson Holiday
After a four-year hiatus, the holiday haunt Crimson has returned. More than 20 area artists' works will be available for purchase, including Ramona Clayton's terramonary stoneware & porcelain pieces, Roberta Miller's hand-painted gourds and furniture, Cathie McCammon's fused glass, Chris Hansen's wood bowls, and Steve Phillip's wood gifts for the wine lover. You'll also find quilts, children's toys, and organic soaps and lotions by AliO; naturals soaps and lotions, soy candles, scented candles, hats and scarves, handbags, and glass-blown pieces by two different artists; and original acrylic paintings, prints, children's towels, bunting, stuffed toys, doll clothing, and glass bowls and trays. The driving force behind the unique holiday gallery is Marilyn Dannehower, owner of MAD Dreams Designs and BridalCrystalDirect.com. Crimson is located at 3609 State Street (next to Jeannine's at Ontare Rd. and State St.) and is open through Saturday, December 31 (hours: Mon.-Fri., 10am-8pm; Sat.-Sun., 10am-6pm). For more information, call (805) 705-1429.
Cabrillo Arts and Crafts Walk
Don't forget to take a stroll past the many booths set up along the waterfront, starting at Stearns Wharf and wending along East Beach. You'll find fabulous arts and crafts, including photographs, paintings, pottery, children's toys, hats, dog wear, goodies for your garden, and just about anything else you can think of for that special someone. The Cabrillo Arts and Crafts Walk is at Cabrillo Boulevard and State Street on Sundays, 10 a.m. to dusk.