Courts & Crime
Police Investigating Possible Hate Crime
Video Shows Two Gay Men Being Attacked as They Leave Downtown Bar on New Year's Eve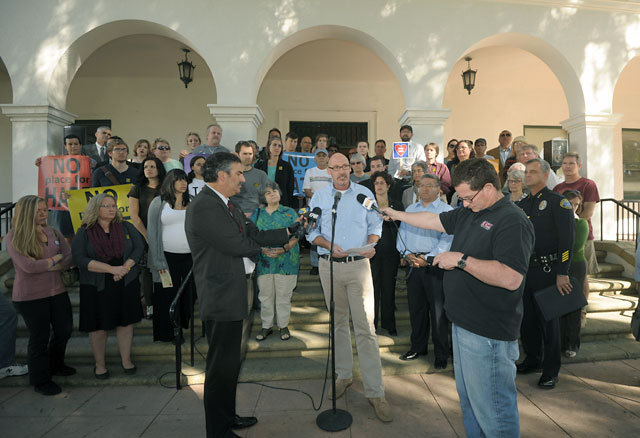 Two men were attacked during the New Year's Eve festivities as they left a downtown Santa Barbara bar at around 1:45 a.m. The three male suspects who carried out the beating were reportedly motivated by the fact that they thought the victims were gay. A video of the assault can be viewed below.
A police spokesperson said the two victims were walking toward their car parked near Ortega and Chapala Streets when they were confronted by three men they had never met. One of the suspects made a derogatory comment and the three proceeded to punch the victims. One of the victims suffered a broken jaw and a severe head injury that required staples to close. The other escaped with only minor injuries.
The suspects were described as follows:
Suspect 1: White male adult, 20s, 5'4" / 160 lbs with a shaved head. White and black, plaid, long-sleeve shirt
Suspect 2: White male adult, 20s, 6'1" with a shaved head. Dark clothing
Suspect 3: White male adult, 20s, with a shaved head. Dark clothing.
Coinciding with the release of the video, Police Chief Cam Sanchez issued a statement that read, "Hate crimes like these will not be tolerated and those responsible will be held accountable." The SBPD is investigating the assault and asks the public to help identify the suspects by calling Detective Kushner at (805) 897-2345. Information can be provided anonymously.