Film & TV
Mighty Fine
An Interview with Director Debbie Goodstein
Director Debbie Goldstein's Mighty Fine is a film about a family who moves from New York to New Orleans and must deal with a new city under the watchful, domineering eye of the father, played by Chazz Palminteri. Rounding out the cast are established actors like Andie MacDowell, who plays the mother with a thick accent, and up-and-comers such as MacDowell's own daughter, Rainey Qualley, who plays the older daughter, and Jodelle Ferland who plays the younger one.
Goldstein recently answered a few questions about her film.
How was this story developed?
I was first inspired by the film The Great Santini. When, I saw that film, way back, I decided that I wanted to one day write about a complicated father and the domestic struggles his personality flaws create. I wanted to focus most specifically on male rage and it's effect on, in this case, daughters.
Needless to say, my interest in the subject matter was very personal. My father suffered from a rage akin to Joe Fine's as did many of the men I knew in my youth. It seemed that the aggression that men needed, or thought they needed for survival in the workplace back then, did not translate well to their home life, was often steeped in depression and feelings of worthlessness, and could turn a family inside out. I think, on some level, the problem still exists today and has become more evident and worrisome as times have gotten harder.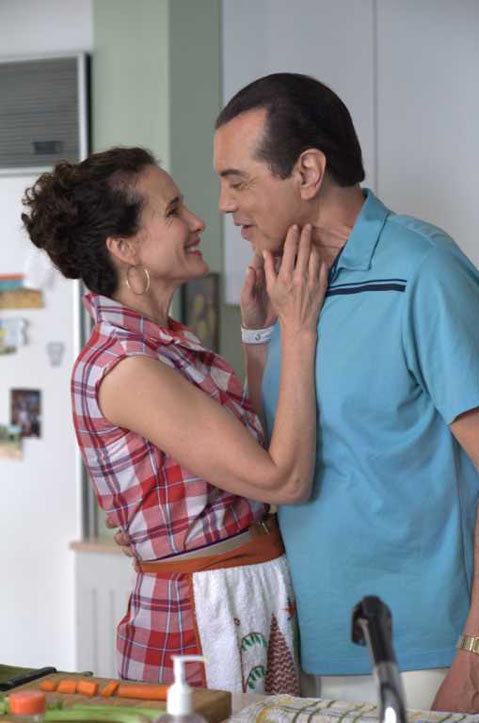 What other personal connections are there to the story?
Though the film is autobiographical in many ways, and I did have a domineering father who was prone to unexpected rages, much of the story has been fictionalized or transformed. My family never moved south, though we did move — to Long Island. And I can't say that my father's business ventures were crooked as I was never privy to what was going on — though in my fantasies, as a young girl with a rough father who was working in a tough field — it certainly seemed like a possibility. The "garmentos" of those days all dressed, acted, and talked like mobsters so it didn't seem like such a stretch to imagine illicit activities. Like Joe Fine, my father did have to deal with the demise of the American textile industry in the '70s and like Joe Fine, he didn't give up without a fight.
How was this cast?
Andie MacDowell came on board first. She was taken with the script and though she doesn't have Stella's background, coming from a somewhat traumatic past of her own, she could readily identify with Stella's fragility and fear. We decided it would be great to get Rainey, Andie's real life daughter to play the role of the rebellious daughter, Maddie, for the obvious reason that she and Andie could draw upon their real relationship. Beyond that, Rainey was a beautiful and talented aspiring actress and after we auditioned her we believed she had the chops to play this complex role. Her incredible performance confirmed it.
Chazz also came on early. He had the perfect combination of likability and toughness to bring the character of Joe Fine to life, and make him wonderfully sympathetic and scary at the same time. Chazz put everything into the role and was an incredibly supportive collaborator throughout the process. I'm incredibly grateful to him.
Finally, Jodelle Ferland, was cast during a Skype audition from Vancouver. She had this awesome intensity combined with an intelligence and sense of playfulness that made her perfect for the part. She has incredible talent and diligence and is clearly a star on the rise as evidenced from the many roles she is getting from Twilight on down. She and her mother and manager, Valerie Ferland, were totally devoted to the project from start to finish.
Was it tough to get Andie MacDowell to master that accent?
Andie worked with the late great Sam Chwat in New York on the accent along with Francine Segal down in New Orleans. She also credits a Polish friend of hers down South for modeling the delicate accent she developed for the film. She was in character much of her time in New Orleans, using the accent. When my children met her on the set they thought that was her actual voice. They were thrown when she talked with her own Southern accent and still prefer her speaking as Stella. Finally, as a testament to her hard work, after watching the film, Tim Monich — perhaps the best known voice coach of our times — deemed her accent spot on and very authentic for a person of Stella's origins.
The coming of age story is a common one in filmmaking. What do you believe sets this one apart?
I think what's new here is the focus on the father-daughter relationship and the introduction of the theme of emotional abuse as distinctly different and likely much more prevalent than physical abuse in our culture. Joe Fine is an essentially loving father tormented by his own haunted past. He never physically harms his family but his rage is an intermittent terrorizing force in the lives of his two daughters and it informs their choices, shaping and often hindering their lives.
What's next on your plate?
I am in the midst of developing two more feature scripts which I'm very excited about directing. Additionally, I just went back to Poland after having filmed a documentary about my family there 25 years ago. My mother's family was hidden in an attic during the second World War and in the first film, Voices From the Attic, I told that story. I'm working on a sequel to that documentary which incorporates the third generation (my kids, nieces, and nephews went back this time) and shows Poland in a new light of healing and redemption.
Mighty Fine screens on Wednesday, February 1, 7:40 p.m., Thursday, February 2, 1:20 p.m., and Sunday, February 5, 10 a.m., all at the Metro 4.