Food & Drink
The Sky's the Limit for Cielito
Chef Ramon Velazquez Writes a New Chapter of Mexican Cuisine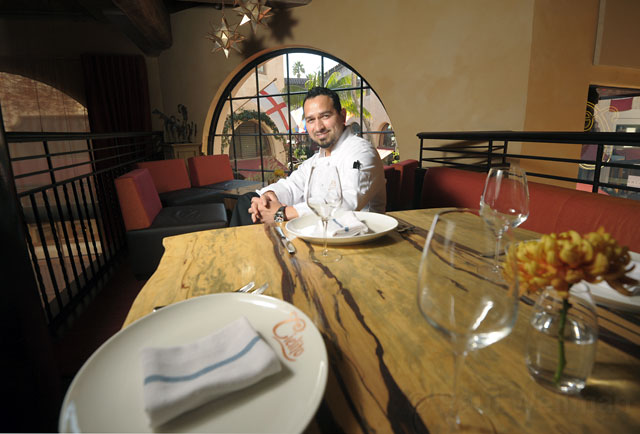 If you ever wondered if there was more to Mexican food than burritos the size of sombreros, the recently opened Cielito is for you. It's certainly for Chef Ramon Velazquez, who has been planning this menu in his head through years of travel, tasting, and a 12-year stint at Arigato. "I loved the idea of small plates," he said. "Around the world, this is how people are eating these days. In Mexico it's called antojitos. That's the food I crave — it translates as 'small cravings.' But I couldn't find antojitos in town, so I wanted someday to open a place that would have those in a more refined setting."
Diners at Cielito get both the refined setting and the antojitos. The old Acapulco/Stateside space has been lovingly gussied up, down to details like beautiful star-shaped light fixtures imported from Tlaquepaque in Jalisco, Mexico, and you are greeted by a copper oyster bar as you walk in, but that's a culinary statement, too. Velazquez's years at Arigato made him fond of fish, and Cielito will make you favor the finned and shelled, too, what with a tomatillo-habañero salsita for those oysters, or three very different and delicious ceviches.
Velazquez originally thought he was asking about a possible consulting gig when he first approached Gordon Hardey from Jeannine's and business partner Karen Phillips in January 2011. "They asked me if there was one thing I could do if I was opening a Mexican restaurant, what would it be?" Velazquez recalled. "And I said, 'I would want to write a different story about Mexican food in this town.'" At that point, Hardey and Phillips had already hired an executive chef, but that changed after they traveled to Mexico with Velazquez. "They said to me, 'We are traveling to Guadalajara; would you like to come?' and I said, 'Sure, but we've got to go to Mexico City first,'" he related. "They were shocked the restaurants were so modern; some of the places are like places in New York. When we got back from the trip, they said we want you as our executive chef and the other guy will be your sous chef. Needless to say, I'm here and he's gone."
It wasn't easy, leaving what Velazquez calls "one of the best restaurants in Santa Barbara," but he gave Arigato two months' notice in March as Cielito was scheduled to open in July. (Insert long and boring story of construction delays and health department red tape here.) During that time, Velasquez and his team hosted numerous tasting dinners, what he called, "Months of cooking and practicing. Those menus and the comments from the diners really helped."
Now there's the main dining room, more private rooms on the mezzanine, and the taqueria about which Velazquez claimed, "It can be lively all the time — it highlights Mexican street food using amazing ingredients." For he doesn't feel that far removed from his family's fonda (food stand), which he started working at when he was 10. He stressed, "I didn't go to culinary school; I just learned. Just use simple ingredients, good simple ingredients, and let them speak."
4•1•1
Get starry eyed at Cielito Restaurant, 1114 State Street (in La Arcada), (805) 225-4488, cielitorestaurant.com. The Cielito Taqueria has its own Web site at cielitotaqueria.com.