Film & TV
Behind the Many Masks of Andy Serkis
British Actor Honored at SBIFF 2012 for Role in Rise of the Planet of the Apes.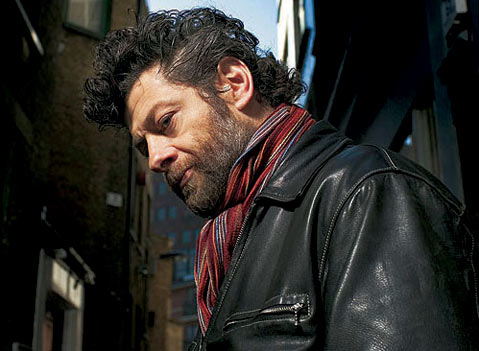 You may not know what he looks like, but chances are you've seen him on the big screen — probably more than once. During the past 12 years, British actor Andy Serkis has brought to life some of the most memorable celluloid creatures — namely Gollum (The Lord of the Rings), King Kong, and, more recently, Caesar (The Rise of the Planet of the Apes). Serkis played each of those parts using a filming technique called performance capture, which records the movement of the actor — down to the tiniest facial expression — but not the physical appearance of the actor.
Although others have taken performance capture film roles — think Avatar — Serkis is still the go-to-guy. What makes Serkis so good at portraying beasties and the like is his diverse résumé — he is a talented actor who has worked in theater and film, on comedies and dark dramas. He is also a director, currently directing the second unit on The Hobbit. Recently Serkis spoke with me over the phone from his London studio, The Imaginarium (theimaginariumstudios.com), about the characters he's played, actors he'd like to work with, and why he is so passionate about performance-capture technology.
What do you think about the attention for Caesar, the chimpanzee you play in Rise of the Planet of the Apes? It's fantastic. What's really cool, I suppose, is that the perception has totally changed about motion capture. It's been about 12 years since it started, with Lord of the Rings, and it is becoming more of an industry standard. People are realizing that it is just another method of recording an actor's performance. It's great to see that technology being absorbed into the industry mainstream.
Is there anyone else doing it? Oh yeah. Robert Zemeckis's studio has made many films using performance-capture technology, and, obviously, Avatar …. But I suppose I'm lucky in that sense. And I've been passionate about it because I do love it as a technology and as an actor's tool. It offers up great possibility for examining an unlimited type of character in any environment in any kind of world. So from an acting point of view, it's fantastic.
Of the motion capture critters you've played, which is your favorite? I am fond of Caesar because he had such a great journey to play. It was an already great arc. It was a huge challenge to play that entire journey and to convey what he's feeling and thinking with no dialogue, just through his physicality and his expressions.
You have done a lot of British films, too. I don't think audiences in the U.S. know how diverse you are as an actor, that you're funny, that you've played some murderers. I've played some really, really dark characters in movies. And I've played a lot of different parts. Obviously, though, I'm more well-known in the States for those big tent-pole movie roles. I've been shooting a lot in Europe for many years.
Do you have a preference of the roles you like to play? I like playing complicated shades of gray, really. I like playing characters that you can't put your finger on — they're always surprising. And that's what I've loved about those characters, like Gollum. You'd never [think you'd] have a bit of sympathy for that character, but actually there is an element of recognition, which is a good thing.
You bring a humanity to your characters — like Gollum and King Kong. They could be played mean or animalistic, but people identify with the humanity with which you infuse them. That's why performance-capture technology, rather than straightforward use animation, [is a great] use for that. Because you are infusing it with the inner moment and choices that an actor makes, you know — the soul of a human performance, I suppose.
Is there any actor that you'd like to work with who you haven't yet? I've always wanted to work with people like Philip Seymour Hoffman and Steve Buscemi — basically all of the actors who work with Paul Thomas Anderson. I think he's brilliant. He always assembles a great crew of actors.
Andy Serkis will be honored at the SBIFF's Virtuosos Award event Friday, February 3, at the Arlington Theatre.