Columns
Gaucho Women Rule
Now That's Entertainment
There is a pleasure to be had at UCSB that involves sports. If you get the chance to see a women's basketball or water polo game, you may find yourself hooked. The home games might become a regular part of your entertainment routine.
While the women's basketball games do not draw the same large crowds to the Thunderdome as the men's, the experience can be just as exciting. In fact, it's nothing short of thrilling to see players like Emilie Johnson go up to take a shot. There's a also a familiarity in the crowd that you might not find at other events: The fans in the stands know all the player's names and in many cases aren't afraid to say exactly what they think about a player's technique, style, or missed shot.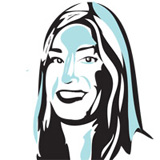 At one point, I started to cringe at a game when the person right behind me kept yelling things like, "Get glasses, ref!" I was worried that the referee might think it was me. She was also free with her advice for many of the players, yelling out instructions throughout the game.
Even if you aren't a diehard basketball fan, the atmosphere at the women's games can be entertaining. The players play, the band plays, the cheerleaders cheer, the fans eat. If you are looking for a way to entertain the family, this is great. However, the games can be a little pricey, especially if you visit the refreshment stand.
There are still quite a few home games left. The next home game is on February 9, against Cal State Fullerton.
There are quite a few other women's sports to watch at UCSB, but one of my favorites is water polo. It doesn't have the same allure as women's basketball, with the crowds, music, and cheerleaders, but rain or shine, the fans line up on the pool deck and fill the bleachers at UCSB's Campus Pool to see their favorite teams battle it out. And a battle it is.
Water polo started out as a men's sport played with few rules and rather brutal tactics. As time progressed, rules were instituted. If you watch a water polo game, you will see the referee calling fouls one after another. What you don't see is the battle going on underwater. Players kick, grab, and otherwise wreak havoc on each other in order to get the ball to the goal.
Even though the brutality level may be slightly less, women's water polo is fairly violent. Women wear two suits in case one of them is torn off. And believe me, it happens. All the hand-fighting and other types of maneuvering may not be visible from the stands, you can get an idea of what's happening as you watch the players being dunked, held back, or otherwise manhandled.
Last week, UCSB held the Winter Invite in which water polo teams from all over, including the Hoosiers from Indiana, showed up to play. It was a homecoming of sorts for some of the players. Quite a few of the players on the various teams were former players on Santa Barbara teams, including Amanda Redfern who now plays for Indiana.
UCSB won three out of their four games. They beat Sonoma State, Cal State Bakersfield, and Cal State Northridge, but lost in overtime to Indiana. Despite the loss, that was an exciting game. Throughout, there was a feeling that either team could win. This is quite a feat considering that, according the latest NCAA (National Collegiate Athletic Association) ranking of women's water polo, Indiana is 10th, while UCSB is 17th.
UCSB's water polo team will be back Sunday, March 11 with a game against Harvard. I'll be there. There's nothing quite like seeing a goalie leap up out of the water and block a ball that is coming at them with such force that you can hear the smack anywhere in the stands.
So if you're looking for a good time, and maybe new way to find entertainment, check out some of the Gaucho women's teams. There are still a load of games to choose from during the spring. You may even find yourself rearranging your schedule to see these athletes play.