South Pacific is a delightful Rodgers and Hammerstein story about life in the second world war in the islands. In the midst of a developing love between Nellie (Katie Hodson), an Arkansas native and nurse, and Emile (Jack Corbin), a stately Frenchman, we see sailors singing about their girls back home (Nothing Like a Dame). Nellie's fellow nurses tease her about her love in another classic, "I'm in Love with a Wonderful Guy" even as she vows to "Wash that Man Right Out of My Hair." Bloody Mary, the island favorite, played by Lizzie Saunders, sells everything from grass skirts to shrunken heads, and orchestrates another important love connection between Lt. Cable (Ryan Ostendorf) and Liat (Sarah Sugano), her lovely island daughter. You won't want to miss Luther Billis (Dallin McComb) and his sidekicks singing "Honey Bun," in grass skirts and coconuts as they entertain the troops.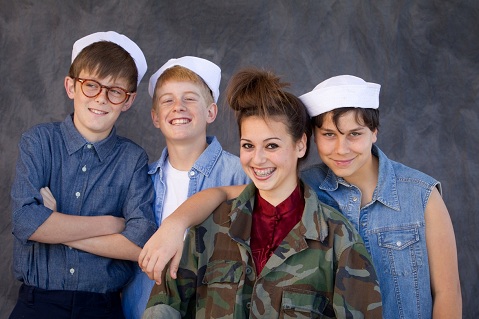 There are so many highlights in this show, but watching La Colina students place comedy and the music of the masters alongside the heavy themes of romance and racism is really a treat. Rogers and Hammerstein used this show to speak truth about society in the 1940's and we get to see their brilliance in this rendition of South Pacific.
The show runs March 15, 16, 17, 7:00 PM at La Colina Jr. High. Tickets can be purchased at the door or in the La Colina front office. $8 adults/$5 students 12 and under.