News
No State, Local GOP Endorsements for Maldonado
Capps Campaign Office Gets More Colorful with Criticism
Republican congressional candidate Abel Maldonado failed to pick up the endorsements of both the California Republican Party and the local Republican Party Central Committee this weekend, leading to a boost of confidence for his Republican opponent Chris Mitchum, along with ammunition for barbs recently tossed by incumbent Rep. Lois Capps's campaign, which has called Maldonado's strategies thus far "silly and strange."
The Santa Barbara County Republican Party Central Committee recommended Mitchum's name for an endorsement by the state party after a special meeting Saturday. The state party's board of directors, at a meeting Sunday, endorsed plenty of candidates in plenty of races (including Mike Stoker for the 19th State Senate District), but didn't endorse Mitchum, nor his fellow Republican candidate Maldonado, who many consider to be the favorite to take on Capps in November, largely due to his name recognition.
But Maldonado has done little to endear himself to local Republicans and hasn't seemed to show a serious interest in the race thus far. He's been quiet on the campaign trail; he has not raised a lot of money. Brandon Gesicki, a spokesperson for Maldonado, said Maldonado is running a serious campaign and has been up and down the district talking to voters. They were also not concerned about not getting the endorsement. "Lois Capps is our opponent," Gesicki said. "Abel is the Republican who can defeat Lois Capps."
Saturday's Central Committee event was supposed to kick off a forum with both Mitchum and Maldonado participating, but Maldonado wasn't present for Saturday's events — he attended the funeral, burial, and reception for longtime San Luis Obispo Sheriff PIO Rob Bryn. He sent his daughter as well as a campaign rep in his stead, and it's not the first time he's done so.
Following a Q&A with Mitchum, the committee held a meeting, with 11 members voting for Mitchum and five for Maldonado, with one person abstaining. "Chris Mitchum will fight for us in Washington to cut the size of the federal government, rein in the national debt, and fight to make us competitive in the global economy," said County Republican Party Chair Gregory Gandrud. The Ventura County Republicans didn't make a recommendation in the race, and neither did the party in San Luis Obispo.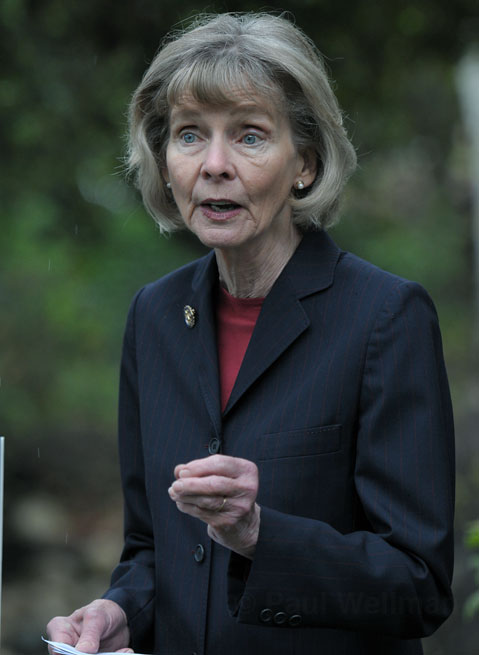 Capps spokesperson Jeff Millman was quick to jump on the results, calling the vote an "embarrassing failure" for Maldonado. "First he loses the Santa Barbara GOP endorsement, and now the entire California GOP has rejected him too," Millman said in a statement. "If he cannot even win the endorsement of his own party, how will he compete with Rep. Lois Capps in November?"
The statement from Millman, among other things, seems to indicate the Capps campaign continues to look at Maldonado as her main opponent for November. And perhaps well she should. Maldonado is the only Republican bringing in competitive amounts of cash, and he has significant name recognition from his time as the mayor of Santa Maria, as well as a state senator, assemblymember, and lieutenant governor.
Mitchum said that Maldonado sees himself as the front runner but perhaps should start thinking differently. "He's finding a loss of favor within his own party," Mitchum said of Maldonado. "How is he going to beat a Democrat?"
Mitchum said the events of recent weeks have shown that he is a serious candidate, and now he needs to start raising money. He is looking for a professional fundraiser as his campaign turns up the heat. He did an interview for Andrew Brietbart's blog and had dinner with conservative radio host Mark Levin last week. "We're going to go national," he said. "We're going to beat Barack Obama, and we're going to get this country back on track. You're going to see Tea Party activism like you've never seen before."
The redrawn district leans about 4 percent democratic, with roughly 20 percent of registered voters "decline to state," leaving the race pretty wide open. "The district is in play," said Gandrud, who called Maldonado and Mitchum "two very viable candidates."
A fourth candidate, Matt Boutte from San Luis Obispo, is also in the race.
The primary is June 5. The top two vote-getters, regardless of party, move on to November's general election.