Living
Bobblehead Dodgers
S.B. Woman Owns the Whole Baseball Team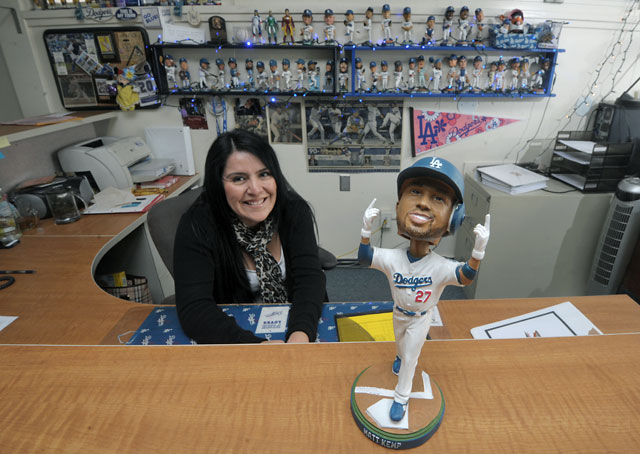 When you walk into the office of the Santa Barbara Unified School District's Child Development Program, you don't expect to be confronted by the L.A. Dodgers. But there they are, decked out in uniform, smiling and posing with balls and bats and gloves — and all nodding.
The "team" is in the form of bobbleheads — the collectible toys whose origins date back to the 1960s — and they belong to Elena Prado, the school district secretary. Although bobbleheads have come in many characters, the professional athlete wobblers are particularly popular — especially Major League Baseball players. Prado has every single Dodger's bobblehead figure that has been manufactured to date.
To acquire the collectibles, Prado looks up at which games the Dodgers will be giving away bobbleheads and then purchases advance tickets. "I used to have season tickets," Prado said, "but now they're too expensive. It's easier to just get them [individually] on StubHub."
The next giveaway is on April 28, when the Dodgers play the Washington Nationals; Don Drysdale and Maury Wills will be the players honored with a springy-necked miniature of themselves. When asked which wobbly headed players are her favorites, Prado pointed to slugger Matt Kemp and Gold Glove winner Andre Ethier, both current Dodgers stars.
In addition to the extensive collection of baseball nodders — which rest on a shelf custom-built by her father and are tastefully accented by Dodger-blue Christmas lights — Prado has a half-dozen or so Lakers immortalized in bobblehead form, including three variations of retired forward (and sometime actor) Rick Fox. "He's my favorite," she said, just before adding, seemingly embarrassed, "I don't have any of Kobe."
As I stood there, staring at all those bobbling heads, I wondered how Prado started up this collection of hers. "It's just something I've always done," she said. "The first one I got was Fred McGriff, which I stole from my brother. I've been collecting them ever since."