Announcement
Local Team In Training Honored Patient Denise McCombs
Inspires Others to Save Lives One Mile At A Time
"Life can be taken away and when you have a second chance, live it the best you can," says Denise McCombs after receiving her last cancer treatment this winter. An honored patient of the Leukemia & Lymphoma Society's Team In Training Program here in Santa Barbara, Denise is using her story to inspire and motivate people to sign up for the program and make a difference by walking or running a half or full marathon event. Denise will be sharing her story at various Team In Training informational meetings and events about the upcoming season, which will be hosted beginning April 28th through May 19th (Look for these events at www.sbtnt.com.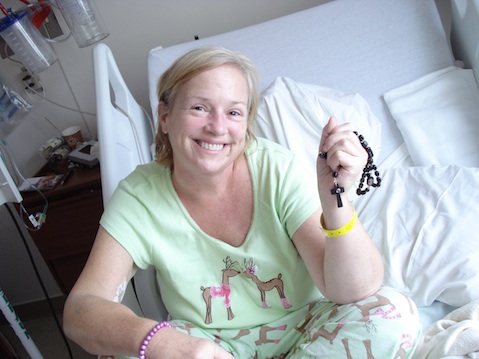 In August of 2011, a friend took Denise to the emergency room when she was having extreme difficulty breathing. Denise had been taking medication for pneumonia and a hiatal hernia, was still experiencing difficulty and just thought she needed something stronger. Instead, she was given a CT scan and a large mass was found in her throat. Denise was told that it was cancer and was scheduled for a PET scan the very next day.
When she went for her scan that morning, she had no idea that she would not return home for a month. Her diagnosis was stage 2- Large B Cell Lymphoma but Denise had a severe life-threatening complication. The tumor throughout her throat was blocking four of the main blood valves to her heart causing serve fluid and the need for two immediate heart surgeries. "If it weren't for my doctors at Cottage Hospital, I would have lost my life," says McCombs. "I went from PET scan straight to emergency, then to the intensive care unit, then to the operating room. All I could think about was if I would ever see my sons again. They live in North Dakota and I didn't know if they'd get here in time." As of December 2011, Denise was declared in remission and continues to cherish many moments with her sons.
In January, Denise signed up to be an honored patient for the Team In Training program locally in Santa Barbara and is now using her story to help people understand why raising money for cancer research, education and patient services is so important.
The Leukemia & Lymphoma Society ® (LLS) is the world's largest voluntary health agency dedicated to blood cancer. The LLS mission: Cure leukemia, lymphoma, Hodgkin's disease and myeloma, and improve the quality of life of patients and their families. LLS funds lifesaving blood cancer research around the world and provides free information and support services.
Team In Training is a signature fundraising program of the LLS that provides a training program for participants to walk or run a half marathon or a full marathon. The local team offers 2 weekly coached trainings in a group environment for 4-5 months as participants prepare for their event. Events in this season include: The Nike Women's Marathon (and half), The Disneyland Half Marathon, and the Santa Barbara International Marathon (and half).
The Santa Barbara Regional LLS Office is located at 1525 State Street, Suite 205, Santa Barbara 93101. If you would like to learn more about the LLS, learn about volunteer opportunities, get involved with the Team In Training program, or donate, please call 805.884.1883 or visit our Team In Training website at www.teamintraining.org.