Living
Death and the River Ganga
Practices of the Aghori Ascetics
Mysore, Karnataka, India:Death is inevitable, only the time and place are unknown. This is certainly true, but I ask you: How many people actually live as if they realized this truth, each and every day?
Heather tells me that to visit the cremation grounds of Varanasi is to be cured of fear forever. For once we have faced the fact of our own death we have nothing left to fear.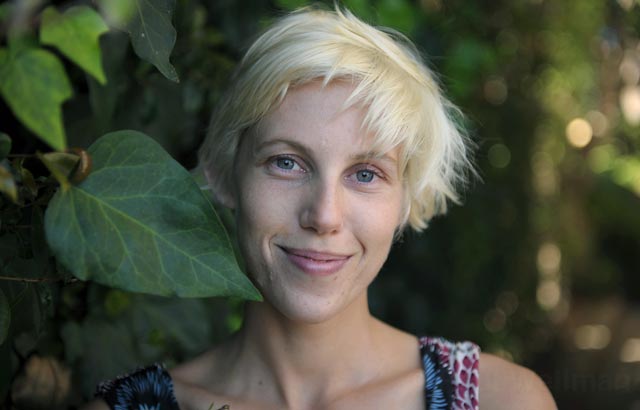 Perhaps as a reaction to the subsequent death of my newest phone here in India, or perhaps because in India life and death exist side by side, unlike in any other culture I have encountered, I am intrigued, and I decide to accompany her there. Besides, this is the home of a special sect of Indian Holy man with which I have a morbid fascination, the Aghori Ascetics.
The Aghori Ascetics make closeness to death their spiritual practice: They live in the cremation grounds, their bodies are covered in ash, they cook their rice in a fresh skull each day, they worship the primal energies of Shiva and Shakti, separately and in union through a very dangerous and intricate sexual rite. They achieve great siddhis (powers) through their sadhana (spiritual practices) which often occur atop a fresh corpse. They practice what is called the left-hand path of tantra, the inauspicious path, using substances traditionally considered impure to accelerate their awakening. They walk a fine line between madness and divinity.
Along the banks of the River Ganga in Varanasi, where all the actions of daily life occur, there are two cremation ghats, which are steps leading down to the holy river. One of them has cremations 24 hours a day, seven days a week. The other is smaller and conveniently located by our hotel. I digest this with a healthy dose of American bravado. "Sure", I think, "burning bodies, no biggie. I am an anthropologist. I study this kind of stuff!" I saunter along the ghats watching the ritual bathers and come upon the burning ghat. Tuesday must be an auspicious day for cremating because the grounds are in full swing. There are several bodies in various stages of cremation; one in particular stands out as the heat contracts the muscles in the arms, bringing them up into an involuntary prayer position. Another body is being dipped in the Ganga, another lies on its colorful bier awaiting the fire. Still another is nearly ash, nothing but the heaviest bones remain intact. It's impossible to tell if they are the bones of a man or woman, an old or a young person. Death truly is the great equalizer but I feel strangely detached, almost disbelieving what I am seeing. American bravado holding strong.
Heather is the type who gets right into the thick of things whereas I like to stand to the side, behind the safety of my reporter's/anthropologist's notebook. Immediately she spots an Aghori. He is young and quite handsome. He wears all black, and a necklace of carved skulls around his neck. She pulls us over to him. His eyes are big and dark and seem to look at us and beyond us. We walk past piles of wood ready for the pyre, shops selling garlands and shrouds for the dead, stray dogs who look suspiciously well fed. The air is hot and heavy with smoke and incense. I feel a bit faint (from the heat of course) but I try and retain my cool in the midst of a whole industry built on the fact that everyone dies. "Impermanence," I tell myself. "We all die." But my mind is disbelieving. It shouts, "But not I, no never me, because I am young, beautiful, and strong, right?"
As I squeeze through a tight alley, a rickshaw comes honking by, apparently someone's last ride because I see two white-shrouded feet sticking out the window. The alley is so narrow that I have to flatten myself against the side of a truck in order to not have a literal brush with death. The image of the corpse en route to its cremation in a rickshaw is so astonishing that my American bravado slowly begins to crumple.
By night I have nearly succeeded in forgetting the earlier part of the day when our guide, a thin Brahmin by the name of Umesh, announces we will go to the Aghori Ashram. By 8 p.m. it is quite dark. We walk through dark alleys and find ourselves in front of two gates, from each side of which huge carved skulls gaze down on us, stacked like totem poles. Inside, Umesh points to a series of Shiva lingams (phallic symbols) on the ground and explains that under each lingam there is an Aghori who chose to leave his body at that particular time and place. Such is the Aghora's mastery over death. The stones of the Ashram were built around them.
The priest gives us our prasad (blessed food) and blesses us, I eat the sweets and rub cremation ash on my forehead. Umesh tells us we have to eat the cremation as well. In the spirit of trying everything once I put a finger-full in my mouth. It is gritty and dry. I nearly gag. It tastes like rocks and wood and, I swear, I feel pieces of bones sticking to my teeth. "Every day you eat a little," says Umesh. "Very good for you." Still cleaning ash from my teeth, I sink into mediation in front of the sacred fire. A deep black calm descends over me, like being in the presence of mountains. There is no fear at all. I imagine that it is the energy of all those Aghoris buried in padmasana pose around us.
The ash does not sit well with me. I feel sick as we walk home, and exhausted. Exhausted from pushing my consciousness to accept death as a reality. There is no escape in Varanasi. Even the buildings closest to the burning ghats are occupied by old and infirm, waiting their chance in the fire. Heather and I muse over the ash. What is it exactly? Bone? Wood? Melted skin? Is it sterile? My gut heaves and my mind struggles to put something like cremation ash in proper context. There is no proper context for it except this one and although it is only ash, the psychic significance of it feels heavy in my bag. I resolve to put it in the Ganga in the morning.
Later that night as I massage oil into my feet and calves, I suddenly am intimately aware of my bones. The long fine bones of my legs, coated with muscle and skin. Tibia. Fibula. Femur. The many small bones of my feet. All of a sudden it hits me: I too will one day be reduced to ash and bones. Part of the blessing of youth is a seeming ignorance of our own mortality. We believe ourselves to be untouchable. I feel almost cheated of this blissful ignorance, but grateful at the same time. Impermanence is a fact of life. Accept it and you will not suffer, the Buddhists say. Cultivate santosha, or contentment, the yogis say.
Santosha: a practice of equanimity through all life has to offer. By understanding the inevitability of death and the preciousness of life; maintaining a calm and content mind, independent of external forces; and preparing ourselves for death, we have a better chance of living a meaningful life. In India at least. I am interested to see how well this holds up in the West.