Outdoors
Merry Days Along Sunny Manzana Creek
Three-Day Easy Backpack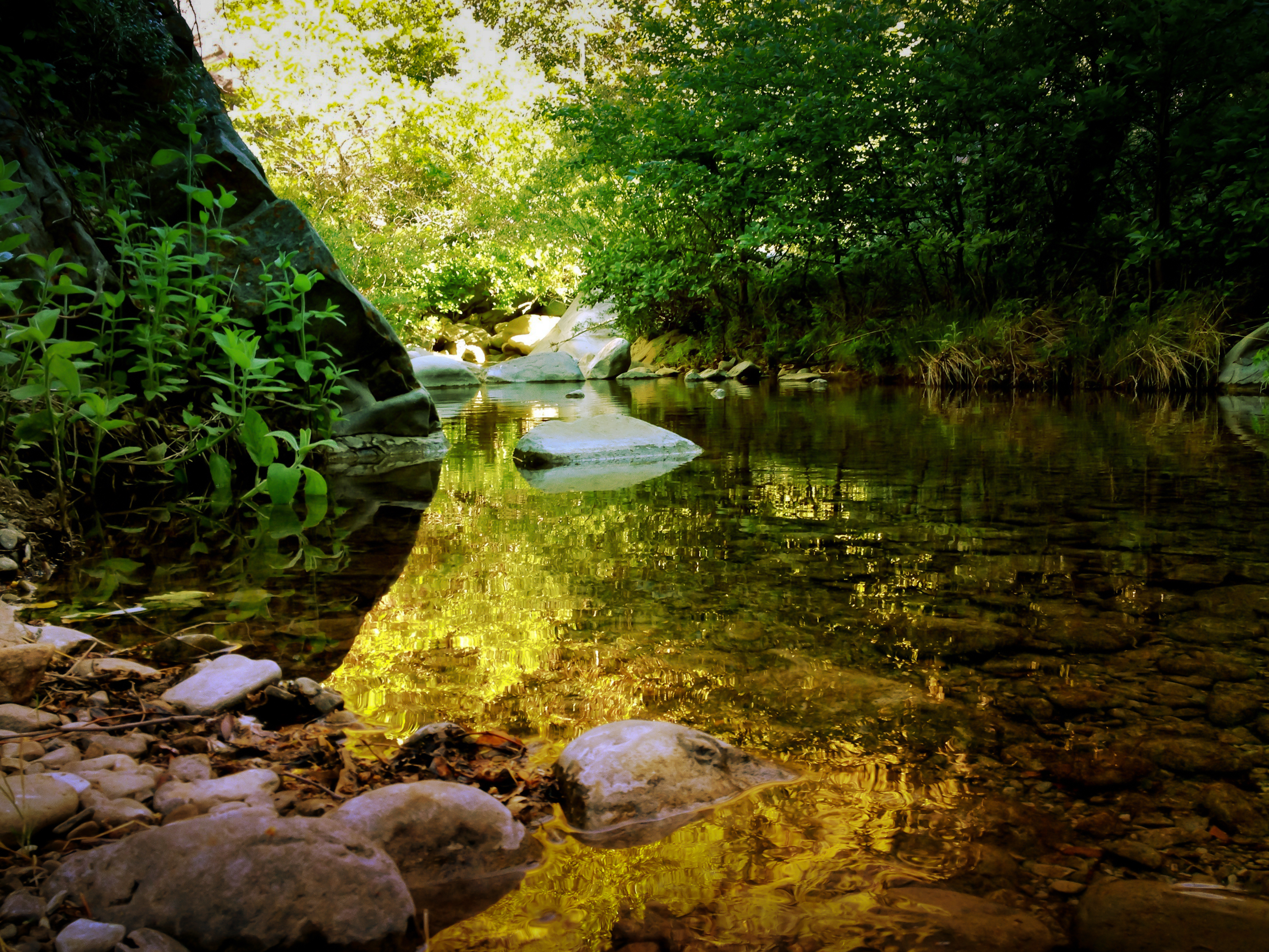 Name of hike: Moderate backpack up Manzana Creek from Nira Camp to Manzana Camp in the San Rafael Wilderness (Los Padres National Forest South)
Mileage: 11.6 mostly level miles round-trip, ascending at the end approaching Manzana Camp for two overnights; good beginning backpack for children (you can stop at Lost Valley or Fish camps to make it shorter)
Suggested time: Three days minimum (layover on middle day); bring water, safety gear, and companions
Map: Bryan Conant, San Rafael Wilderness Map Guide (2009 ed.)
This backpack along gloriously gushing Manzana Creek described below qualifies as an archetypal (or grandly generic) easy backpack into a nearby wilderness area: The San Rafael is about 90-minutes drive from Santa Barbara. The starting point at Nira Camp is 47 driving miles from Santa Barbara's Westside, where I live.
Westsiders sometimes walk or drive up to the Mesa malls on Cliff Drive and grab their coffee fix at Good Cup or Starbucks. A few days after completing this three-day Manzana backpack with my nephew, Eric Vizents, I encountered a fit-looking man in his fifties outside Mesa Starbucks' dark cave, who genially commented that the two personal cups of coffee and NYTimes and Wall Street Journal I was toting looked "like a regular habit." I explained how much I enjoy fetching coffee on Saturday mornings for my very hard-working spouse of 43 years; it's a pleasant ritual.
The Westside is a tight little island, and this athletic citizen — let's call him Bill — began asking me about backpacking and the local backcountry. I'm thinking, "Unreal! This is great, another backcountry aficionado!" We exchanged details about a few nearby hikes, e.g., out of Forbush Flat and into the "Mono Jungle" near the upper Santa Ynez River, showing we each knew our backcountry lore.
However, making a serious conversational blunder after a couple of information-filled minutes of discourse, I off-handedly mentioned: "I write an online hiking column for The Santa Barbara Independent."
Silence. Then, with a sneer, "Oh, you're that guy."
We need to remember that these public lands — specifically Los Padres National Forest South and the federal wildernesses within it — belong to all the citizens. In a recent Matt Kettmann piece about possible new roads into Los Padres National Forest, government planner Jim Turner was quoted as being against more roads (great!) but also against adding more federal wildernesses like the San Rafael or Dick Smith (not so great). Kettmann wrote that Turner "believes that wilderness presents 'social inequities' by 'isolating the forest from a lot of potential users.' "
A couple of hiking buddies agree with my new friend "Bill" that it's a shame Dan McCaslin "gives away" information about pristine and beautiful wild zones near Santa Barbara in his columns: More people will then go back there and get in the way of elite users (often wealthy horsemen like Los Visitadores. Mitt Romney is another example of an accomplished trail rider, although not here.). Worker bees should stay home. Yet two huge issues here are the individual citizen's right to visit our national forests and wilderness lands, and the citizen's ability to access these areas.
Jim Turner and others will counter those who think, like "Bill," that somehow only the cool people (read: the 5 percent) should really have the wilderness access. And Bill was at least honest enough to make his preference clear. However, as the reader can see in all these columns, I'm very specific about easy ways to get access to the various wildernesses; I encourage all people to go there, especially children; and I completely reject the "social inequities" argument against more wilderness areas. It's only elitist when "the people" are fearful or don't know how to get there. Nira Camp itself, the gateway to the San Rafael Wilderness, is sometimes full of campers, very often middle- or low-income folks with families, and they wander into the wilderness right there all the time. Mid spring is the most popular time.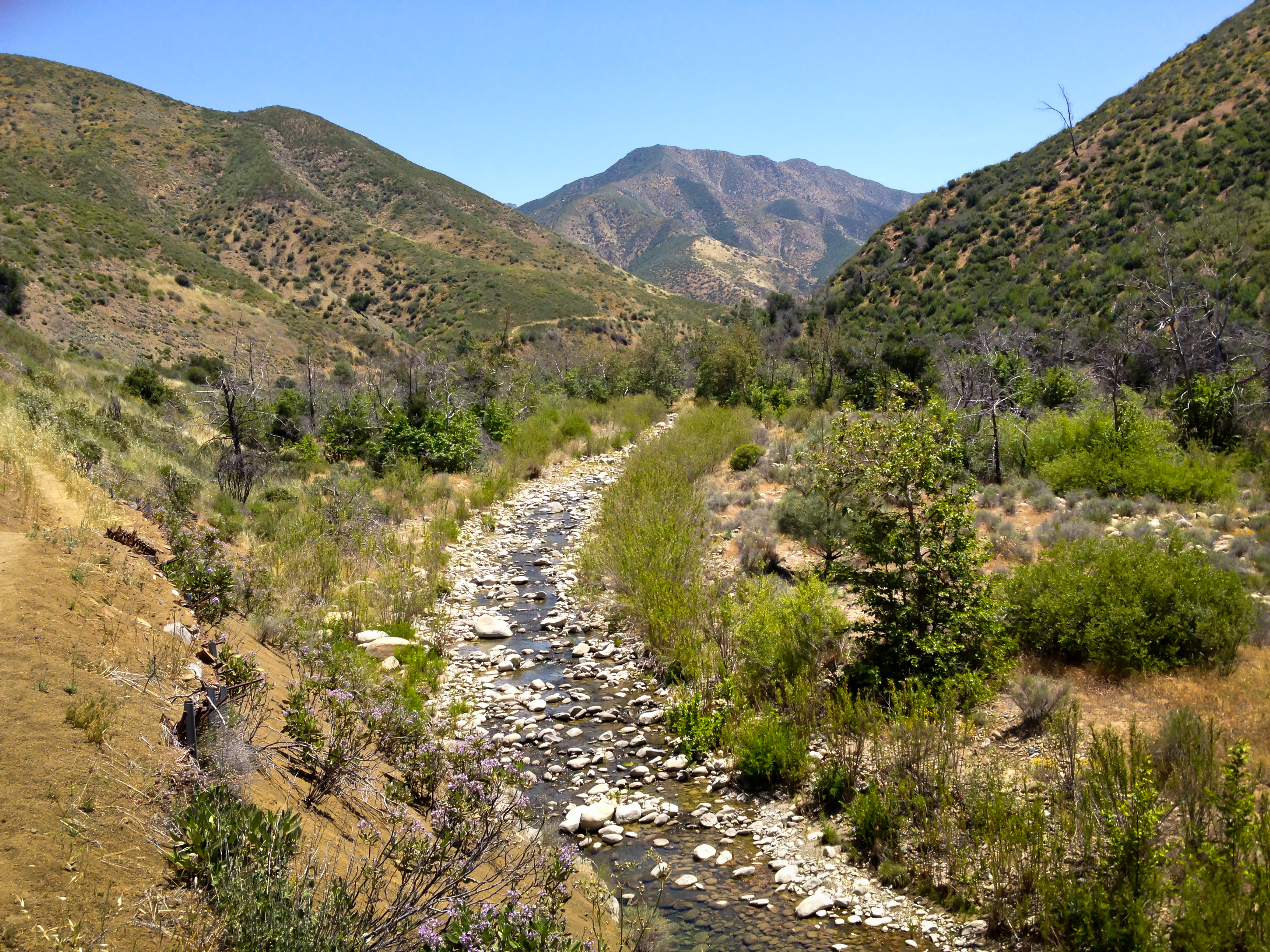 For this trip, the road head is at Nira Camp: Drive on Highway 154 past Lake Cachuma, turn right at Armour Ranch Road (at the Santa Ynez River concrete bridge), turn right again at Happy Canyon Road, and drive to the end. You're at Nira. I have specifically outlined how to drive to the San Rafael Wilderness, at the top of this column you see which map to bring, and I'll describe good places to camp beside the wildly flowing Manzana Creek. The subtle prejudice against openly informing John Q. Public (and Debbie Q. Public) how easy, fun, and rewarding this nature exploration is smacks of elitism.
Eric, a UCSB grad who is fit at 44 years of age, and I arrive at Nira Camp about noon on Friday, May 18. Since he drove up from his L.A. world that morning, noon was as early as we could manage, but it's a tough time to start backpacking in the heat. As I'm entering the dreamtime of our arid backcountry, the search for mystical "signs" automatically kicks in: Bingo! It feels most auspicious that right there at Nira Camp I met a wonderful former student, Sierra W., and her fiancé, emerging from the San Rafael sunburned and euphoric.
Eric and I quickly don our packs; I carry 32 pounds and wear trousers and a long-sleeved shirt against the bugs. Three timeless hours later, sweaty and fairly tired after the six-mile backpack along gurgling Manzana Creek, we arrive at lovely Manzana Camp.
We had passed through bucolic Lost Valley Camp one mile in from Nira — a perfect short backpack for a 3-year-old child and her mom, or dad. Two miles on along the creek you encounter Fish Camp, not so pretty yet quite captivating anyway. Three miles on from Fish, as you enter the ascending stages of Manzana Creek, you come home to Manzana Camp. The campsite, with its weirdly sculpted horizontal sycamore tree, sits in a beautiful small gorge with oaks, alders, sycamores, and soft chaparral foliage.
Manzana Camp has a single rickety table, a fire ring with useful iron grate, and the bubbling creek very close by with two spectacular pools. The practically vertical canyon walls display clinging examples of California's rare and glorious succulent dudleya pulverulenta. While fairly large in area, this camp has at most three barely flat sleeping/tent spots. Up the slope from camp is a backup spot with another iron fire ring, but it's very slanted and so uncomfortable I've rarely seen anyone camping there. If Manzana Camp is full — and with Eric and I there it was "full" for two and one-half days (Friday afternoon to Sunday) — it's just another mile to much larger and shadier Manzana Narrows Camp and its four sturdy tables.
The origins of the term manzana remain debatable: "manzana" means apple in Spanish. Some sources report that this area was dubbed Manzana in the 1870s because of a large apple orchard here. (I've never seen any evidence of orchard crops around here.) The other view holds that due to the plethora of manzanita bushes growing about, whose attractive small red fruits resemble "little apples" (manzanitas, a diminutive), you hack off the diminutive ending –itas and again come up with Manzana. (Some sources claim the red fruits are inedible, but Jan Timbrook states the Chumash certainly did eat the red fruits of bigberry manzanita [Arctostaphylos glauca] in her very useful book, Chumash Ethnobotany[2007].)
Just to muddy the waters more, we know that originally Nira Camp, our road head and trailhead, was called "Manzana Camp." During the Great Depression, the U.S. government spent stimulus money under the terms of the National Industrial Recovery Act [NIRA] to build the road head and large parking area. So in 1937, the imagination-less federal bureaucracy called the new make-work camp "Nira" and built another wilderness camp six miles upstream and transferred the Manzana name over there. The U.S. Forest Service Camp one mile further in is called Manzana Narrows because the gorge narrows dramatically right there, and it has a spectacular five-foot-deep pool.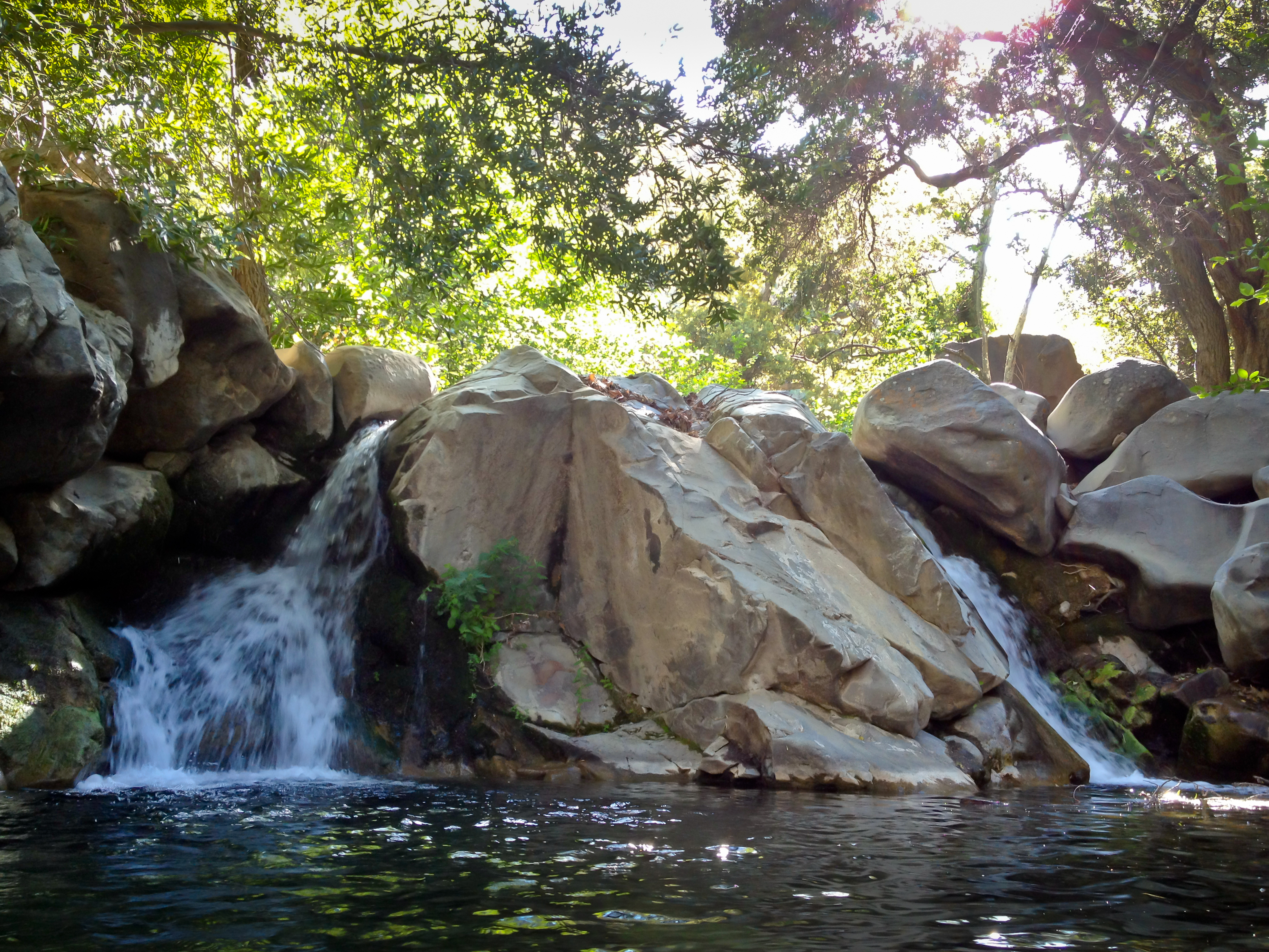 The purity and cleanliness, the almost complete lack of urban glare and blare, the floral beauty on all sides render comments about Manzana and names meaningless. Eric and I fell into long periods of silence: We were simply meandering along, stopping to admire 10-inch trout in their pools (no fishing!), eschewing fires, and eating very simply. For the last several years, I've omitted alcohol from my packing list, and I have never brought firearms on these trips. "Stranger danger" and silly fears like those shown in the old 1972 film Deliverance just don't enter my usually frenetic brain as we sink into the slow equation back here. It's so simple here it can almost hurt: Slow down, or you freak out. The deliberate slowing down is an essential aspect of the whole backcountry experience: east of Santa Maria, north of Santa Barbara, south of Bakersfield, and light-years from LA.
We planned two nights at Manzana Camp, and if it became too hot (it's a very sunny camp), we might spend the second night (Saturday) up at the better-known Manzana Narrows Camp. For our layover day, we gave ourselves a chance to roam up onto the eastern section of the Hurricane Deck without the backpacks. We hiked past the Narrows and onto the Deck formation and wandered out almost to White Ledge Camp but didn't quite reach the fabled Sisquoc River.
In an earlier career incarnation I worked as a Mediterranean archaeologist. Ancient art and anthropology have remained lifelong interests. The Chumash people made fantastic art in their baskets as well as in sand and on cave walls. The area we are in has few known pictograph sites, but I'm aware of some, and I revealed one to my nephew Eric (I will not disclose the location). Fancifully, I call this one "the Red Shaman." Native-American rock art amazes the awed onlooker, and it's hard not to fall on your knees in the rock shelter and babble incoherent prayers. David S. Whitley's A Guide to Rock Art Sites (2nd ed. 2001) is a solid introduction to sacred rock art in our region.
We were out for over seven hours on the layover day, and the temperature had climbed markedly from Friday. Exhausted and sun-blasted, we strode gratefully into our overnight site at Manzana Camp around 3 p.m., leapt into the wonderful pools there, and cleaned up, and then I took a 30-minute "back rest" in my tent.
The second evening, Saturday, I was surprised to observe more than 21 backpackers trekking past our camp on their way to Manzana Narrows. How wonderful. Most of them were under 30 years of age, one group consisted of eight foreign students attending UCSB (I got to practice my German with one Deutscher), and every single one seemed happy and full of gratitude to be ensconced in this pristine wonderland.
Eric and I couldn't, and wouldn't, have tried to prevent anyone from utilizing the campsite we had: We don't own it! The backpackers could see that there weren't any remaining flat sleeping spots, although two young guys took the very slanted backup site up the slope from us. It feels like 19 or 20 backpackers up the way at Manzana Narrows Camp is still a big number — I've never seen more than six or eight campers there before (discounting the Boy Scouts). Nonetheless, it is exciting to witness other humans digging the wild, enjoying "dirt camping" without equine assistance or any supervision by anybody.
"Bill" felt that my describing the beauties of camping along the Manzana to Santa Barbara readers was almost a form of betrayal (the Coldwater Camp hike I described earlier is also on the Manzana). Conversely, Los Padres National Forest planner Jim Turner worries that the creation of more wildernesses in the forest would serve only an elite few, that only the one percent or 5 percent with the time, money, and sense of entitlement will head out of town for some dirt camping.
I emphatically disagree with both of them in a couple of ways.
We have unbelievably magnificent national forests and federal wilderness areas (over 150 just in California); certainly the Western world's most fantastic and expansive uncivilized areas. Some people want to jealously retain the secret knowledge about exactly where these wilderness Edens are located, how to get to them, and what unearthly beauty is there available to us. The blessings of so much reachable wild nature is the heritage of every American.
Go there! Take your kids! Buy the Conant map. Slow down and loll about in the flowing creek.