Cover Story
Title IX: Game Changer for Women Athletes
Law Gives Women Athletes Equal Footing with Men in Collegiate Sports
The implications of Title IX were not realized in 1973, when I wrote a series of articles in the Santa Barbara News-Press about the efforts to establish meaningful interscholastic sports programs for women and girls. I found that UCSB was allocating $5,000 for the operations of five women's sports; men's sports received $90,000. I found that the budget for girls' sports at a typical high school was $1,000, compared to $32,000 for the boys. There were even inequities in physical-education classes. UCSB's male students received freshly laundered gym outfits every week; the women had to wash their own.
The jury was out on whether it was healthy or desirable for females to engage in competitive athletics. A high school PE teacher told me: "We don't push athletics for girls as much as a relaxed, recreational type of thing. Our uppermost idea is that they are ladies rather than athletes." San Marcos High had a coach, Judi Evert, who crusaded against that notion. She organized a track-and-field team that won the first CIF-sponsored girls' championship in 1973.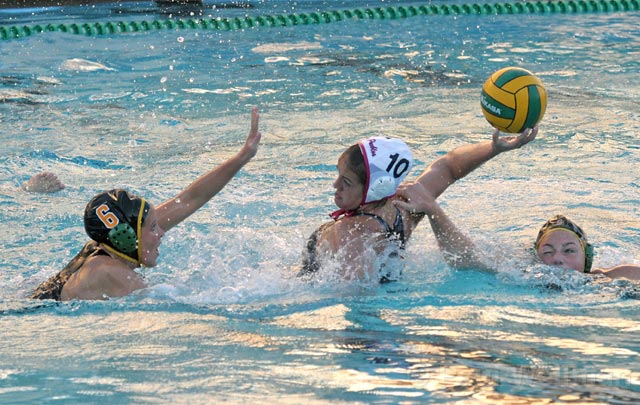 It was alleged that strenuous exercise would permanently damage a woman's reproductive organs. That was news to Santa Barbara schoolteacher Lyn Carman, who started running marathons in the 1960s ​— ​in defiance of the half-mile limit put on women's races by the amateur athletic rules of the time ​— ​and bore four children.
Gradually, over the next several decades, myths were exploded, impediments were eroded, and inequities abated. Title IX, coming up on its 40th anniversary, has provided strong legal backing for the people ​— ​athletes, coaches, administrators, and parents ​— ​who have brought sports for women and girls into the mainstream.
Old-School Approach
Santa Barbara High did offer some after-school sports programs before Title IX. Nan Seed Verkaik, who graduated in 1971, participated in all of them. It was a fulfilling experience, although the coaching was suspect. "When we won the league swimming championship, we celebrated by throwing the coach in the pool," Verkaik recalled. "We found out she couldn't swim."
In her freshman year, girls' basketball was played by the old rules of six on a team, only two of them allowed to cross over the midcourt line. "We played on the outdoor asphalt courts," she said. "The boys had the gym. Nobody went to the girls' games. It didn't bother us. We just wanted to play. It was a good time. Everybody was in sports because they enjoyed playing. There wasn't the pressure to get a college scholarship. In a way, it's too bad that's been lost."
Supported by her parents, she went to University of Puget Sound, which had a generous athletic program. "I wanted to become a coach, and I figured the more sports I learned, the more opportunities I'd have," she said. Verkaik earned 20 varsity letters in five sports ​— ​field hockey, basketball, volleyball, softball, and track and field.
She returned to Santa Barbara in 1977, taking a job as a teacher and coach at her alma mater. "Title IX has helped the coaching improve," she said. "That's been one of the most important outcomes of the law." Verkaik coached the Dons' swim teams and both the boys' and girls' volleyball teams.
In 2004, Verkaik became the fourth athletics director in Santa Barbara High's history, and the first female to hold that position. She worked hard at it and took particular pride in some big events she directed, including a CIF championship soccer game between the Dons and Dos Pueblos that drew 9,000 fans to UCSB, and the alumni football game between the Dons and San Marcos Royals in 2010.
"It's a difficult job," said Cara Gamberdella, who served as the San Marcos AD for one year in 1998-99 before she went back to teaching at her own request. "It's even harder now with all the fundraising and administrative skill that's required."
Verkaik will be relinquishing those chores soon. SBHS principal John Becchio has named Joe Chenoweth, a former city recreation supervisor, to take over the Dons' athletic department on July 1. Verkaik will remain on the staff and teach PE. She is taking the change in stride. "I'm still going to be working with kids," she said. "That's why I got into this in the first place." If her students dare to throw her in the pool, one thing's for sure: She'll be able to swim her way out.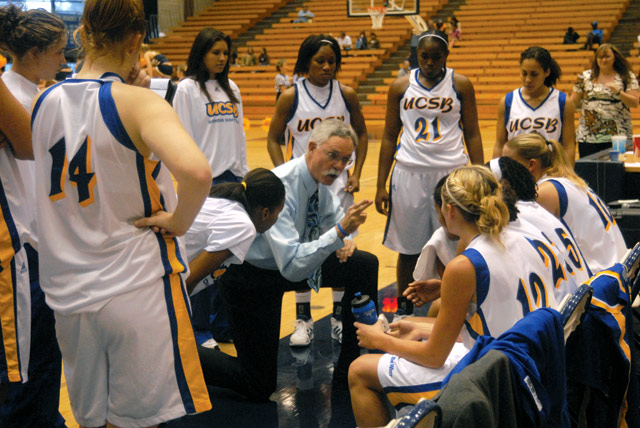 The Convert
Mark French was a pitcher on the UCSB baseball team in 1973. Women's intercollegiate sports were of no concern to him. He was not even aware of their existence on campus, much less their struggle to be funded. "I was more interested in social gatherings than social justice," he said.
A few years later, French became a beneficiary of Title IX. He was a 28-year-old assistant baseball coach at the University of the Pacific, and he was offered the additional opportunity of being the head women's basketball coach. "All they really wanted was to keep me for baseball as cheaply as possible," French said. "They didn't care about women's basketball. They just wanted to satisfy the bare requirements of Title IX."
He intended to devote "10 percent of my time to basketball and 90 percent to baseball," French said, but after a year with the women, he found that he had a better experience coaching them. "They were more attentive than the men," he said. "When we won 20 games my second year, I was excited, and my players were excited. We had this pioneer feeling. I thought, this is cool; I can make a career out of this. But it was 10 years before I won 20 games again."
By then, French had become coach of UCSB's women, and in 21 seasons, he had 11 teams that won at least 20 games and 12 that went into the NCAA tournament. They had to fight to attain the perks the men's teams enjoyed, but eventually, the Gaucho women received comparable support, the same access to facilities, and the same transportation to games. Their success attracted better players into the program, which in turn put more spectators into the seats of the Thunderdome. But French, who retired four years ago, retained the idealized vision of women's athletics that he had at the start of his career.
"Most women's sports are not revenue-producing," he said. "Their purpose is not entertainment. There has to be something else going on, something of value to these women and to society. Title IX has had the effect of stimulating good conversations, even though they're confrontational at times. It's gotten colleges to discuss why we're having intercollegiate sports."
French said the "core values" of sports, all the intangibles that enhance character development, are embraced by female athletes. "They're smart enough to know they are not going to make $20 million [in professional sports] and leave school early," he said. "They have to rely on their college education to support whatever they do in life."
The Products
"I'm a product of Title IX," Cara Gamberdella said. "I grew up playing a sport [softball] in the '80s and never felt I lacked an opportunity to participate fully." She left her education career five years ago to become a Realtor. "Having played sports gave me the confidence I could do things," she said. "So many things translate off the playing field: teamwork, time management, goal setting; and failing, bouncing back, and succeeding."
Diane, Hiemstra, Gabriel and Robin (Anderson) Thormodsgaard are two Santa Barbara professionals who spent their formative years in gyms in South Dakota at the beginning of the Title IX era. Gabriel was guard for the Yankton High Gazelles in 1977-79, while Thormodsgaard played for the Clear Lake Cardinals in 1976-79. Gabriel went on to play at two colleges, Oregon and Colorado. Thormodsgaard was the first women's basketball player to receive a full-ride scholarship at Iowa. Both women have been inducted into the South Dakota High School Basketball Hall of Fame.
Gabriel came to Santa Barbara more than 20 years ago as a civil engineer and is general manager of the Montecito Sanitary District. Thormodsgaard has spent the past year as director of operations for UCSB women's basketball. Before she was lured here by Gaucho head coach Carlene Mitchell ​— ​they were connected by their association with Hall of Fame coach C. Vivian Stringer ​— ​Thormodsgaard worked as an IT consultant in the L.A. area.
"It was a male-dominated world," she said, "but I learned how to get along in sports. I liked hanging around with guys. I was never into the crazy girlie-girlie dramas." Gabriel said, "We both come from small towns where we were playing with boys all the time. My basketball coach used to coach the boys, and he was in our faces. I grew up thinking there was no limit to what I could do."
Stephanie Rempe, a 1989 graduate of Santa Barbara High, has ridden the mandates of Title IX into the higher echelons of intercollegiate athletics. The former Dons softball player is senior associate director of athletics and senior woman administrator at the University of Washington. She is managing a $300-million stadium renovation as well as overseeing seven sports, including men's and women's basketball. "Playing for my high school made me discover what's important about sports," Rempe said. "Every day, I'm put in situations that I learned how to handle because I played sports."
Before and Beyond
Jill Gass was another small-town girl, from Texas, who developed a love of sports in the early '70s. She followed a career path that was paved by Title IX. She entered the first co-ed athletic-training program offered by Southwest Texas State, and she worked as a graduate assistant trainer at the University of Texas when Donna Lopiano, one of the nation's strongest voices for equity in sports, was the women's athletic director. "It was not an easy job at Texas," Gass said, "but Donna was absolutely tenacious."
After working as an associate trainer in Houston, Gass landed in Santa Barbara as a physical therapist. She now works as a night time nurse. Her days are devoted to cycling. She was a leader of the Kalyra Racing Team that set a women's record in the Race Across America in 2009, and it has since become the B4T9 Women's Master's Cycling Team. The name means "Before Title Nine." The team is in the same position as scholastic athletes before the law was passed, pursuing athletics on their own and pressing for more opportunities. "Race promoters do not put on many women's events," said Gass, who especially wants more women's races in the beginner's category to encourage participation. "They should follow the tenets of Title IX."
Suzanne Rivera, a 47-year-old marathon runner from Bakersfield, joined the B4T9 Team in the past year. On May 13, competing in the final stage of the Mariposa County Women's Stage Race, Rivera was killed in a collision with a support vehicle. "Our team was traumatized," Gass said, "but everybody's back on their bikes now. We want them to be vocal and talk about it, so we can address the safety issues."
That is the kind of resolve that a committed athlete displays in the face of adversity. Just like Title IX, which has withstood every significant legal challenge over the past 40 years, women and girls in sports are here to stay.