Positively State Street
False Puppet Plays Ventura's Vans Warped Tour
Santa Barbara Trio Scores Coveted Festival Gig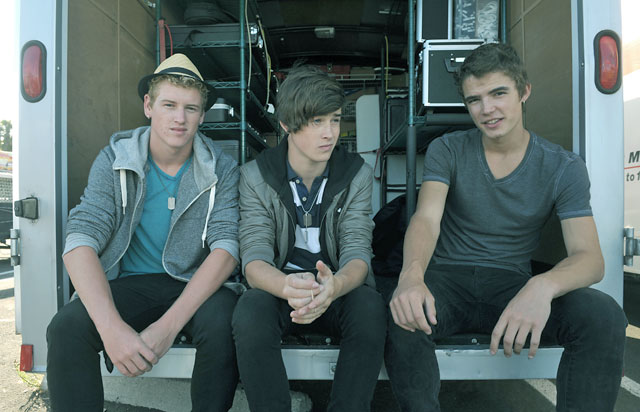 BIG BREAKS: It's said that some of the most important relationships we form in life happen at a young age. And when those super tight-knit bonds intersect with artistic ventures, well, the results can be downright magical. Among the Santa Barbara music scene, few bands can boast a backstory as cosmically intertwined as False Puppet. The pop-punk three-piece, made up of brothers Tyler and Brennan Benko and classmate Channing Peake, formed back in 2010 after they joined forces for their school's talent show.
"That was how we found Channing," Tyler recalled. "We went into the talent show thinking we'd play one song and be done, and then our friends called and asked if we wanted to play their birthday party, so we learned a bunch more songs. That party was our first official show as False Puppet."
The boys, then between the ages of 13 and 14, cut their teeth on a series of backyard party gigs, slowly transitioning from awkward, nervous teens to bona fide bandmates. "Those first shows, Tyler and I would stand there completely stiff, and we'd look over at Channing, and he'd just be rocking out," laughed Brennan. "But we both eventually got comfortable and started really getting into the live show."
In the years since, False Puppet has also moved from cover band for hire to legit power trio, penning their own songs, playing shows and festivals across town, and even making it to the semifinal round of our 2011 Downtown Sound battle of the bands. For a handful of months prior to the closing of Jensen's Mainstage, the trio seemed to be occupying that venue's bill every other week. "About a year ago, we just started playing everywhere," recalled Peake. "We turned down no one."
As the shows grew, so did the crowds. In just two years, the guys have amassed a large and fervent following around their power chord-driven pop rock and delightfully spastic onstage antics. "We used to be more on the heavy side, but now the songs are more melodic," Tyler explained. "We're getting more accepting of the pop side of things."
Currently, the trio is splitting their time between writing and live shows, and next month they'll head to Indio to record new material with producer and friend Ronnie King, who's worked alongside everyone from The Offspring and Pennywise to Tupac Shakur. They'll also close out June with their biggest gig to date: a slot at the Vans Warped Tour in Ventura.
"[Warped Tour founder] Kevin Lyman saw us play for the first time at the New Noise festival," Brennan explained. "So he contacted us after that about playing Warped Tour. We're so honored and so excited and so happy."
The band will play the fest's Kevin Says stage this Sunday, June 24, at the Ventura County Fairgrounds (10 W. Harbor Blvd., Ventura) alongside Taking Back Sunday, Anti-Flag, The Used, Every Time I Die, and many, many more. For tickets and information, visit vanswarpedtour.com. To learn more about False Puppet, visit falsepuppet.com.
ALSO THIS WEEK: This Sunday night, S.B.'s own Natalie D-Napoleon takes to the stage at SOhO Restaurant & Music Club (1221 State St.) for a show and CD-release party in support of her long-awaited debut, Leaving Me Dry. The Australia-born songstress works in the same vein as contemporaries like Victoria Williams, Kathleen Edwards, and Neko Case, blending rich, folksy melodies with a beautifully powerful voice. Area luminaries Headless Household and Dan Phillips will open the show. For tickets and info, call (805) 962-7776 or visit sohosb.com.