Cover Story
The Sips and Sears of Summer
Meet the Winners of The Santa Barbara Independent's 3rd Annual Sizzling Summer BBQ Contest
The third annual serving of The Santa Barbara Independent's Sizzling Summer BBQ Contest revealed that the more the venues and categories change, the more the winners stay the same, as two of this year's four awarded chefs also prevailed in previous years. That said, the quality of both pro and amateur chefs steadily climbs each year, and this year's competition proved tougher than ever before, with mere points separating the victors from the runners-up in each category.
As our judges sipped their way through five cocktails at Harry's Plaza Cafe on June 14 and chomped upon 13 different dishes on June 15 beneath the sycamore trees of Oak Park, they looked pained at having to put one entry above the other ​— ​or maybe that's just because they were over-stuffed with drinks and eats. Luckily for the spectators, including a standing-room-only crowd at Harry's Ranchero Room (which has hosted the cocktail portion of the contest each year) and more than 100 invited guests to Oak Park (a first-time but perfect host for the grilling showdown), both events offered the opportunity to sample the entries, so no one left thirsty or hungry.
Here are our winning chefs and their recipes:
Professional BBQ Plate
Winner: Aaron Robertson, The Savoy (409 State St., 957-4111, thesavoysb.com)
Dish: Umami Pulled Pork on a Bacon-Knot Challah Roll with Savoy Slaw and Bacon-Bourbon-Maple Baked Beans
Though he won the side-dish category during our first competition in 2010, Aaron Robertson is more stoked this time around. "It felt amazing to take the win this year," he said. "I competed against some great chefs ​— ​two owning their own gourmet food trucks."
He was right to respect the competition, as Robertson barely nosed out the Burger Bus and their 15-hour smoked pork butt by realizing that he had "to raise the bar and make the perfect bun to serve my pulled pork on." Inspired by a recent visit to Michael Voltaggio's Ink in Los Angeles, Robertson opted to do something decidedly un-kosher. "Challah is typically an egg-yolk-based Jewish bread that just needed some extra love in my eyes: bacon!" he said. "Everything is better with bacon and bacon fat." Robertson also made sure his slaw would slay the judges by adding fennel, Fuji apple, and pickled watermelon rind.
All that extra creativity worked, as judge Doug Margerum said, "Aaron's pulled pork took me back to Memphis ​— ​really authentic with a nice fresh Santa Barbara touch."
An SBCC culinary program graduate, Robertson is now executive chef at The Savoy, where he's "trying to get us known for our food and not just the nightclub." To that end, his winning pulled-pork sandwich will be on the brunch menu at Savoy all summer. Even better, Robertson has been bottling the BBQ sauce and spice rub he used in the contest and plans to start selling them soon at the Farmers Market.
But it's the social side of grilling that keeps Robertson smiling, and he frequently enjoys 'cues with his fiancée (they're getting married this July) and friends. "A couple cases of cold beer, awesome smells coming from the grill, and being around the people you care about always sounds great to me," he said. "Barbecuing can be done so many ways ​— ​a homemade smoker, wood planks, or the traditional open flame. It's always creative and fun."
Bacon-Knot Challah Bun
5⅔ cups bread flour
2 Tbsp. instant yeast
¼ cup + 1 Tbsp. sugar
1 Tbsp. sea salt
2 cups whole milk, at room temperature
14 large egg yolks
1 large egg yolk for brushing
8 Tbsp. rendered bacon fat, at room tempurature
6 oz. raw bacon, chopped
2 Tbsp. water, for egg wash
fleur de sel
cooked chopped bacon
Work in 1 egg yolk at a time into the combined first five ingredients. Add raw bacon and bacon fat, and mix until fully absorbed. Put dough into a clean bowl and cover; proof at room temperature until doubled, about 1½ hours.
Roll single 2-oz. pieces into a log about 6 inches long, and tie into a knot. Place on a sheet pan with parchment paper, cover with plastic wrap, and proof for another 20 minutes.
Brush knots with egg wash, and sprinkle with fleur de sel. Bake at 375° until golden brown, about 6 minutes. Sprinkle with chopped, cooked bacon pieces, and let cool for 10 minutes. Serve warm.
Umami Pulled Pork
2 cups brown sugar
1 cup kosher salt
½ cup soy sauce
4 Tbsp. Yuzu juice
¼ cup black pepper
⅛ cup whiskey
5 lbs. pork shoulder
2 cups Aaron's spice rub mix
¼ cup rendered bacon fat or vegetable oil
Combine all ingredients (except for spice rub and bacon fat). Let cure in refrigerator overnight.
Remove pork from mix and rub with spice rub and bacon fat. Wrap pork shoulder in foil. BBQ at 300° for at least 6 hours. Pull pork while hot with tongs. Finish with Aaron's BBQ sauce.
Savoy Slaw
1 green cabbage, sliced on mandoline
1 fennel bulb, cored, and sliced on mandoline
2 Fuji apples, cored, seeded, and julienned
4 oz. pickled watermelon rind
2 oz. pickled red onion
2 Tbsp. black sesame seeds
2 cups apple cider vinegar
1 cup aioli
½ cup sour cream
1 cup granulated sugar
salt and pepper to taste
Combine all items. Taste for seasoning. Let sit, as flavors will intensify and merge.
Bacon-Bourbon-Maple Baked Beans
#10 can pinto beans
1 white onion, diced
1 lb. bacon, chopped
1 cup maple syrup
3 cups root beer
1 cup bourbon
4 tsp. salt
4 Tbsp. chopped chives
Rinse juice from beans. Put bacon pieces in a pot with white onions, and sweat onions until translucent. Add rest of items into pot, and cook until liquid is reduced to a sauce. Serve hot with a sprinkle of chives on top.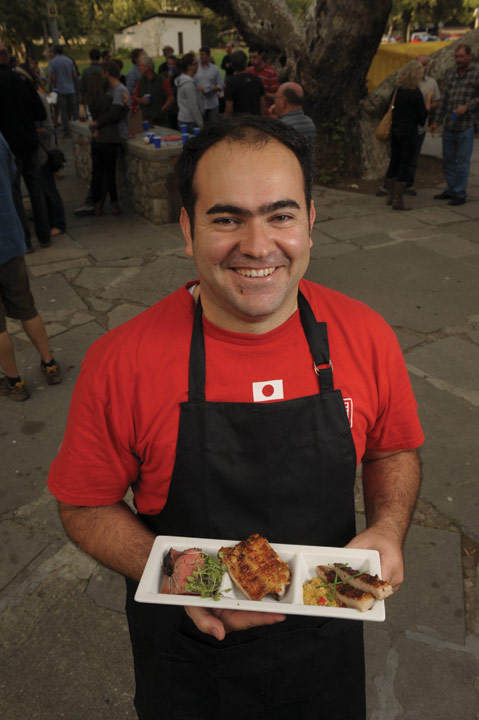 Amateur BBQ Plate
Winner: Rodrigo Gimenez
Dish: Argentine Asado Sampler, with Beef Picanha in Malbec and Lavender, Chicken Thighs Basted in Roasted-Vegetable Chimichurri, and Matambre de Cerdo (Pork Flank Steak) in Lemon Cream Sauce
An Argentine who recently relocated to Santa Barbara with his Goleta-raised wife, Rodrigo Gimenez is an architect by trade, but by the end of the contest, he practically had people lining up to finance his first restaurant. It turns out architecture and food go together more than you might think. "My profession gave me the opportunity to live and work in many different countries, which permitted me exposure to many different culinary traditions," explained Gimenez, whose interest was particularly sparked by his time in Italy and Mexico. "I approach architecture and cooking with the same degree of passion, patience, and creativity."
The culinary gene also runs in his family, as he explained, "The chimichurri chicken and lemon cream pork dishes are variations on very traditional dishes cooked by my mother, who I still consider to be the best chef I have ever encountered." But he's also open to professional advice, as the malbec and lavender marinade was inspired by his close chef friend, Langdon Doty, of Mendoza, Argentina. "He encouraged me to be more adventurous in general with uncommonly used herbs," said Gimenez.
Even with his strong trio, Gimenez barely beat Per Petterson and Matt Hunter's slow-smoked baby-back ribs with assorted sides. "The competition was a great opportunity for me to get to know so many other talented people involved in the culinary scene of Santa Barbara," said Gimenez. "As a newcomer to the area, participating in this competition encouraged me to get out and explore what ingredients are available in town and also has me thinking about how I might continue to pursue my culinary interests on a more professional basis."
Whole Beef Picanha in Malbec and Lavender
top sirloin cap
malbec wine
dried lavender
coarse salt
black pepper
Beef is marinated for 24 hours in the malbec and lavender mixture before it is salted, peppered, and then grilled whole for approximately 40-50 minutes over a wood fire. Meat is served medium rare, thickly sliced, and unembellished by further seasoning or sauces.
Chicken Thighs with Creamy Roasted Vegetable Chimichurri Sauce
red peppers
onions
portobello mushrooms
oregano
crushed red pepper seeds
paprika
cream
lemon juice
white wine
Dijon mustard
fresh garlic
coarse salt
black pepper
olive oil
chicken thighs
Chimichurri sauce is prepared by roasting the red peppers, onions, and portobello mushrooms over the grill. The vegetables are finely chopped and then simmered for approximately one hour, together with all the other sauce ingredients. Chicken thighs are butterflied and then marinated for several hours in the sauce before being grilled for approximately 45 minutes while being further basted with sauce.
Matambre de Cerdo
with Lemon Cream Sauce
olive oil
chopped fresh garlic
lemon juice
cream
coarse salt
black pepper
pork flank steak
Lemon cream sauce is prepared just prior to grilling the meat by mixing all sauce ingredients in a blender until a thick buttery texture is achieved. Pork is marinated for several hours in cream and lemon juice, then salted, peppered, and finally smothered in the cream sauce before placing on the grill, where it will cook for approximately 45 minutes. During grilling, the pork is basted with additional lemon cream sauce.
Pro-Am Vegetarian BBQ Plate
Winner: Edie Robertson, chefedie.com
Dish: Flame-Grilled Pasilla Chilies Filled with Mexican-Style Seitan, Vegan Ranchero Sauce, and Baby Red Potato Salad
Best known locally for once co-owning the Sojourner Café, private chef/caterer Edie Robertson is no stranger to our contest, having won the best entrée award in 2010 and been a judge in 2011. But she was most pleased by our 2012 decision to feature a vegetarian category for the first time. "The possibilities are endless," she said, "and vegetarians need not feel left out during the summer's BBQ season."
Robertson clearly knows the drill, as her seitan-stuffed chilis actually achieved our first perfect score ever. "It has got rave revues from my private-chef clients, so I felt confident about that dish," she admitted. "Plus the fresh roasted tomatillo salsa, smoky ranchero sauce, and freshly made corn tortillas added a nice touch and flavor to the whole dish. It was a great compliment to hear Doug say he could eat like this every day!"
Robertson (no relation to Aaron, by the way) also offered a few secrets: She roasts all of her spice blends to deliver a "richer, more nutty flavor" and pulses the seitan in a food processor, which makes it "so close to ground beef." As for cooking tempeh or tofu on the grill, Robertson suggested buying the firmest available, marinating for at least an hour, and then, "Start like you would with any meat: high heat first to sear the outside, and wait to turn them over until they have a nice dark sear or they will stick. The cooking time, of course, is much shorter." As for straight produce, Robertson explained, "I think any vegetable on an open flame beats any other style of cooking. If you have delicate or smaller-sized vegetables, use a vegetable grill basket ​— ​you will get the great flavor without losing them through the slats. And don't be shy with bold spice blends that you would normally use on meat. They work well on vegetables, as well."
Flame-Grilled Pasilla chilies stuffed with Mexican-Style Seitan
4 large pasilla chilies
3 packages plain seitan, pulsed in food processor or blender to look like ground meat
1 small brown onion, small diced
2 small jalapeños, de-seeded and finely diced
3 cloves minced garlic
¼ cup fresh or canned corn kernels
3 Tbsp. cumin powder
Pinch of cayenne pepper, or more to taste
¼ cup chopped cilantro
1 Tbsp. kosher sea salt
¼ cup enchilada sauce
1 cup mixed jack and cheddar cheese, queso fresco for topping
Wash and pat dry chilies. Coat with a little olive oil, and place on hot BBQ. With tongs, gently turn them every 5-8 minutes until all the skin has darkened and peels away easily. Let cool a few minutes, and wrap them loosely in plastic wrap so air doesn't get in. After about 20 minutes, unwrap and peel skin off (some can remain). Cut a small slit in the chili lengthwise. Pull out seeds, and rinse with cold water inside. Place open side down on paper towel to drain.
Cook onions, jalapeños, and garlic in small amount of oil until translucent; add the rest of the filling ingredients.
Put a little of the jack/cheddar mixture inside of the chili, fill with seitan mixture until chili is stuffed to top, and add a little more of the cheese mixture. On a grilling screen or piece of foil, place the stuffed peppers on low-heat grill covered loosely with foil until cheese melts and seitan filling is heated through. Plate and sprinkle with a little queso fresco.
Amateur Cocktail
Winner: Scott Wallin
Drink: The Farmers Market Cocktail
With a professional cocktail contest brewing for the fall (email food@independent.com for details), we limited our summer mixology battle to home bartenders, but that didn't hurt the quality of the drinks one bit. That's in part because two-time runner-up Sonny Chehl returned to go for the gold again ​— ​ "Susan Lucci is my godmother," he quipped of the soap star that took 19 years to win an Emmy ​— ​but, alas, the lawyer came in second again, this time losing to graphic-designer-by-day Scott Wallin. Pledged Chehl, "Next year, my drink will be called the Bridesmaid."
Wallin's Farmers Market Cocktail, meanwhile, was a seamless mix of ginger, strawberry, pomegranate, cucumber, grapefruit, and vodka, with just enough lime juice to prevent sugar shock. As judge Mandy Huffaker Chinn from Sly's put it, "This is the drink I'd want a second one of."
Wallin and his wife recently moved to Santa Barbara from Pasadena and quickly got in the habit of walking everywhere and making meals based on what's available at the Tuesday and Saturday farmers markets. "Mixing drinks is an extension of my graphic design and letterpress business, Spiffy Press," said Wallin. "I enjoy the creativity of design and mixing fonts for an eclectic look. Then I take it one step further and print my designs on a Vandercook letterpress I own and have in my garage. The whole idea of mixing old and new methods, whether it's for a design project or a cocktail, is really fun for me."
Indeed, Wallin brought a letterpressed card to the contest that not only provided his drink's recipe but also included the health benefits of all its ingredients on the back. His huge cheering section didn't hurt either, including his mom, who beamed a proud, "That's my boy!" upon victory.
"Keep mixing!" Wallin said to home bartenders. "Make mistakes ​— ​they still taste pretty good, and there are always friends to share them with ​— ​and refine your drink with your favorite ingredients until you get it right." Wallin and all of our other contestants certainly did.
Farmers Market Cocktail
Makes 2 drinks.
two ¼" slices fresh ginger root,
cut into cubes
Three ¼" slices fresh Persian cucumber, cut in half
2 medium-sized fresh strawberries, cut in half
1 wedge fresh lime
6 oz. vodka
2 oz. fresh-squeezed grapefruit juice
4 oz. 100% pomegranate juice
2 tsps. scratch-made ginger simple syrup
Put ginger, cucumber, and strawberry into the bottom of a large cocktail shaker. Squeeze in the lime juice. Muddle together for 1 minute. Add 1 oz. vodka. Muddle another 30 seconds. Fill shaker ⅔ full with ice. Add remaining vodka, grapefruit juice, pomegranate juice, and ginger simple syrup to shaker. Add lid to shaker and shake vigorously for 1 minute. Pour mixture through a fine-screened strainer into well-chilled martini glasses.
Drop a very thin slice of fresh cucumber into the top of the drink.