Theater
UpStage Left Brings Our Town to Elings Park
Thornton Wilder's Classic Drama Moves Outdoors Starting Sunday, July 1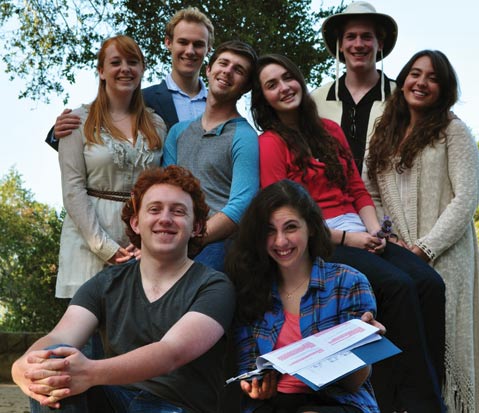 Thornton Wilder's Our Town describes small-town life in early-20th-century New Hampshire, but it sets that slice of Americana against the backdrop of eternity. While Acts One and Two verge on Norman Rockwell in their sentimentality about life's familiar passages, Act Three, which takes place among the dead in the Grover's Corners graveyard, fully anticipates Wilder's eventual fascination with European existentialist writers such as Jean-Paul Sartre and Samuel Beckett. Many things are seen to coexist in Our Town, and what starts with the relatively innocuous comparison between the neighboring families Webb and Gibbs eventually extends to analysis of the greatest of all side-by-side companionships: life and death. As a result, even longtime fans of the play experience varying responses to it over time. One visit to the kitsch of Our Town's mom, pop, and soda shop worldview may elicit a smile, but the next encounter may provoke dizzying contemplation of death's everlasting void.
As with last summer's outstanding production of the musical 1776, UpStage Left's clever young cast and director Cheri Steinkellner have some fun and telling production twists in store. First of all, there will be substantial additional incidental music drawn from the period of the play's action. Steinkellner has recently proved her chops with this period material in her original musical Hello! My Baby, and the a cappella songs that she chooses to intersperse throughout Our Town will undoubtedly add to the drama. Then there's the dueling male and female stage managers, an innovation that seems obvious, yet apparently has not been attempted before. Finally, there's the incredible location — Godric Grove in Elings Park, an amphitheater that commands an unsurpassed view of Santa Barbara's red-tile roofs below. Timed to coincide with the setting of the sun, and performed without the benefit of theatrical lighting or amplification, this outdoor Our Town will costar our town at its most scenic.
Last week, I solicited answers from the cast to a set of questions about the play. As usual with the top-flight teens who flock to UpStage Left's productions, they were articulate, thoughtful, and inspiring. Here are just a few of the many interesting points that they contributed. The play is set in a small town a long time ago, so I asked the actors what they recognized as familiar in that world and what seemed alien to them. Corinne Ruth wrote, "The most relatable part of the story of Our Town is the relationships between people. In both early-20th-century Grover's Corners and 21st-century Santa Barbara, people are in love, people have families, people are friends, people are married." Evan Bell insisted that, "Our Town is timeless. It doesn't matter what generation you are from; the themes of life, family, community, love, marriage, and death presented in this play are universal. Yes, some of the customs and specific types of relationships may seem foreign to us (there aren't too many milkmen hanging around these days), but all of us have experienced similar relationships with similar types of characters, and can relate to somebody in this show."
In what is perhaps the most memorable speech in the play, the recently deceased Emily observes her family and friends from the afterlife. She senses that they are not as aware of their lives as they could be and wonders if it is ever possible to be fully aware of life as you are living it. I asked the actors the Emily Webb question — if they felt they were able to be aware of life every moment, as they were living it. The answers were all good, but Emma Steinkellner's was maybe the most memorable: "Hell no — only saints, poets, and dead people are that aware of life!" she exclaimed. "I'd like to think I come close, though."
4•1•1
Our Town will be at Godric Grove in Elings Park on Sunday, July 1; Monday, July 2; and Tuesday, July 3, at 6 p.m. Advance tickets are available through brownpapertickets.com/event/255586.