Arts & Entertainment
Cross-Gender Frogs and Cross-Cultural Relations
Dennis Nord on the Gestation of The Adventures of Freida and Her Friends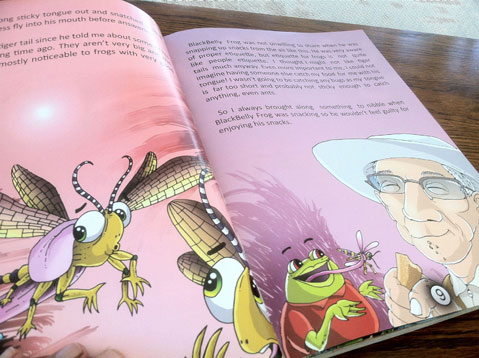 While staying in Turkey 12 years ago, Dennis Nord set out to educate his grandchildren about nature. This was the beginning of a creative endeavor spanning many years and multiple countries that would eventually become his cross-cultural children's book The Adventures of Freida and Her Friends, which was just celebrated with a release party at the Goleta Valley Library on June 15.
Nord is also the author of two other children's books just published as free ebooks: Santa Barbara Fire Song in Three Parts and Dungeon Dreams. The first is about wildfires with stories for progressively older children and the second is a mystery novel for young teens. Both are available at Smashwords.com.
Last Wednesday, I sat down with Nord to discuss The Adventures of Freida and Her Friends. Our conversation covered everything from the natural world to the lack of congruences between the English and Turkish languages, and Nord was kind enough to share some anecdotes about the creation process of the book — some of which are quite funny, and others which are rather stirring.
What was the inspiration for this cross-cultural story?
This book was far from a cross-cultural story at the beginning. I wanted to tell children's stories to my three grandchildren that might motivate them to interact with nature. I chose frogs as my characters because they are at the frontline of the ecological concerns everywhere in the world. I put those stories together into a book and shared it with other family members and friends.
In 2006, I took the book to my friend in Turkey for his daughter as I knew she was laboring over English as a second language and I thought it would be motivation for learning new words and thinking in a new language. The universality of nature along with the frogs as main characters appealed to both my American and Turkish friends and family.
My Turkish friend said this was a theme he wanted to bring to the Turkish children in addition to his own. He said there was little in the way of new Turkish children's stories, and that while the older, more traditional stories had a long legacy, he felt strongly there should be other voices available.
I love my experiences in Turkey, meeting people, learning the history, and now it's exciting to become part of that through this publication. I plan to go to Turkey to talk about the stories and engage children there. It is an opportunity to bring our cultures together and learn from each other!
What was your greatest challenge in working with both Turkish and English?
Turkish has no male or female pronouns as I understand. The translation resulting provided several humorous mistakes in illustrations. "The lady frog at the registration desk took my breath away since she was illustrated as male with a wonderful purple suit in place of the green dress," I wrote!
While my author as a character was depicted as the funniest of the frogs with a moronic pointed head, we noted that none of the frogs became princes. The language and illustrations were difficult to coordinate as we are 10,000 miles apart and all communication was by email. The mistaken species and gender illustrations took three interchanges to fix with a ton of laughs on two continents. Wardrobe changes were required and when it was easier, I simply re-wrote the text to fit the illustrations. This was a slow, slow process, but one where we succeeded each time.
Any particularly thought-provoking moments?
I came to appreciate the great goodwill of all the Turks involved: my publisher, the translator, the editor, the printer, and the illustrator. I heard the story of how the publisher stood with the printer to be sure the paper and ink would produce the vivid colors needed the night this went to press. The illustrator went off carrying a rifle for his military service and was unavailable for six months in the middle of this project.
This book took shape while the wars in Iraq and Afghanistan and now Syria have raged through those neighboring countries and rocked the people of Turkey with concerns for safety and infusions of refugees. In the midst of that, these co-workers of mine saw the value sharing fun and nature with children. What could be better than that?
What did you take away from that experience?
I believe we need more cross-cultural projects where we work with each other to learn to create art or science or any common values and ideas so we see ourselves reflected and understood. Traveling and visiting is good and great fun, even educational, but working together is so much more engaging and important to understanding.
You mentioned that you wrote this book to teach kids to interact with nature. Are you involved in educating children about the environment?
My publisher and I plan for profits earned in Turkey to help a foundation for girls' education and literacy. All profits earned in the U.S. go to Nature Track, a children's educational field trip organization. I am on the board and one of the volunteers for this local non-profit foundation. I think these two worthy causes are fitting beneficiaries of our cross-cultural efforts.
411
To learn more or purchase a copy of The Adventures of Freida and Her Friends, please send Dennis Nord an email by clicking here.