Living
Racing Cardboard Ships
S.B. Maritime Museum Host Kardboard Kayak Race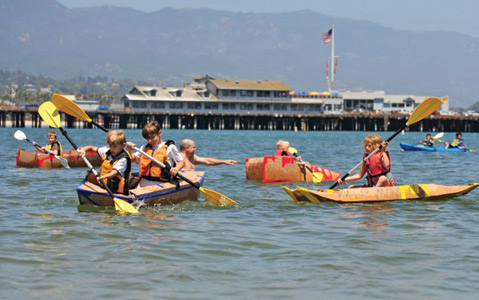 The rules are simple: You get one hour to turn one roll of duct tape and two large sections of cardboard into an actual paddle-powered seafaring vessel, and then you hit the water for a race. Unfortunately, as easy as the rules may be, actual success is something much more difficult to achieve. After all, though buoyant, cardboard isn't particularly water-proof. And that is a bit of an issue when paddling swiftly in the Pacific Ocean is the sole purpose of your cardboard creation.
This Saturday, for the third time in as many summers, the folks from the Santa Barbara Maritime Museum are hosting the Kardboard Kayak Race, a fun-for-all sort of competition that is guaranteed to produce way more smiles than it does actual winners. Two divisions of competitors — one a Family Fun division in which the actual paddlers must be 14 years old or younger; and the other a Paddling Pros heat that features presumably older, more-skilled racers — will meet on the sands of West Beach at high noon on Saturday, July 7.
After a small window of registration time, the construction portion of the races will commence. Teams composed of a maximum number of four members will be given the aforementioned supply kit of cardboard, duct tape, utility knife, and paddle; when the bell rings around 1 p.m., construction will begin right there on the sun-soaked sand across from Sambo's Restaurant. The races will get underway around 2 p.m. in the still waters just west of Stearn's Wharf. "Basically, you just put your boat together on the beach and then head straight out [to the water] to start the races. That's when things get interesting," explained the Maritime Museum's Jennifer Haake.
The races, which are open to the public with "day-of" registration available (though preregistration is encouraged, said Haake), are part of this year's Semana Nautica festivities, the now 75-year-old annual 4th of July week Santa Barbara-style Olympics that sees people having fun and competing in everything from Frisbee and tennis tournaments to open ocean swims and sailing races. For more information, or to register for this year's Karboard Kayak Race, call (805) 962-8404 x102.