Arts & Entertainment
Chris Shiflett Goes Country
Foo Fighters Guitarist Finally Gets His Cover Band
In 2011, Foo Fighters had what was arguably its biggest year to date. The band's new album, Wasting Light, debuted at number one on Billboard charts. It also nabbed the Foos five Grammy nominations, four Grammy Awards, and glowing write-ups from critics throughout the world. Nowadays, though, America's resident alt-rockers are starting to wind down for a bit, playing a handful of festival dates in between spending some much-needed time at home. And for at least one member of the Foo lineup, that break means more time to work on — you guessed it — more music.
Back in 2009, following the Foos' Echoes, Silence, Patience & Grace, guitarist Chris Shiflett returned home to Santa Barbara for some welcome downtime. Within less than a year, though, Shiflett had begun work on a band of his own, featuring everyone from bassist Davey Faragher (Elvis Costello and The Imposters), pedal-steel player Greg Leisz (Wilco, Lucinda Williams), and violinist Stevie Blacke (Beck, Weezer) to guitarist Eddie Perez (Dwight Yoakam) and singer Audra Mae. The group, which Shiflett dubbed The Dead Peasants, went on to record and release a self-titled debut, as well as tour behind their collection of original Americana-inspired jams. Before long, though, Shiflett was shipping on again to record Wasting Light.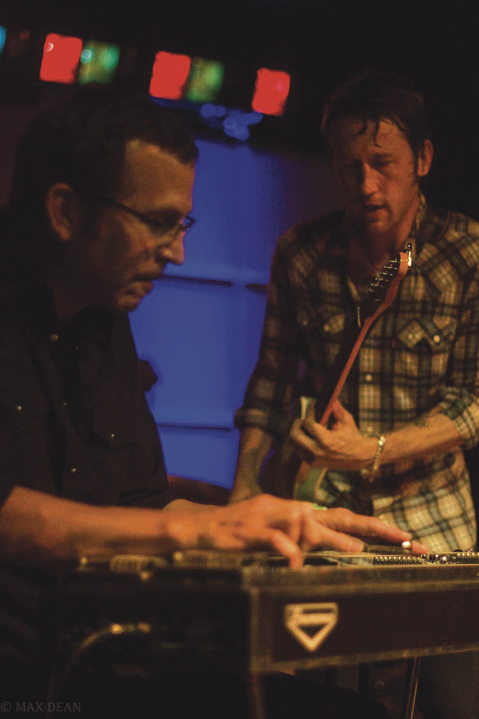 While the Foos have been top priority for Shiflett this year, he's also been brewing plenty of ideas for the Dead Peasants while on the road. "More and more in the last couple years, I've gotten deeper and deeper into old-school country music," he explained via phone last month. "Last year, while we were touring, I had this idea to learn a huge set of old honky-tonk songs and just go be a cover band for a little while."
As Shiflett tells it, he sent off an email to the band announcing his idea. Surprising to him, they all quickly jumped on board. Each member was then given a CD's worth of songs to learn and a time to show up for practice. "This is the kind of music that you think is easy [to play], but it's actually really fucking hard," Shiflett laughed. "Even though most of these songs are like three chords, there's a lot of subtlety. You have to immerse yourself in it."
In cover band form, the Dead Peasants are pulling from all parts of Shiflett's vintage country collection. The set lists are made up of songs by Merle Haggard and Hank Williams, though Shiflett promises that he's putting his own spin on things. "I didn't want us to be some polished, perfect veteran country band," he asserted. "I wanted it to sound like what it is, which is basically a bunch of guys who grew up listening to KISS playing country songs."
Fittingly, Shiflett isn't the only Foo paying cover-song homage in between tours. Drummer Taylor Hawkins's side project, Chevy Metal, is also making a comeback, and Shiflett is even finding the time to sit in. "It's really different stuff," he explained. "We play Van Halen, a lot of Stones, some ZZ Top, and some Black Sabbath — the sort of classic rock stuff that we all grew up listening to."
And as for rumors of a new Foo Fighters record this year, Shiflett is keeping mum: "There's no truth to it that I've heard. I know Dave's writing songs, but he's always writing songs." In the meantime, though, the guitarist is keeping plenty busy and having a great time doing so. "I'm 41 years old, and I'm finally in some good cover bands," he laughed. "But it's also great just to be playing again."
4•1•1
Chris Shiflett & The Dead Peasants play Velvet Jones (423 State St.) on Wednesday, July 11, at 8:30 p.m. with Joey Cape's Bad Loud. For tickets and info, call 965-8676 or visit velvet-jones.com.