Food & Drink
Learning to Love Vegetables
Suzanne Landry Publishes a Healthy New Cookbook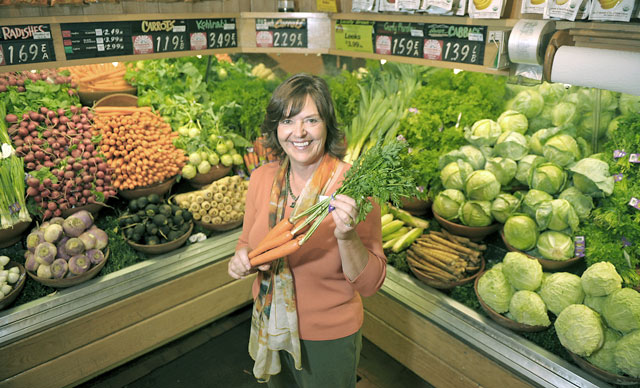 Suzanne Landry has been teaching cooking for 35 years, frequently at adult ed for SBCC, and the accumulated wisdom of that time is now available in her attractive book The Passionate Vegetable (Health Inspired Publishing 2012, thefreshfoodchef.com). She recently answered some questions by phone.
Why did you become passionate about vegetables?
"I wanted to raise healthy kids and didn't want to give them more drugs," said Landry, whose family shifted away years ago from the standard American diet high in protein, salts, and saturated fats. "Heck, I'm a whole lot more alert and have more energy now than when I was in my late twenties. Give your body what it needs, and you can be in better shape."
If I become passionate about vegetables, am I allowed to date other foods?
While the book primarily offers recipes starring vegetables and grains (and great kitchen tips called "Bites of Insight"), Landry still provides healthy ways to prepare fish and meat dishes. "I like to have a glass of wine — in California, how could you not? It's like not eating apple pie in America, but it's about balance," she explained. "Eighty-five to 90 percent of my students are not vegetarians but want to learn more about menus without meat. The book is for the transitional person who wants to eat more vegetables."
Besides your book, how can you help us eat better?
Landry is still an active teacher, and you can see her full schedule on her blog, suzannelandry.com. Classes range from Thinking Outside the Salad Bowl to Cooking with Herbs and Spices, and every six weeks she teaches Cooking Fresh from the Farmers Market. "It's always a new menu as I teach people to cook seasonally," she said. "And the farmers always get a laugh when I show up with 20 people in tow."
Roasted Fresh Figs with Goat Cheese
(serves 4)
Serve three figs per person if offered as a dessert. As an appetizer, serve one or two. These are even yummy as a part of a healthy and delicious breakfast!
12 figs (Brown Turkey or Mission)
¼ lb. goat cheese, softened
1 tsp fresh rosemary, minced (1/4 tsp dried)
¼ lb. prosciutto, sliced lengthwise once
12 toothpicks
1. Preheat oven to 400 degrees.
2. Score each fig by slicing it half way down the middle and then across. Place on cookie sheet.
3. In a bowl, combine rosemary and softened goat cheese. Stir until blended.
4. Slice prosciutto into long pieces (long enough to wrap around fig with some overlap).
5. Place half a spoonful of cheese mixture inside each fig and wrap prosciutto around it. Secure with toothpick.
6. Place back on the baking sheet and bake on middle rack of oven. Roast until prosciutto begins to "sweat" and figs are shiny, approximately 10-12 minutes. Transfer figs to platter and garnish with rosemary sprigs if you used fresh rosemary. Serve immediately.
Bites of Insight: In temperate climates, figs come into season twice a year, once in early summer and again in autumn. Black Mission figs are among the most readily available and often the sweeter. However, brown Turkey figs are larger and easier to handle while stuffing, although not as sweet. Their sweetness combined with the tartness of the cheese and the saltiness of the prosciutto delivers a complexity of intense and satisfying flavors. Choose figs that are a little soft because they will be the sweetest. If you are buying figs a few days ahead pick ones that are still a little firm and without blemishes.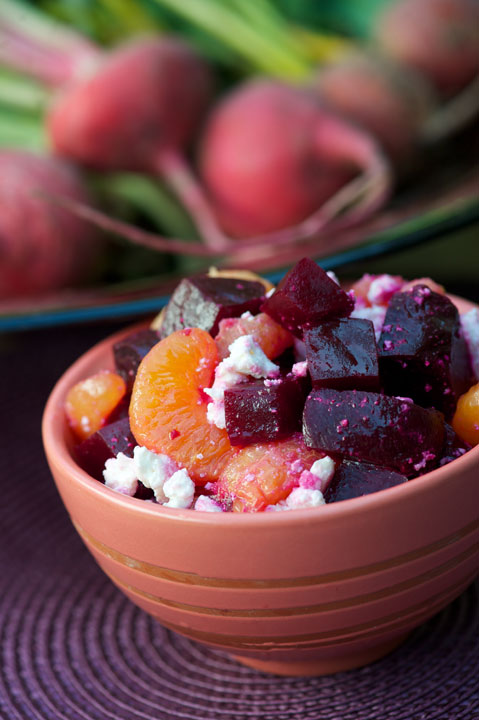 Beets and Tangerine Salad
(Serves 4)
3 beets, cooked, peeled and cubed
3 seedless tangerines, peeled, and sectioned
½ cup feta cheese, crumbled
Dressing:
1/3 cup olive oil
2 Tbs balsamic vinegar
1 Tbs minced fresh mint
1. If using fresh beets, scrub well but do not peel. Cut stem off to within one inch of beet. Immerse in water, cover and bring to a boil then reduce heat to medium. Depending on the size of the beets, cooking will take about 30 minutes or longer. They are cooked when the beet feels tender when a fork is pushed into the center. Drain and cool. Remove skin and stem by rubbing off with your fingers under running water. Cut beets into ½-inch bite size pieces.
2. Peel tangerines and separate wedges. Remove any white membrane. Either leave whole or cut in half.
3. This dressing will make more than you need for this salad. It's a favorite in our house and I'm sure you'll want to have extra. For this amount of salad, place ½ cup of finished dressing in a salad bowl. Add cooked beets and tangerines and toss. Sprinkle with feta cheese.
Bites of Insight: Beets are available at our local farmer's market in three varieties. The standard red, yellow and candy striped (or Chioggia). The candy stripped beet is a variety from a small coastal town in Italy called Chioggia. This "peppermint candy" beet looks beautiful grated in salads. However, it loses its candy stripe once cooked and becomes pale pink. It is milder in flavor and requires less cooking.