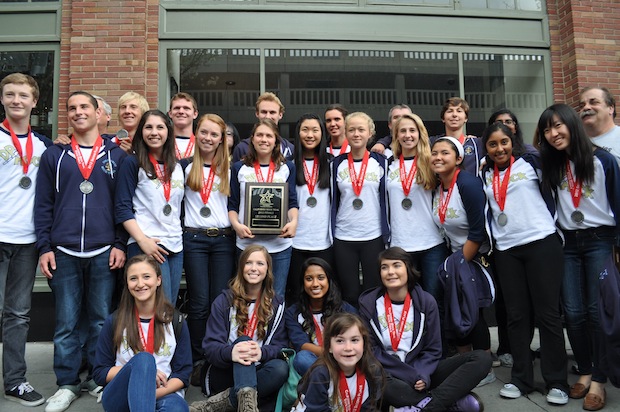 The tournament is considered the nation's most prestigious high school mock trial tournament, bringing together the top 36 teams from across the country and around the globe—including teams from the United Kingdom, Ireland, New Zealand, South Korea, Canada, and Australia. This year's tournament will be held on October 25-28, 2012 at the Kings County Supreme Court, Civil Division in downtown Brooklyn.
Teams are invited to apply only if they have finished at the top of their state tournament and are selected only after an extensive application process that takes into consideration the team's competitive history as well as factors such as sportsmanship, ethics, tradition, and motivation.
Dos Pueblos Mock Trial is the only school in California to finish in the top ten at state over the last three years. Last year's team advanced all the way to the state final losing a close match against La Reina High School from Ventura County (who have also been selected for this year's Empire tournament.)The Dos Pueblos team's faculty advisor, Bill Woodard was also selected as the 2012 Constitutional Rights Foundation "Adult Advocate of the Year" for his work with the Dos Pueblos program.
The DP team of eleven students will now spend their summer and fall preparing a new case and learning the college mock trial rules—which are used in the Empire Tournament. Jeff Campbell, Dos Pueblos Mock Trial alum and current member of the college mock trial national championship Duke University team is volunteering this summer to help the team prepare.
The team is also gearing up for a fundraising campaign to raise the necessary funds to travel to NY City for the tournament. Tax deductible donations can be made to Dos Pueblos High School Mock Trial program. Please contact teacher advisor Bill Woodard for more information: bwoodard@dphs.org
The members of the Dos Pueblos Mock Trial team that will be competing at Empire are:
Hannah Cruz
Alison Mally
Nimisha Shinday
Delia Bullock
Madeleine Centrella
Bela Lafferty
Madeline Matthys
Camille Wyss
Sophia Zheng
Sean Strong
Ami Thakrar
Dos Pueblos Mock Trial Coaching Staff: Maureen Grattan, Joel Block, Scott Campbell, Jeff Campbell, Bill Woodard