Living
Pet Project
Santa Maria Valley Humane Society Needs Funds for a New, Larger Facility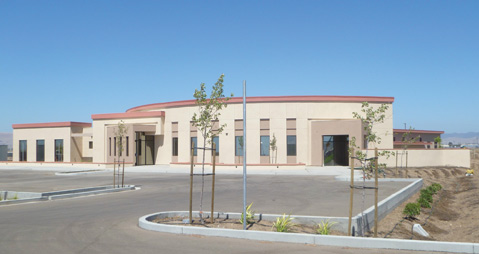 Santa Barbara County is experiencing a population crisis of the four-footed kind. The number of dogs and cats being born continues to exceed adoption rates, despite the heroic efforts of the county animal shelters to find homes for all the domesticated critters that end up on their doorsteps. Santa Maria has been particularly hard hit; the city's number of human dwellers has dramatically increased and so has its dog and cat population.
In an effort to alleviate the county's burden, the nonprofit Santa Maria Valley Humane Society (SHMVHS) has been working doggedly on Pet Project, a fundraising campaign to secure money for a new, 16,000-square-foot facility. Started about seven years ago, Pet Project has already acquired $2.7 million in donations. With that money, SMVHS has been able to envision and begin construction on their new home, but more money is needed to complete it—more than $1 million.
Currently, SMVHS resides in a space with room for fewer than 50 animals. "We are a small adoption facility right now," said Jill Tucker, SMVHS executive director. "We can accommodate about 20 dogs and 20 cats. … Our low-cost clinic is operating at a rate of about 2,500 spay/neuter surgeries a year; we are just not meeting the demand. … Whenever we have kennel space," she explained, "we take in animals from County Animal Services. Their shelters are really an indicator of how well we are doing with respect to animal welfare in the county."
Unfortunately, Santa Maria's county shelter is bursting at the seams. According to Tucker, studies done for the 2010-2011 fiscal year have the "live release" (meaning adopted out) statistics for the north county shelter at 66.28 percent, a number significantly lower than both Lompoc (81.1 percent) and Santa Barbara (93.28 percent). "There is a big discrepancy," Tucker said, "so what we say is the euthanasia of dogs and cats up here is disproportionately high." In fact, about seven out of 10 (77 percent) of the animals put down in the county are from the Santa Maria area.
Santa Maria's struggle has a countywide ripple effect. "A lot of folks in south country think Santa Maria is so far away. 'What does it matter? Why should I give to [Pet Project]?' said Tucker. "Well, if you're looking at animal welfare as a whole throughout the county, this is where the resources are needed. Potentially, if we have the resources and infrastructure in place up here, Santa Barbara County could become no-kill, which would be a 90-percent live-release rate."
The new building — the shell of which is already completed — will double the number of dogs SMVHS can take in and triple the amount of cats they can house. "This new facility is designed specifically to meet the objective of dramatically increasing both spay/neuter and adoptions," said Tucker. "You look at it from the outside, and it's gorgeous and it looks like it's done — but on the inside, totally not done."
But Tucker is optimistic about the future for the shelter animals in Santa Maria. "There is an interesting national statistic that only about 10 to 20 percent of people looking to acquire a pet will do so from a shelter or rescue organization. … We really believe the more attractive we can make adoption — if we can improve our market share of available homes — then we are going to save a lot more lives."
4•1•1
For more info and to make a donation to Pet Project, call (805) 349-3435 or visit smvhs.org, or mail donations to SMVHS (PO Box 8246, Santa Maria, CA 93456).