Food & Drink
Sta. Rita Hills Realized
Kessler-Haak Vineyard Contributes to Wine & Fire Weekend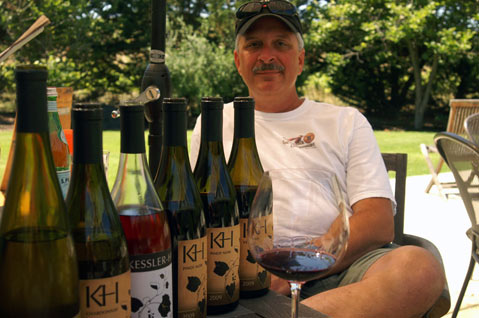 In 2005, when wine aficionados converged between Lompoc and Buellton to celebrate the Sta. Rita Hills with the inaugural Wine & Fire event, the four-year-old appellation was abuzz with a bubbly brand of youthful hope, the kind where the future is bright but plenty of proving remains to be done.
Today, on the verge of this year's Wine & Fire — which runs through the weekend but revolves around an action-packed Saturday — the Sta. Rita Hills can nearly rest on its laurels: Critics continually score its pinot noirs and chardonnays among the best in the world, international magazines and metropolitan newspapers frequently run features on the region's stars, and the fruit sells out easily.
While pioneers have been working the soil since the 1970s and waves of plantings came in the late 1980s and 1990s, a few fortuitous folks arrived around the time of that first Wine & Fire event, when land prices were relatively affordable, yet the promise was already clear. A couple of members of that lucky generation are Dan Kessler, an MIT-educated engineer-by-career, and his wife, Ellen Haak Kessler. The two purchased land in 2004 near the corner of Highway 246 and Gypsy Canyon Road just before the neighboring Clos Pepe Vineyards adorned the cover of Wine Spectator magazine and the hit film Sideways turned pinot into a household item.
"Wow, I guess we bought in a good place," Kessler recalled telling his wife at the time, and by 2005, the Kessler-Haak Vineyard was home to 27 acres of pinot noir and three of chardonnay. Since the first harvest in 2008, the vineyard's grapes have been used by such superstar producers as Samsara, Evening Land, and Dragonette; Kessler — who is also assistant winemaker at Lafond Winery — is increasingly using the fruit for his own wines under the Kessler-Haak label, which now makes nearly 1,000 cases a year with an eye on growing to about 5,000.
"I like getting my hands dirty," said Kessler, a Michigan native who rose into the management ranks at various tech companies in Massachusetts, Colorado, and lastly, Camarillo's Vitesse Semiconductor. "But as I moved up, I got further away from being in the creating part of it." So he picked up winemaking as a hobby in 1997 and, by 2003, was searching for a vineyard site as an escape from corporate politics. "I wanted to be responsible for my own success or failure," said Kessler, who upped the ante by challenging himself with finicky pinot noir, which led him to the Sta. Rita Hills.
The Kessler-Haak Vineyard turned out to be rather chilly — frost hammered the fruit every year until the recent installation of a special sprinkler system — but that also allows a better chance to show off the place's uniqueness. "Our wines have a good opportunity to express the sense of this place but still capture that each year has some uniqueness to it," said Kessler, who is pleased with his career change. "What's fun is sitting down to dinner and opening your own wine."
Here are some of Kessler-Haak's latest releases:
2009 Kessler-Haak Chardonnay: Properly oaked with balanced acidity, but presents an intriguing smokiness on the nose. "I'm not sure how I get that," admitted Kessler. $29.
2011 Kessler-Haak Rosé of Pinot Noir: A bold, juicy pink, bucking the leaner, lighter trend. "There's a little more structure going on," said Kessler. "I like a rosé to drink that I can enjoy with a burger or a BLT." $22.
2009 Kessler-Haak Clone 2A Pinot Noir: This single Swiss clone shows raspberry tartness that's distinctive of the cold, frost-riddled vineyard, one of the last to pick in the appellation. "This is our first 90-point pinot," said Kessler, who likes his pinots with chicken picatta. "We're proud." $40.
2009 Kessler-Haak Turner Vineyard Syrah: Plenty of the white pepper spice that's typical of cool climate syrahs. "This was picked in late November," said Kessler, explaining that it's always a race to get the grapes ripe before the winter sets in. $32.
4•1•1
On Saturday, Dan Kessler will be part of a Wine & Fire seminar on chardonnay at Fiddlestix Vineyard. See staritahills.com for schedule and tickets. And on September 30, the BYOB series at Max's Restaurant & Cucina in Santa Barbara hosts Kessler for a California vs. Oregon pinot noir dinner. See maxsrestaurantsb.com. For more on the Kessler-Haak Vineyard, see kesslerhaakwine.com.