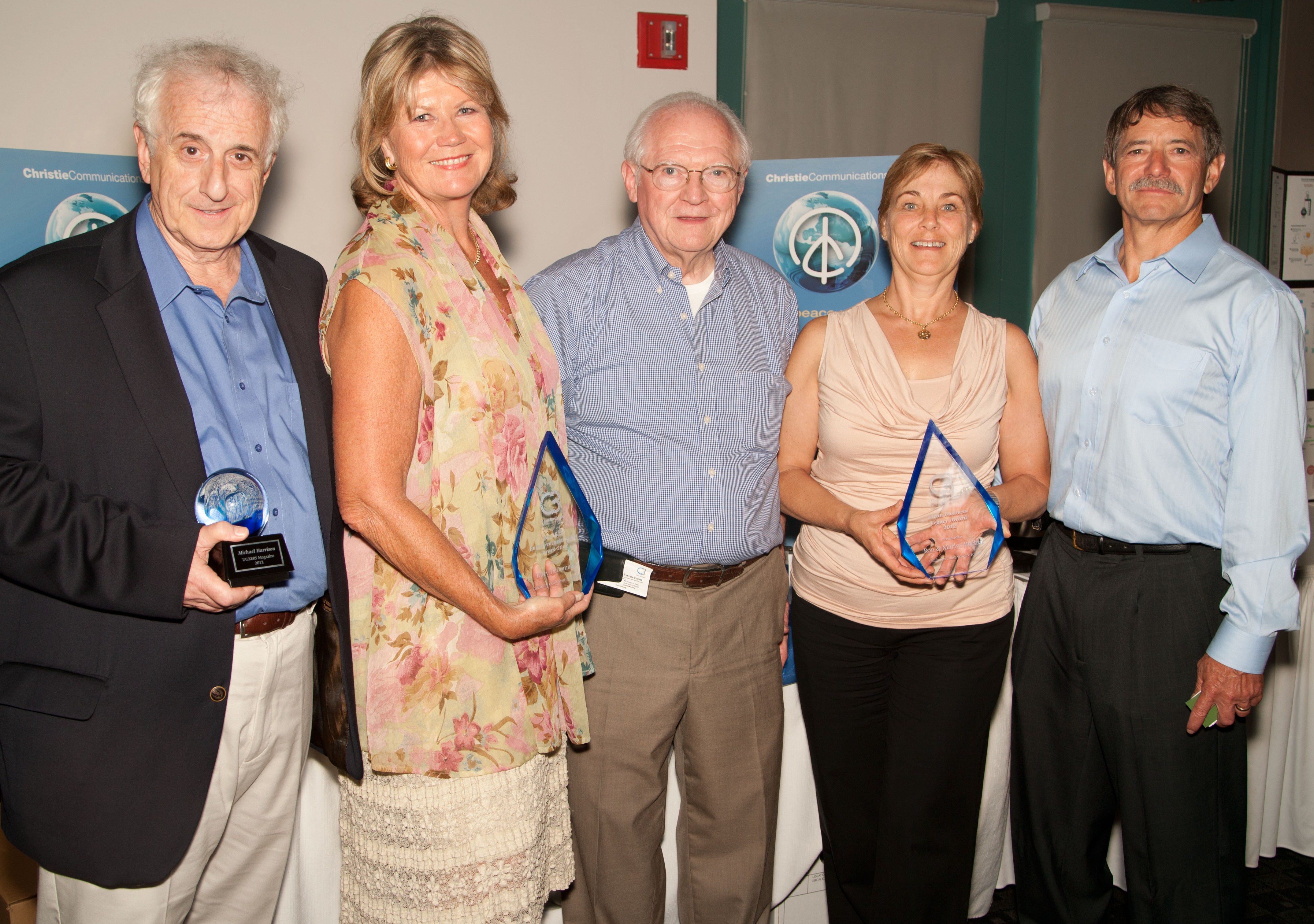 Amongst the dynamic entrepreneurs, investors, media, students, and service providers who had come from all across the country to participate, were the very special 2012 award recipients including Patty DeDominic of DeDominic & Associates who was honored with this year's Joe Nida Entrepreneurial Spirit Award; Ron & Marlys Boehm of BOMA Investments who received the Clean Business Legacy Award; and Michael Harrison of TALKERS Magazine who was awarded Christie Communications' Ethical Media Award.
Patty DeDominic, renowned for her work as a successful entrepreneur who has since supported and helped catalyze female entrepreneurs all over the world, received the Joe Nida Entrepreneurial Spirit Award of 2012. The Joe Nida Entrepreneurial Spirit Award is named in honor of the late Joe Nida, the founder of the California Coast Venture Forum. The award is given to entrepreneurs and pioneers who have exhibited tremendous courage, perseverance, and success throughout their careers – bettering their respective industries through the spirit of entrepreneurship. This prestigious award is presented annually and has been bestowed
upon previous recipients including Paul Orfalea, founder of Kinko's and Gillian Christie, founder of Christie Communications and a sustainability pioneer for nearly 30 years.
Ron & Marlys Boehm of BOMA Investments, were honored with this year's Clean Business Legacy Award for the work they have done to leverage their own experience as entrepreneurs to promote and develop ethical entrepreneurship in our community, across the nation, and globally through their work in Haiti, India, and beyond. The Clean Business Legacy Award was developed to honor those who have worked tirelessly to leverage their own experience, knowledge, and resources to catalyze ethical entrepreneurship in their communities, countries, and world. Individuals honored with this award demonstrate significant contributions to education, leadership, innovation, and the development of the entrepreneurial ecosystem to most effectively inspire and build new entrepreneurs while upholding the principles of Clean Business.
Michael Harrison, the Editor and Publisher of TALKERS Magazine, received Christie Communications' Ethical Media Award for his work in championing free speech to promote entrepreneurship and enterprise. Christie Communications' Ethical Media Award is presented to those in the media who have established the highest levels of integrity, honesty and dedication to the preservation of fair and just media and the protection of our freedom of speech, supporting the spirit of entrepreneurship in helping to steward and build models of clean business.
In addition to the extraordinary awardees, 14 dynamic, innovative entrepreneurs presented their business opportunities including:
ChiaVie, the first ground chia smoothie line;
Miles Outside, organic dehydrated baby food company;
Hive Lighting, designer, manufacturer, and marketer of energy-efficient Plasma light fixtures for the Film, TV and Digital Production industries;
Crop to Cup Coffee Company, a coffee importer and wholesale brand based out of Chicago, New York and Shanghai, using modern methods to engage enterprising farmers in the marketing of coffees in specialty and sustainable coffee markets;
Santa Barbara-based water filtration company AQUEL Water that has developed and patented the first freedom of choice compact multi-water hydration center with dispenser and interchangeable filter sizing and media, for residential and commercial use;
Chumash Renewable Energy, a renewable energy startup focused on advanced fuel cell technology;
Zylast, alcohol and lotion-based hand antiseptics, regular and foaming soap, surgical scrub, and wipes;
Caribbean Solutions, developer and marketer of proprietary, 100 % natural, biodegradable Sun & Skin Care, Hare Care, and Personal Care Products using organic and tropical plant extracts along with natural mineral ingredients;
Enviro-Clean, a private company specializing in creating, designing, and fabricating faster, ecologically safer and cost-effective cleaning, inspection and decontamination technologies for critical oil and gas, energy, petro-chemical and associated industry cleaning problems;
MEE LLC, licensed software, prepackaged analyses, and in-house analysis focused on effective market mapping and analysis to support business development;
Enervee, a new approach to online shopping that enables consumers, businesses and governments to buy products based on energy efficiency rather than just the purchase price;
Home Wizards, a "one stop shop" web destination for all things home improvement, connecting consumers with contractors;
SOL Solutions Personal Power, manufacturer of clean portable solar power generators;
International Emergency Services, a California corporation formed to reduce the destruction of wildfires in the United States by bringing the best aerial technology to our fire-fighting agencies.
In addition to the 14 entrepreneur presenters, four student entrepreneurs presented by SBCC's Scheinfeld Center for Entrepreneurship and Innovation gave their business plan presentations to a standing ovation by the audience. The student entrepreneurs included Garden on Wheelz, a mobile gardening cart designed to allow "stand up" gardening for elderly and/or disabled populations as well as urban gardeners; Dons Net Café's Good² which pairs Casa Esperanza's "Good Cookie" with the Dons Net Café's Ethical Addiction Coffee to raise awareness of homelessness and the social entrepreneurial solution to address this through this enterprise; Santa Barbara Succulent Art which creates attractive wall art that is comprised of a redwood frame with free growing succulents; and Bantu Kitchens which develops and markets African sauces.
With the theme of Forging New Frontiers, this year's Clean Business Investment Summit also touted an outstanding lineup of speakers. Congresswoman Lois Capps kicked off the Summit with her Opening Welcome followed by the Morning Keynote "Steps to Sustainability: Successes and Lessons Learned" by Mark Heintz, Director of Corporate Responsibility and Sustainability of Deckers Outdoor Corporation who has led the company's impressive social, environmental and community initiatives. The "Forging New Frontiers" Panel Discussion hosted dynamic experts across the fields of clean business including Brendon Cussio (Vice President of Finance and Marketing, Solarsilicon Recycling Services), Dan Riley (Vice President Operations, Ralph's), Nurit Katz (Chief Sustainability Officer, UCLA), Diana Pereira (Chief Financial & Compliance Officer, West Coast Asset Management), and Marty Brown (Product Innovator and Developer), moderated by Michael Manchak (President & CEO of Economic Vitality Corporation).
The Afternoon Keynote "The Art and Science of Clean Business" by Michael Brown, PhD (Brown and Wilmanns Environmental, LLC) will highlight Dr. Brown's 25 years of experience leading efforts to establish cutting-edge environmental and energy management programs and provide cost-effective strategies and tools for industry and government with companies that include Patagonia, Nike, Good Housekeeping, Aveda, New Balance, CLIF Bar, Columbia, kinko's, Ben & Jerry's, and lululemon athletica, amongst many others.
Additional speakers included Bridgeman Carney (Founder, Carney & Associates), Craig Allen, CFA, CFP, CIMA (President, Montecito Private Asset Management LLC), Gideon Rubin (Local Market Launch), David Raney (Co-founder and CEO, Raney & Associates), Gillian Christie (Founder & CEO, Christie Communications), Peter Hartman (Chairman, MIT Enterprise Forum Central Coast), Craig Shields (2GreenEnergy), Melissa Moreno, JD (Director of Santa Barbara County SBDC & SBCC's Scheinfeld Center for Entrepreneurship and Innovation), Alan Tratner (Founder, Green2Gold), Jeremy Bodenhamer (Entrepreneur), amongst many others. In addition to the engaging keynote speeches, panels, Q & A, and exhibitions, attendees experienced dynamic presentations from pioneering Clean Business entrepreneurs, the annual Joe Nida Entrepreneurial Spirit Award, and much more. This year's Summit launched a dynamic Investor Roundtable component to foster interaction between investors, entrepreneurs, and more. The Investor Roundtable participants included DFJ Frontier, Tech Coast Angels, West Coast Asset Management, Eleos Investment Management LLC, and others.
The California Coast Venture Forum, the largest venture capital forum held in coastal California, unites innovative, high growth companies with leading investors, business development and financing experts, and service providers. More than 585 start-up and growth companies have been introduced to venture investors and related services experts, with more than $110,000,000 invested through the CCVF. This was the 15th annual presentation by the CCVF. CCVF operates through a dedicated executive committee and professional investment advisors and has joined forces with Green2Gold www.green2gold.org and Christie Communications www.christiecomm.com to build the foremost opportunity for Socially Responsible Entrepreneurs to present to Socially Responsible Investors.