Living
Straighten Up with Motion Unlimited
Multipronged Exercise Program Good for Entire Body and Soul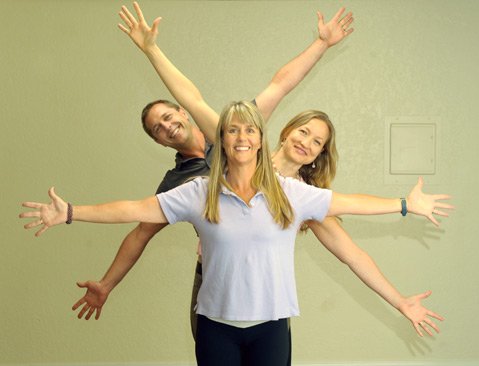 The creeping ache started in my lower back, around my left hip, possibly the result of years of flat feet in bad shoes, certainly related to my recent time in cramped beds, whether falling asleep while putting my toddler down or huddling into a corner while my wife and infant daughter consumed the other three-quarters of our bed.
So meeting Isaac Osborne on a backpacking trip happened just in time; the Kaua'i- and Humboldt County-raised posture alignment specialist invited me to try out the menu of services at Motion Unlimited, the multifaceted wellness studio he opened three years ago at De la Vina and Sola streets. Today, because of the mellow stretching regime he put me on, the pain is completely gone, and only comes back when I stop the easy exercises he prescribed.
But that's just a slice of what Motion Unlimited provided me as a taste of their myriad services. Here's a rundown:
Posture Therapy: Step one is a shirtless photo shoot, then Osborne — who has 13 years of training in everything from massage to myofascial release, but uses the Egoscue Method of posture alignment — puts the images onto a computerized grid to show misalignment: For me, a dipped hip, rolled-in ankles, slouching back, rounded shoulders. Asymmetrical sports, like skateboarding and golfing, can cause such problems, explained Osborne, but he also believes that even flat feet are fixable because the body "craves" proper posture. "It's about how we can get this body to shift with muscle coordination — fixing the roof, fixing the walls, fixing the foundation," explained Osborne, who then gave me four exercises to do a couple of times per day, taking less than five minutes per round.
Rolf Structural Integration: For my second visit, I got "rolfed," a deep massage-like experience that's focused on breaking down connective tissue rather than just rubbing muscles. Osborne prefers that clients take a 10-session series to experience the full effects, but I immediately understood the benefits when he had me turn my head to test the existing flex of my neck, then worked the relevant tissues, and then had me turn my head again. My rotation improved drastically, and I left walking on air.
Acupuncture: Who knew acupuncture dealt with psychological peace as well as physical wellness? In addition to discussing everything from my body temperature to gastrointestinal flow, my 90-minute treatment with LeAnne Thomason included a discussion of hopes and dreams, and advice on how to make them come true. Soon enough, I was face-down on the table with a couple dozen pins sticking out of my back, slipping in and out of consciousness as the ancient Chinese medicine connected energy pathways to bring my body more balance.
Restorative Pilates: Lisa Wilcox was a traditional Pilates proponent until she got chronic pain due, in part, to the intense, continual focus that Pilates puts on the body's geographic core. After studying Egoscue, Wilcox adapted her Pilates program to address the body's true core, which includes many passive muscles in the arms and legs that deal with balance. "I thoroughly believe that this is a better way to approach the Pilates machine," said Wilcox, who explained that it was invented by a beer-drinking German who used kegs, bedsprings, and sheets to bring injured World War I soldiers back to health. "Its roots are really in rehab." For my visit, we discussed my back and hip problem, and she ran me through a series of exercises, leaving me feeling limber upon rising off the machine. "Everyone is different," Wilcox responded when I asked if that was the standard intro. "I do something different for everyone."
4•1•1
See motionunlimited.net, call 845-1250, or visit 1333 De la Vina Street, Suite E.