Film & TV
End of Watch
Jake Gyllenhaal, Michael Peña, and Anna Kendrick star in a film written and directed by David Ayer.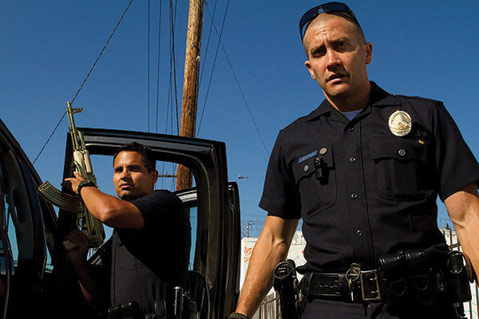 It takes a certain evil panache to make a movie as unrewarding as this. For decades now, cop dramas have proved themselves scary funhouses for thrill-seeking audiences and picky critics alike. Some of the best, like The French Connection or L.A. Confidential, present brutalizing playgrounds where bullies and bodyguards are indistinguishable. But even dumb films like Die Hard gave us a better-textured psychological study of dreadful sinners and thin-blue-line saints than this pretentious handheld-camera film does.
The device is simple: an Anglo (Jake Gyllenhaal) and a Chicano (Michael Peña) po-po buddy film set in South Central turf recently deserted by black gangs and now enthralled to Mexican cartels. Writer/director David Ayer tries to build a sense of dread in us by contrasting glib cop repartee with slices of life on the demonic streets. Occasionally we see something horrific, like a cop found kneeling on the street with a knife poking from his eye, but mostly it's just rolling commentary that attempts to "humanize" the cops without giving us anything true. It's all banter, vulgarity, and "I love ya, you big lug." Worse, the story builds to its bloody conclusion without making us really fear the bad guys, who come off as the usual movieland vatos locos; they seem evil because they use the F-word far more frequently.
In a way, though, television is this film's problem. Even the underappreciated Homicide: Life on the Streets had a deeper dread built into its gritty but choreographed shaky-camera exposition. When done right, handheld feels documentary-ish and strangely claustrophobic. When done wrong, like this film, we feel distanced and completely safe. This is an alien world, and though we certainly get the heroism of daily policing, we don't really need to watch another film about it. Dragnet told it better.