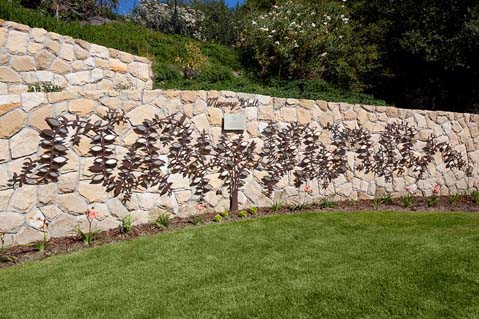 Santa Barbara, CA. September, 2012 – Visiting Nurse & Hospice Care is pleased to announce that the Memorial Wall at Serenity House will be receiving an award for "Best Architectural Feature" from Santa Barbara Beautiful. The award will be presented at the 48th Annual Santa Barbara Beautiful Awards ceremony on Sunday September 30, 2012 at the Music Academy of the West.
The Memorial Wall is a recognition feature at Serenity House comprised of 180 individual bronze plaques allowing donors to remember their loved ones with an inscription. Designed to reflect the natural beauty of the property and blend organically with the surrounding environment, each donor plaque is in the shape of a leaf, which stems from a central vine that runs along the stone wall at the front of Serenity House.
Santa Barbara Beautiful is an organization that recognizes important beautification projects throughout the city each year. Properties are nominated by the public and assessed by a team of independent local judges who are looking for exemplary designs that expand the beauty of Santa Barbara.
"We are part of a community that really appreciates the wonderful natural environment we are lucky to enjoy," says VNHC President & CEO Lynda Tanner. "We kept this in mind in the building of Serenity House; from making patient rooms accessible to the outdoors, to having our design mirror the backdrop of the Santa Barbara hills. It was a priority for VNHC and we are excited to be recognized for it," she said.
Visiting Nurse & Hospice Care is grateful to Santa Barbara Beautiful for the award, and to all those involved in the design of the Wall and the surrounding space, including previous CEO Eileen Bunning and Foundation Executive Director Pat Snyder, Presentation Design Group, PMSM Architects, Frank Schipper Construction, and Arcadia Studio Landscape Architecture.
To inquire about recognition plaques or any other naming opportunities at Serenity House, please contact Rick Keith, Executive Director of the VNHC Foundation, at (805) 690-6222, or email him at rick.keith@vnhcsb.org.
Visiting Nurse & Hospice Care is the leading nonprofit provider of comprehensive home health and hospice services in Santa Barbara. Visiting Nurse provides high quality, comprehensive home health, hospice, and related services necessary to promote the health and well-being of all community residents, including those unable to pay. It serves all of Santa Barbara County, including Santa Ynez and Lompoc Valleys. Established in 1908, Visiting Nurse is one Santa Barbara's oldest nonprofit organizations. For more information on Visiting Nurse & Hospice care, click here or call (805) 965-5555.