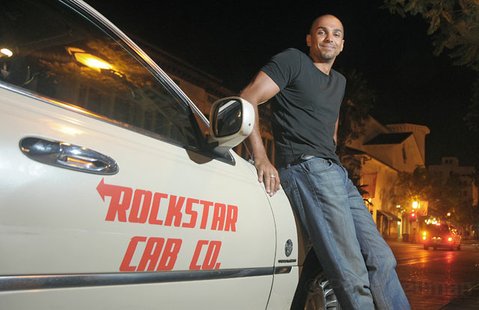 Santa Barbara, CA – Rock Star transportation is working with local shelters and non-profits to give Santa Barbara's homeless a taste of the rock star lifestyle. On a nightly basis Rock Star Transportation provides homeless persons with rides to and from the hospital and from county jail after discharge. James Houseman, owner of Rock Star Transportation, had his own experience living on the streets when he first came to Santa Barbara in 2002 and feels this is the least he can do to give back. "I lived in my car for a few days, but it was early winter and it got so cold at night that I had to seek shelter at the Rescue Mission," said Houseman. "When there wasn't room at the Shelter I would sneak into the locker room at SB City College to take showers…"Eventually I found a job and a room to rent, but I never forgot those cold nights and what it is like for the homeless population."
The service provides a safe and easy way for the homeless to get to and from the county jail and Cottage hospital or to a shelter at no cost to them, and in the process experience a little bit of the rock star lifestyle for themselves. "If it wasn't for places like the Rescue Mission and Casa Esperanza, I may not be where I'm at today," said Houseman. "That's why when we were offered the opportunity to help the homeless shelters and all the transients in and out of county jail; we jumped at the chance to be a part of the solution." Rides are available between 8pm and 6am, outside of the running times for MTD buses, and drop off at one of five local shelters.
Rock Star transportation was founded in 2003 by James Houseman, who wanted to create a transportation company that made each customer feel like a Rock Star, by letting them pick their own music, watch a music video, have drinks, and get their photos taken. Rock Star, which now features a versatile fleet of vehicles that cater to any event, started with just one taxi and a desire to make the journey as important as the destination. Rock Star transportation offers taxis, shuttles, vans, limo service, and trolleys for all occasions, from the mundane to the extravagant.
Thank you in advance for your attention to this matter.