Food & Drink
Jose Perez of Ojai Valley Sprouts
Growing Nutrient-Rich Sprouts in the Ojai Valley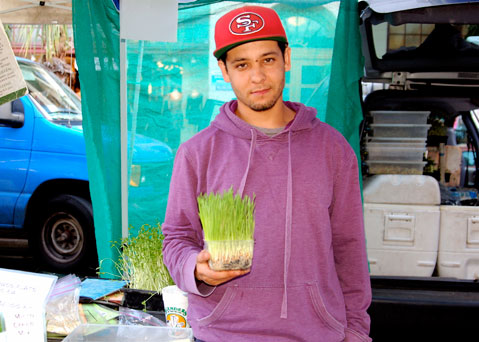 Name: Jose Perez
Farm: Ojai Valley Sprouts
Location: 558 El Sol Avenue, Ojai, CA 93023
What they grow: More than 25 varieties of organic, nutrient-rich sprouts including pea greens, micro green mix, red rose radish, curly daikon radish, the popular sunflower greens, spicy sprouts mix, arugula, sprouted lentils, black eye peas, soybeans, sprouted cashews, and wheat berries. They also offer wheatgrass flats, both for consumers and their pets to enjoy, which take about two weeks to regrow when cut.
Where to buy: Farmers markets including all seven Santa Barbara markets (in addition to various markets in Ventura county). Additionally, Wine Cask, Alchemy Arts Café, Montecito Inn, and UCSB Dining Services are regular customers.
In season now: While the sprouts are in season year-round (thanks to their outdoor greenhouse), the sprouted pumpkin and sunflower seeds are popular fall favorites.
Their story: Starting with the best seeds possible, Ojai Valley Sprouts has been the main purveyor of organic sprouts in the region. More than 18 years ago, Jose Perez's grandfather was diagnosed with cancer and was told he only had a year to live. Hearing this news, his grandfather decided to make a change to not only his own health but also the health of his family and the community.
"My grandfather quickly learned the nutritional benefits of sprouts," said Perez. "He started with one or two sprouts, and it quickly became a passion for the whole family. He is still alive and feeling great."
With only half an acre, the sprouts are all grown in an outdoor greenhouse, allowing just enough natural sunlight to keep the sprouts juicy and crisp. Starting with organic seeds is key, plus lots of pure, clean water. A typical ounce of wheatgrass for example is equivalent to two to three pounds of vegetables. And it appears everyone is a fan of these cancer-fighting sprouts. Perez has sold to several celebrities, including Reese Witherspoon and Jake Gyllenhaal.
"You meet everyone at the markets. You would be surprised at the people I meet," said Perez. "I love working the markets because basically the amount of work you put in, you get out. I love making money for my family and working for myself."
With so many varieties of sprouts, they offer a versatile accompaniment to any dish or wrap. Over the years, the family has continued to learn the health benefits of legumes and sprouts for the Tri-County community.
"I've noticed I have more energy, my skin looks better, and I just feel great," said Perez. "Sprouts really cleanse you, you just work better. Besides the health benefits, the sprouts are really flavorful, with a more compact flavor. They are extremely tasty."