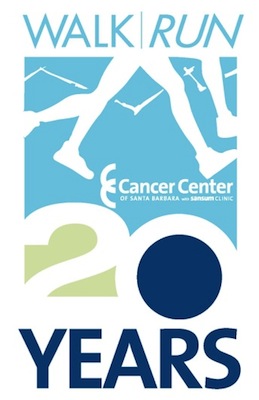 As in the past, 100 percent of registration fees and pledges benefit the Cancer Center's Clinical Research Program.
The family-friendly event will begin and end at Montecito Union School and includes: a 10K Run at 8a.m.; a 5K Walk/Run at 8:30a.m; and a Kids' Fun Run at 10a.m. Participants are invited to stay for a delicious, complimentary brunch buffet provided by the Four Seasons Resort Santa Barbara, and an exciting raffle including gift certificates for local restaurants, spas, and attractions.
To date, the Walk/Run has raised over $2million in support of local cancer research, and in this, the 20th year of the event, the goal is to generate $200,000 in support of the cause. Last year's event saw 867 participants. This year's fundraising goal will be surpassed if the same amounts of participants raise just $250 each. Special incentives are offered for individuals who collect pledges of at least $100, including free event registration and one entry into the GRAND PRIZE drawing for airfare for 2 with lodging at the Four Seasons Resort Hualalai in Hawaii – valued at over $4,500!
Individuals and teams are encouraged to register by visiting click here where they can create an online fundraising page to share with team members and potential supporters.
Three team prizes are also awarded to the largest team; the team that generates the most money; and the "First Place Team," which raises the most money, on average, per person. Team "Jogging for Jeffrey" was the largest team in 2011 with 34 members, while "Julie's Team" raised the most money with a grand total of over $9,000. Last year's First Place Team, "Beachbutton" raised $444, on average, per person, and all three of these teams will again participate and compete for recognition this year. Standout teams so far include "Pink Ladies," who have raised over $520 on average, per team member; "Circle of Love," which has a fundraising total upwards of $7,000; and others such as "The Becky Dahls," "Team Gina Reinecke," "Amblin' for a Cure," and "Team Lexi," all participating in support of cancer survivors in our community.
In addition to recognizing teams and participants for their outstanding fundraising efforts, one individual will be awarded the Julie Main Inspiration of Hope Award. Since the event's inception, Julie Main was instrumental in helping to organize the Walk/Run, seeking sponsors, and leading the Free 6-Week Training Program. This will mark the fourth year of the event since Julie's passing, but her legacy will once again be honored with recognition of a cancer survivor who exemplifies what Julie Main stood for – courage, perseverance, and hope – serving as an inspiration to others by finding the strength to cope with cancer through exercise. Previous recipients of the award include Michael Orchowski, Lorena Ortiz-Schneider, and Kate Ocean.
All the funds raised will benefit the Clinical Research Program at the Cancer Center. Through the Research Program, new cancer treatments are made available to adult and pediatric patients in the Santa Barbara community. Clinical trials are vital to the evolution of cancer treatment. Every one of today's standard practices went through similar clinical trials before becoming generally available. While patients may choose to enter a trial to improve their own conditions, they also help map the future of cancer care for others.
Through support from this event, the Cancer Center is pleased to offer more than 20 trials annually to local residents, a benefit not afforded by all cancer treatment facilities. In addition, funds from the Walk/Run support two post-doctoral fellowships in basic science research at UCSB, the UCSB Research Mentorship Program and medical and public education programs, including the Frontiers in Cancer Research lecture series. To learn more about the Cancer Center's Clinical Research Program, visit click here