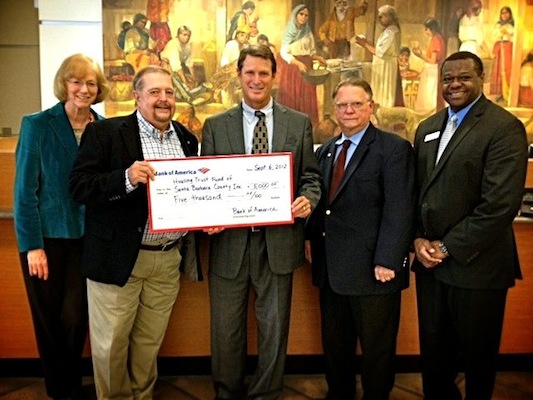 The Bank of America Charitable Foundation has been a long-standing and steadfast supporter of HTF's mission and community goals. "In response to the many challenges facing our communities, we are focusing our philanthropic support on areas vital to advancing local economies," said, Bank of America Market President, David Prichard. "The bank's $47,500.00 investment in local nonprofits that help individuals and families regain financial stability through housing and other community development initiatives is one way we're working to stabilize and advance in the Santa Barbara and Ventura Counties."
HTF works to maintain the socio-economic fabric of Santa Barbara County by addressing the fundamental building block of healthy communities – housing that is affordable to local workers and residents. Grant funds will be utilized to strengthen our core program, the Revolving Loan Fund for Affordable Housing, and to expand our new Workforce Housing Program. The countywide $4.5 million Revolving Loan Fund aids in the expansion, production, preservation, and rehabilitation of affordable housing, and serves a variety of populations, including working families, single parents, local employees, farm workers, senior citizens, disabled persons, homeless individuals, and other persons with special needs.
HTF's new Workforce Housing Program helps bridge the homeowner affordability gap and assists local low- to middle-income working-class families purchase an entry-level home by providing 30-year deferred payment down-payment loans of up to $42,000 per household.