Arts & Entertainment
Jane's Addiction: Still Ready to Party
Drummer Stephen Perkins Talks Music Scenes, Friendships, and Future Plans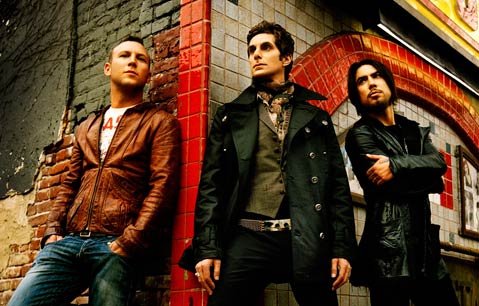 Keeping a band together is no small feat, but sticking it out for three decades is nearly unheard of. For the members of Jane's Addiction, who are fast closing in on their 27th year as a band, it's been a long — and at times bumpy — road to the top. Formed in 1985 by vocalist Perry Farrell, guitarist Dave Navarro, bassist Eric Avery, and drummer Stephen Perkins, Jane's Addiction has long been heralded as one of the first members of the West Coast alternative-rock scene. At its dawn, their funky and anthemic melding of metal and post-rock stood in direct contrast to the glam scene of the Sunset Strip. Nowadays, their sound is credited with inspiring artists ranging from Billy Corgan to Eddie Vedder, and their live show remains one of the most energetic and engrossing out there.
Still, no band is without its struggles, and Jane's has seen its fair share. Infighting, lineup changes, breakups, and makeups have plagued the band for decades, spawning Behind the Music-style tales that are as much a part of the Jane's Addiction story as any of their four albums. Talk to each of the members, though, and they'll tell you that at the root of the band is a friendship that, despite the bumps, will last a lifetime.
"It's really great to be in this band still, I gotta be honest," laughed Perkins, calling from his home in Los Angeles last week. "I met Navarro when I was 14, I met Perry when I was 17, I met [current bassist] Chris Chaney in '94 or '95. These are my lifelong friends."
For many reasons, it makes sense that those friendships have withstood the test of time. At its core, Jane's Addiction was about inclusion, about uniting people across genres who felt disenfranchised by the L.A. music scene of the late 1980s. People gathered around their frenzied shows and odd personas in part because they were the antithesis of the norm.
"The post-punk scene was happening. There was Firehose. Henry Rollins was putting a band together and doing poetry. X was around. There was still some kind of attitude in L.A., but there was also the Strip," recalled Perkins. "The Strip was hot and heavy with Ratt and Mötley and Poison and GNR, but it also closed down at midnight. Our scene started at two in the morning in downtown L.A. I think Jane's Addiction was four different guys with four different attitudes and four different record collections, all within this circle of friends. There was this great understanding that we were able to pull together a community, with punk rockers and mockers and fakers and posers — everybody had a feeling like there could be change, and it needed to happen."
And happen it did, in no small way. In 1988, the band released Nothing's Shocking, which included the now-classic "Mountain Song." In 1990 came Ritual de lo Habitual, a breakthrough effort that encapsulated Jane's free spirit and anything-goes attitude, as well spawning hit singles "Stop!" and "Been Caught Stealing." "We're a California band. We're about sex and getting naked," laughed Perkins. "At that time, The Pixies were pulling it for the East Coast, and we were pulling it over here, and really changing the environment of the music scene."
Next week, Jane's Addiction departs on another leg of their Theatre of the Escapists Tour, which launched earlier this year in support of their 2011 studio album, The Great Escape Artist. Like most of the band's back catalog, the record is marked by heavy guitar riffs, whip-like drum work, and Farrell's unmistakably high-pitched vocals. Recorded alongside coproducer Dave Sitek (TV On the Radio), the album also features some of Jane's most forward-thinking sounds to date, signaling a reinvention that's all but demanded of a band that's been in the game for this long.
"There's always been this urge to write new music, but we weren't sure how," Perkins explained. "That's where Dave Sitek came in. It was a blessing. The first few days [in the studio], it was just me on the drum kit and him with turntables, keyboards, bass, guitars, pedals, computers, iPads. We made noise for two or three days before Navarro even showed up. Then the three of us played for a month or two before Perry got home. It was all about just making music and finding out what we sound like and where we're headed."
4•1•1
Jane's Addiction plays the Santa Barbara Bowl (1122 N. Milpas St.) on Sunday, October 21, at 6:30 p.m. with openers The Airborne Toxic Event and thenewno2. Call 962-7411 or visit sbbowl.com for tickets and info.