Announcement
Ayers Repairs is Turning Back Your Clocks
Local Shop Offers Free Setting for Daylight Saving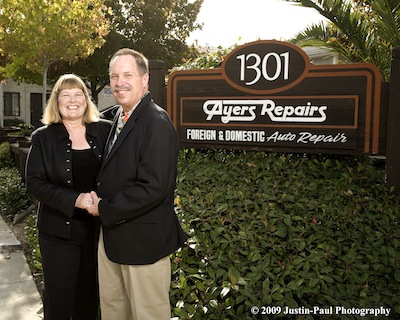 Bring your vehicle in to one of the two Ayers Repairs locations anytime in the month of November and a technician will set the correct time for free.
"People are busy and don't have time to search through the owners manual to find out how to change the time in their car," said Nikki Ayers, Owner at Ayers Repairs. "So if we can make life a little easier, we're happy to do so."
Daylight Savings falls on November 4th this year, coming at the end of Car Care Month. In preparation for Daylight Savings, the Car Care Council recommends checking all vehicle lighting on a monthly basis, including the headlights, turn signals, brake lights, side lights, parking lights, tail lights, backup lights and license plate lights. Whether you do it yourself or visit a professional automotive technician, it is important to repair or replace non-functioning lights immediately. Something as simple as a burnt-out brake light could potentially have major consequences. Results of vehicle inspections during National Car Care Month found:
8 percent of vehicles inspected needed work on at least one of their turn signals.
6 percent of vehicles had problems with at least one of their brake lights.
5 percent of vehicles failed their side light inspection.
1 percent of vehicles failed the inspection for their headlights, parking lights, tail lights, backup lights and license plate lights.
About Ayers Repairs:
Ayers Repairs is owned and operated by Robert and Nikki Ayers who founded the company in 1977. They currently employ ten people, including six technicians between their two Santa Barbara locations at 1301 Chapala Street and 220 Anacapa St. They are a CarQuest Technet affiliated repair shop, are an ASE Blue Seal accredited repair facility, and have been accredited as a Master Hybrid Tech Certified shop by the Automotive Career Development Center.