Announcement
Santa Ynez Cottage Hospital Auxiliary Celebrates 50 Years
Public Invited to First-time Exhibit until November 4, 2012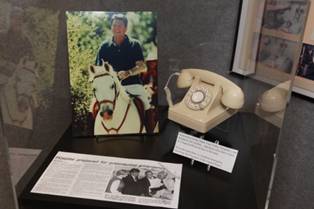 The exhibit includes decade-by-decade montages highlighting milestones in the planning and operation of the Santa Ynez Valley's first and only hospital as well as the services provided by the 50-year old Hospital Auxiliary that supports the facility. The exhibition is on display in the Museum's Valley Room and is complemented by an exhibit of vintage nursing and doctors' uniforms and medical equipment in the Museum's Jeannette Lyons Costume Room. The Museum is open Wednesday through Sunday from Noon –4 pm with admission of $4.00 for adults and ages 16 and under free.
SYVCH Auxiliary President Tresha Sell remarked, "We are delighted to present to the public a fascinating part of Santa Ynez Valley Cottage Hospital's medical history! We owe so much to those whose vision is portrayed in these displays and many of our residents can re-live events in the 50 year old history of the hospital auxiliary."
Founded in 1962, Santa Ynez Valley Cottage Hospital Auxiliary is an all-volunteer organization providing more than 18,000 service hours annually to Santa Ynez Valley Cottage Hospital. The auxiliary operates the "New to You" Shop at 1689 Oak Street in Solvang, along with sponsoring and participating in numerous fundraising events supporting the hospital's mission.
Founded in 1964, the not-for-profit Santa Ynez Valley Cottage Hospital (SYVCH) provides high quality outpatient surgical services, inpatient care, comprehensive imaging (including MRI, CT, digital mammography, ultrasound, X-ray), on-site laboratory, cardiopulmonary rehabilitation, physicians' specialty clinic and 24/7 emergency services to the community. Located at 2050 Viborg Road in Solvang, SYVCH is part of the Cottage Health System family, which includes Santa Barbara Cottage Hospital, Cottage Children's Hospital, Goleta Valley Cottage Hospital and Cottage Rehabilitation Hospital. For more information call 805-688-6431 or visit click here.