Announcement
Fairview Gardens: Volunteer Wins C.C Hero Award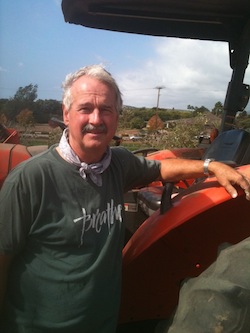 Who: Martin Camp, an active volunteer for Fairview Gardens
What: Winner of the 2012 Cox Conserves Hero Award which gives $5,000 to Fairview Gardens
Why: To raise funds and awareness for Fairview Gardens
Where: Fairview Gardens, an organic farm and non-profit education center in Goleta
When: October 17, 2012
Now the Santa Barbara community knows what staff, volunteers and friends of Fairview Gardens have known for years: Martin Camp is a volunteering hero. Camp won this year's Cox Conserves Award, from Cox Communications and the Trust for Public Land, for his volunteering efforts on the farm. Besides public recognition for his hard work, Fairview Gardens will receive a $5000 award for Camp's hard work.
When asked how he felt about winning the award, Camp stated, "I'm humbled. I feel great. I'm happy for the farm. It's nice to be one of many people that give to the community," said Camp about winning the award.
Camp is a constant presence at Fairview Gardens, a local nonprofit and urban farm and education center, who has rehabilitated farm equipment, help with any construction needs and much more. Over the last three years, Camp has helped Fairview Gardens with many projects that he allowed him to use his engineering and building skills. He began volunteering after learning about the farm after purchasing a weekly produce share in the Community Supported Agriculture Program at Fairview Gardens.
Camp, who is originally from Niles, Michigan, worked as an engineer at a nuclear power plant for 20 years, before switching gears and pursuing a career as a cabinetmaker. He moved to the Santa Barbara area 10 years ago from Boston, and has worked as a volunteer at numerous area nonprofits besides Fairview Gardens, including Habitat for Humanity.
But it's his work at Fairview Gardens that won him the recent Cox Conserves award. He said that he appreciates the mission of Fairview Gardens because of its historical place in the community because the land has existed as a working farm since the late 1800s, despite being surrounded by developments.
"The most important thing you can do in your life is preserve the land," Camp said.
Sponsored by the Trust for Public Land, Cox Communications and Montecito Bank and Trust, the Cox Conserves Heroes award is designed to "honor volunteers who are creating, preserving or enhancing outdoor spaces," according to the Cox Communication press release.
While for many, volunteering is an occasional act of service, for Camp, helping out nonprofits is nothing special. It's just part of his everyday life.
"I encourage people to volunteer if they have any extra time at all. Find a nice local nonprofit and help out," said Camp.