Living
New Tae Kwon Do Studio in S.B.
The Way of Martial Arts Teaches Self-Defense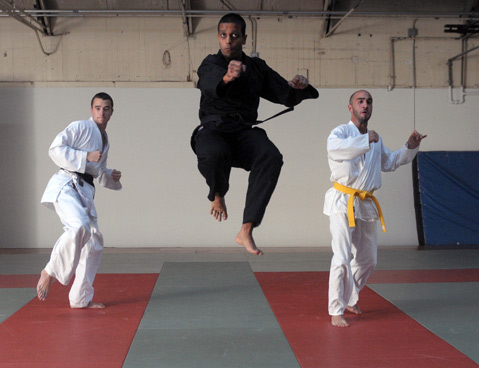 When certain deep-sea squid are disturbed or threatened, they change color to camouflage themselves. This protective behavior is the subject of Amitabh Ghoshal's post-doctoral research at UCSB's Institute for Collaborative Biotechnologies. Studying the optical tricks of cephalopods is just one way Ghoshal specializes in self-defense. He's also a third-degree black belt in tae kwon do and the founder of Santa Barbara's newest martial arts dojo, The Way of Martial Arts.
When Ghoshal moved to Santa Barbara in 2010, he set out to find a dojo where he could train. Though the number of martial arts schools in town has grown exponentially in recent years, Ghoshal found only one tae kwon do instructor, and she specialized in classes for children. Training in another form was an option, but Ghoshal saw the dearth as an opportunity. "I wanted to share the flavor of tae kwon do with Santa Barbara," he explained.
On a recent weeknight, I met the soft-spoken Ghoshal outside the Funk Zone Quonset hut where he started teaching tae kwon do classes in September. He led me into the main space: an airy studio lined with mirrors, the floor padded with mats.
The martial arts dojo is home to the Santa Barbara Judo Club, where for 15 years pharmacist Steve Hoyt has taught judo. Hoyt decided to bring in Ghoshal based on "an intuition." "I could feel that he loves to do this and that it makes him who he is," Hoyt said.
When Ghoshal speaks about tae kwon do, it's clear he sees his teaching as an expression of his values. "I have a mandate from my martial arts master to provide the art to people who would otherwise not have access to it," he explained, adding that unlike many martial arts schools, The Way is a nonprofit. His rates are lower than most schools in town, and Ghoshal says the fact that he earns a living separately from martial arts allows him "to keep the purity."
The night I visited, Ghoshal had five students in class. "Amitabh has a very nurturing teaching style that's effective for new students or people who are returning to training," noted Trevor Zwick, a black belt. Yellow belt Sina Omidi was helping new student Gardena tie a knot in her white belt. "I love the way he teaches — he's patient and thorough," Omidi said of Ghoshal.
The class began with a series of warm-up exercises: circling the head and arms, stretching the legs, and a short period of meditation. Then, with a double clap, Ghoshal had his students on their feet practicing punches and kicks. He bounced around the room, demonstrating the techniques and focusing his attention on each student in turn.
The Way offers a balance of fitness, self-defense, sport, and art; but for Ghoshal, self-defense seems to be primary. "In tae kwon do, we learn to fight," he explained. "Fighting is elemental — it's something we do for survival. As we train, we learn first to step away from a punch, then to redirect it, and eventually to redirect it to create a space that's safe for both the attacker and the attacked."
Ghoshal said the same principles apply in emotional and social situations, not just physical ones. One might say he's training his students to be like squid: meeting threat not with force, but with creative adaptations.
4•1•1
The Way: 121-A East Mason Street. Classes are Tuesday, Thursday, and Friday evenings. For more information, call 364-2787 or visit thewaysb.com.