Drawing from a variety of evidence, the book reports that many scholars have begun to explore this theory for several reasons: One relates to the various meanings of tektōn, which though translated in the King James Bible as "carpenter," also can be defined as "skilled worker." Secondly, conscripting labor from surrounding villages was a familiar operating procedure in Roman vassal states.
The book also suggests that many of the poor and hungry peasants who flocked to Jesus were, in fact, victims of Herod the Great's rapacious tax policies. Additionally, the book examines Jesus' treatment and acceptance of women. This issue was recently brought into the spotlight by the controversy over a Coptic papyrus fragment referring to Jesus' wife, so the discussion in the book is particularly well-timed. IN THE FOOTSTEPS OF JESUS purports that Jesus even counted women among his Apostles. The Gospel of Philip, for example, states that "the companion of the [Savior is] Mary Magdalene." However, the book cautions that terms such as "companion" or "wife" were often used metaphorically in Jewish and Christian texts of the time.
These are just some of the insights contained in this fresh portrait of the historical Jesus. "This is a Jesus for the 21st century," says author Jean-Pierre Isbouts, a humanities scholar and author of National Geographic's bestseller "The Biblical World" (2007). "This is a Jesus who is deeply involved in the social issues of his day and is determined to create a new paradigm for a compassionate society despite the political reality of Roman occupation."
To make its case, the book not only draws from a vast array of visual evidence, including all-new photography, archaeological objects, literary sources and scores of detailed maps, but also from sources not usually associated with the historical Jesus, such as studies of Roman tax data.
Isbouts spent 15 years researching the historical Jesus, emphatically looking for sources not deeply investigated by his peers. "We tend to become very focused on our specialties in this field," he says. "Archaeologists look for archaeological data; text experts look for literary data and anthropologists search for cultural evidence. Insights from people like economists or forensic sociologists are rarely consulted. So this book is an effort to reconstruct the man from Nazareth with input from all those different disciplines."
Isbouts worked with a board of advisers and numerous other scholars from a variety of fields to corroborate his findings and paint a clear picture of Jesus of Nazareth within the appropriate and telling historical and cultural context. His board of advisers included:
· Shaye J. D. Cohen, Littauer Professor of Hebrew Literature and Philosophy in the Department of Near Eastern Languages and Civilizations of Harvard University
· Craig Evans, Payzant Distinguished Professor of New Testament at Acadia Divinity College of Acadia University in Nova Scotia, Canada
· Amy-Jill Levine, University Professor of New Testament and Jewish Studies, E. Rhodes and Leona B. Carpenter Professor of New Testament Studies and Professor of Jewish Studies at Vanderbilt University
· Rev. Donald Senior, C.P., Professor of New Testament Studies, president of Catholic Theological Union in Chicago and general editor of the Oxford Catholic Study Bible
What emerges from the book's pages is a very modern portrait of a grassroots spiritual reformer, fired by the socio-economic injustices of the Galilee and Judea of his day. This makes the book surprisingly relevant for our own era, when the Middle East is once again convulsed by the collision of political, religious and ideological forces.
For those readers for whom Jesus has become a remote personality, veiled by centuries of church dogma and Christology, FOOTSTEPS offers a fresh and often moving encounter with a fully realized human being; a social and spiritual activist whosestill resonates with the great issues of our day.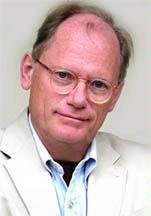 About the Author
Jean-Pierre Isbouts completed his doctoral program on archaeology and art at the University of Leyden and is currently professor of culture and media studies at Fielding Graduate University in Santa Barbara, Calif. He has written several other books, including National Geographic's "The Biblical World: An Illustrated Atlas" and "From Moses to Muhammad." Isbouts has also written four television programs that explore the legacy of the Bible, including the Hallmark television mini-series "The Quest for Peace," which won the 2005 Gold Aurora Award and the 2005 DeRose-Hinkhouse Award.