Announcement
The Spirit of Einstein Fuels Creativity at Family School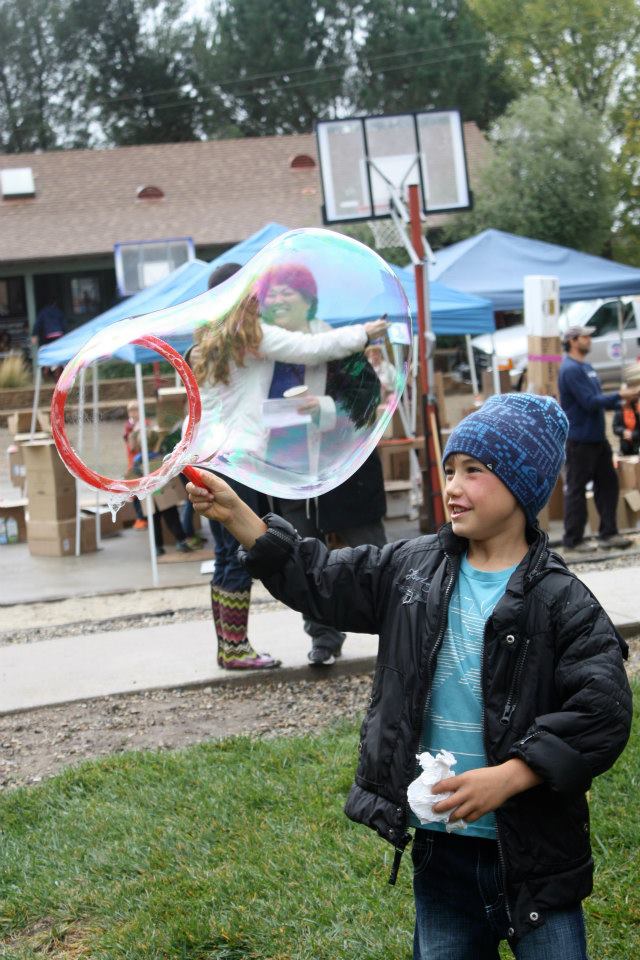 Fifteen different activity areas provided something for everyone. Drum making, drum playing, book making, t-shirt crafts, woodland animals, a force field, bottle cap jewelry, periscopes, super bubbles, and marshmallow architecture, were among them.
Science demonstrations included 3d imaging, electricity, creating a vacuum, solar whirly gigs, exploding Mentos and animal sounds with cups and string. "I was never bored, there was so much fun stuff to do. And I loved the woodland creatures." –Sarah, age 10
"Einstein Day gave us a chance to celebrate some of the tools that guide our curriculum including ingenuity, inquiry, and collaboration. We find that through creativity, children develop critical thinking skills and a desire to learn. From our Purple Door North(fourth grade) students who designed and ran their own booth to the Yellow Door student (kindergarten) building a cube out of marshmallows, this day was the perfect setting to honor the great thinker and inventor, Einstein." says Julianne Tullis-Thompson, Head of School
"It was wonderful to have SYV High School, Midland students, Dunn Middle School students, the SY Chumash Environmental Office and PG&E participate in the day. It takes a community to educate a child." According to Tullis-Thompson.
The cardboard city, inspired by Caine's Arcade, kept some young builders busy all morning. Boxes of all sizes, egg cartons, towel rolls and lots of tape filled half the basket ball court as they were transformed into buildings, robots, bridges and more. "Cardboard City reached too high. It was like the Icarus Myth."—mused one of the Dads in charge of Cardboard City. But the young builders were aiming for the sky as one remarked, "I liked building a spaceship." –George, age 5.
Two potato launchers, built by Michael Hollon and John DeNault III, gleamed in the emerging sunlight, one black and the other silver. Using the science of compressed air, the sound and sight of a potato exploding from the 6 foot long shiny silver barrel thrilled the crowd and caused passers by to stop along the road. "I loved the potato launcher, it was so cool how far they went." Owen, age 10. There were plenty of potatoes donated by Nielsen's Market to test both machines for distance and accuracy.
Would you be brave enough to stand behind a porcupine to see how far his quills will shoot? Sean, a 3rd grade Family School student, took that risk when he volunteered for the experiment with Zoo to You. It turns out the porcupine's quills are released by contact with them and cannot be projected at attackers, but Sean's bravery earned him many admirers. David Jackson and his trainer, Jana, of Zoo to You kept the crowd entertained telling stories of the super powers of the owl, porcupine, alligator, toad and baby kangaroo, or joey, they brought to the show.
Throughout the day the music of Grass Mountain provided a fun and upbeat atmosphere and finished off the afternoon with a little dance time.
Santa Ynez Valley Family School is a nonprofit 501(c)3, fully accredited, independent school serving Preschool through Fifth grade on a beautiful campus on Figueroa Mountain Rd. www.syvfamilyschool.org
We honor and protect the childhood of our students.