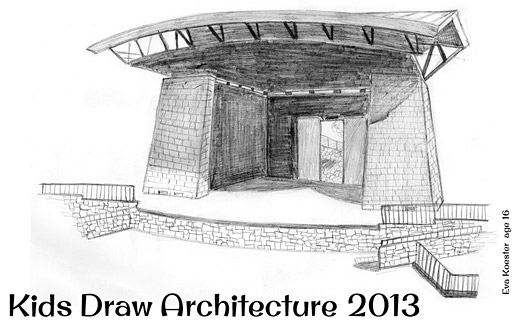 Annual Kids Draw Architecture Gallery Exhibition
November 30, 2012 to January 11, 2013
Kids Draw Architecture Holiday Reception
Friday, November 30th from 5-7 pm
The public is invited to attend a festive holiday reception on Friday, November 30th from 5-7 pm at the Architectural Foundation Gallery. Refreshments will be served.
2013 Kids Draw Architecture calendars containing selected children's drawings are now available for purchase, and will also be available during the event. This year's sketch sessions were held at the Santa Barbara Bowl, the Santa Barbara County Courthouse, and the historic Acheson House. The youths' drawings reflect the architectural styles of these beautiful historic buildings and gardens. KDA calendar locations include: Chaucer's Book Store, Santa Barbara Museum of Art, the Book Den, and the Architectural Foundation.
Celebrating a tradition of more than twenty years, the Kids Draw Architecture program brings together professional architects and artists to sketch significant buildings with Santa Barbara County children of all ages. KDA was developed by the Architectural Foundation to enrich community awareness of the built environment by encouraging young people to sketch our architectural landmarks.
The Architectural Foundation Gallery is located in the historic Acheson House at 229 East Victoria Street in Santa Barbara. The primary entrance on Garden Street is ramp accessible. Gallery hours are Tuesday through Friday from 9 am-2 pm, and by appointment. Please call 805-965-6307 for further information.
Architectural Foundation Gallery
229 East Victoria Street
Santa Barbara, CA 93101
805-965-6307